One Night of Queen at Solaire
After successful shows in Europe, New Zealand and the USA, the hit tribute show One Night of Queen will be coming to Manila for the first time on October 24 to 25 at The Theater at Solaire Resorts and Casino.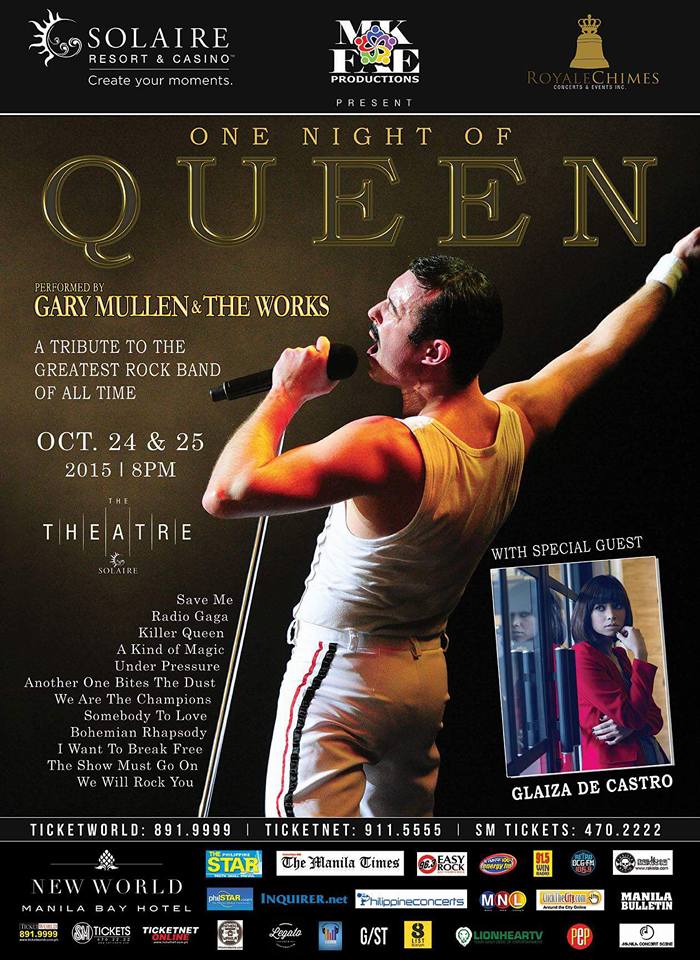 The pomp rock show One Night of Queen was set in motion by the band Gary Mullen and the Works as homage to the legendary band. Mullen gained popularity when he won the competition show Stars in Their Eyes with his spot-on imitation of Mercury's vocals and performance, and has been touring with his band around the globe since then. Aptly coined the world's premiere Queen tribute band, Gary Mullen and the Works is guaranteed to rock you.
One Night of Queen is a mesmerizing and nostalgic action-packed summary of the band's iconic 80's and 90's hits Radio Gaga, A Kind of Magic, Another One Bites the Dust, We Are The Champions, Bohemian Rhapsody, I want to Break Free, We Will Rock You, to name a few. So re-live that era with some rockin' performances from the band. Grab your tickets now!
More information about the show can be found at http://garymullenandtheworks.com
For tickets, contact:
TicketWorld – 891-9999
SM Tickets -470-2222
TicketNet – 911-5555