PUMPKIN PATCH PARTY
Bundle up your kids in cutesy pumpkin costumes for a pre-Halloween fun they will love!
Save the Date! The annual Pumpkin Patch Party will be held on October 27, 3pm at Gymboree Play & Music Manila Polo Club, Makati City.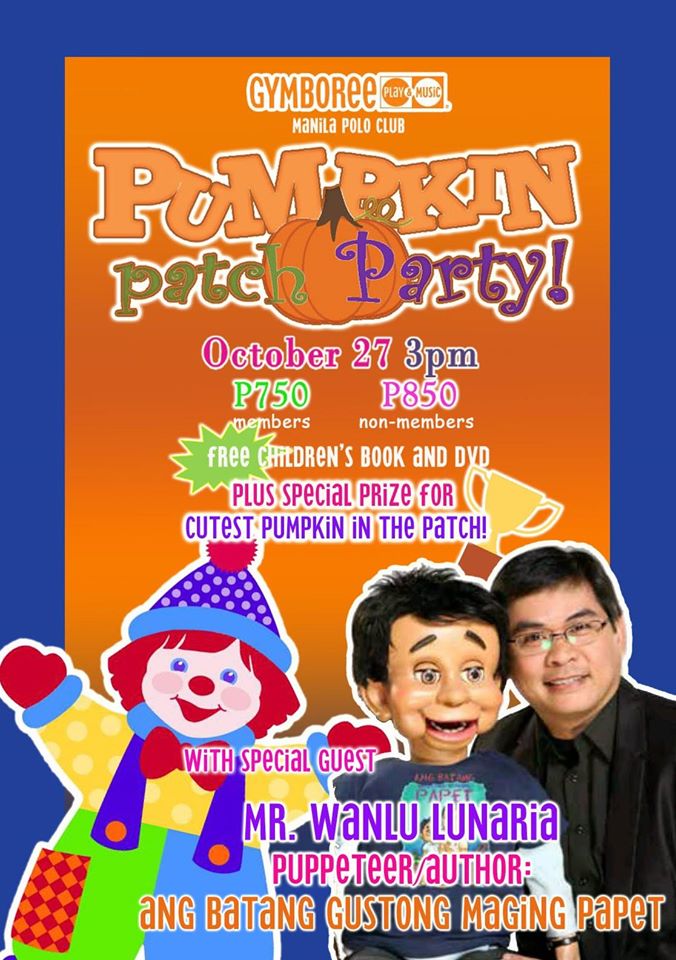 It will be an afternoon party of fun costumes, kid-friendly games, arts and crafts and trick or treating. With special guest, Puppeteer and Author of the children's book, "Ang Batang Gustong Maging Papet"(The Kid Who Wants to be a Puppet), Mr. Wanlu Lunaria and our good puppet friend Nicolo, your little chaps and girls are going to be in for a wholesome, fun experience.
Kids can take home freebies and win a special prize for the Cutest Pumpkin in the Patch contest.
Visit Gymboree Play & Music Manila Polo Club to sign up for this awesome event! Sign-up fees are P750 for members and P850 for non-members.
For more details, contact Gymboree:
Phone Customer Service: (632) 817-0951 local 251
Customer Service Hours: 9am to 5pm
Email Customer Service: tellgymbo@gymboree-ph.com