Korean Film Festival Features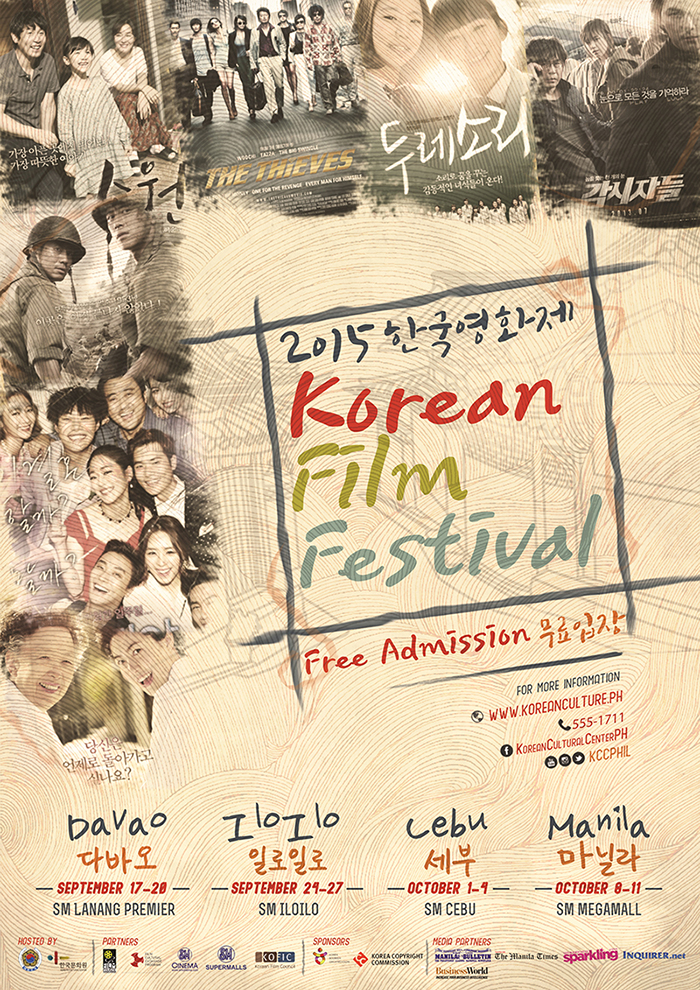 –
This year's Korean film showcase is coming to Manila on October 8, and will run until October 11, 2015 at SM Megamall Cinema 6. Feast your eyes on these 6 subtitled films that you can see free of charge during the festival:
Miss Granny
Before the 74-year old widow Mal-soon gets to be sent to a retirement home by her own son, she magically transforms into her 20-year old self and decides to pursue her dream of becoming a singer with her grandson Ji-ha, who does not recognize his grandmother.
–
Hope
Based on a true story, Hope is the story of a family's struggles after So-won, the young daughter, gets physically assaulted and experiences trauma. The family's relationship strengthens and So-won's condition improves as they continue to seek justice.
–
Duresori
Seul-Gi and Ah-Reum are music majors who are forced to join the school choir, and then a conflict arises between the students and their instructor, a western music major. Just as they learn to respect each other's taste in music, the school decides to cancel their summer concert.
–
Marriage Blue
Follow the stories of engaged couples Tae-Kyu and Joo-Young (Tae-Kyu discovers that Joo-Young is formerly married); So-Mi and Won-Cheol (So-Mi falls for another guy, Kyung-Soo); Gun-Ho and Vika (Gun-Ho is impotent, caused by stress); and Dae-Bok and Yi-Ra (Dae-Bok proposes only after Yi-Ra reveals that she's pregnant).
–
Cold Eyes
Yoon-Joo joins the police department's surveillance team and gets assigned to take down the criminal group of James who just successfully robbed a bank. A mysterious broker joins the thrill as both he and the surveillance team goes after James.
–
The Front Line
Set towards the end of the Korean War, Eun-pyo is sent to Aerok Hill to investigate the death of a commander. He discovers the survival of his friend Soo-Hyuk, South Korean soldiers wearing North Korean uniforms, and a secret communication box for soldiers of both sides.
–
The Thieves
A group of South Korean thieves led by Popie and Hong Kong thieves set out to steal the "Tear of Sun," currently in the possession of Madame Tiffany, the Japanese mistress of criminal Wei Hong. Each of the ten thieves has an agenda in joining the heist.
Check out the 4-day screening schedule below. Here's a tip: go to the cinema early to catch the movie that you intend to see–expect blockbuster lines and limited seat availability.
For more information, visit the Facebook page of Korean Cultural Center in the Philippines.
–
Article by Mina Loyola