Snow White at Onstage Captivates New Gen Kids
"Mirror, mirror on the wall, who's the fairest of them all?" The iconic line from the Disney classic Snow White and the Seven Dwarfs echoes again as Repertory Philippines brings the beloved tale of challenges, love, friendship, and triumph to the stage.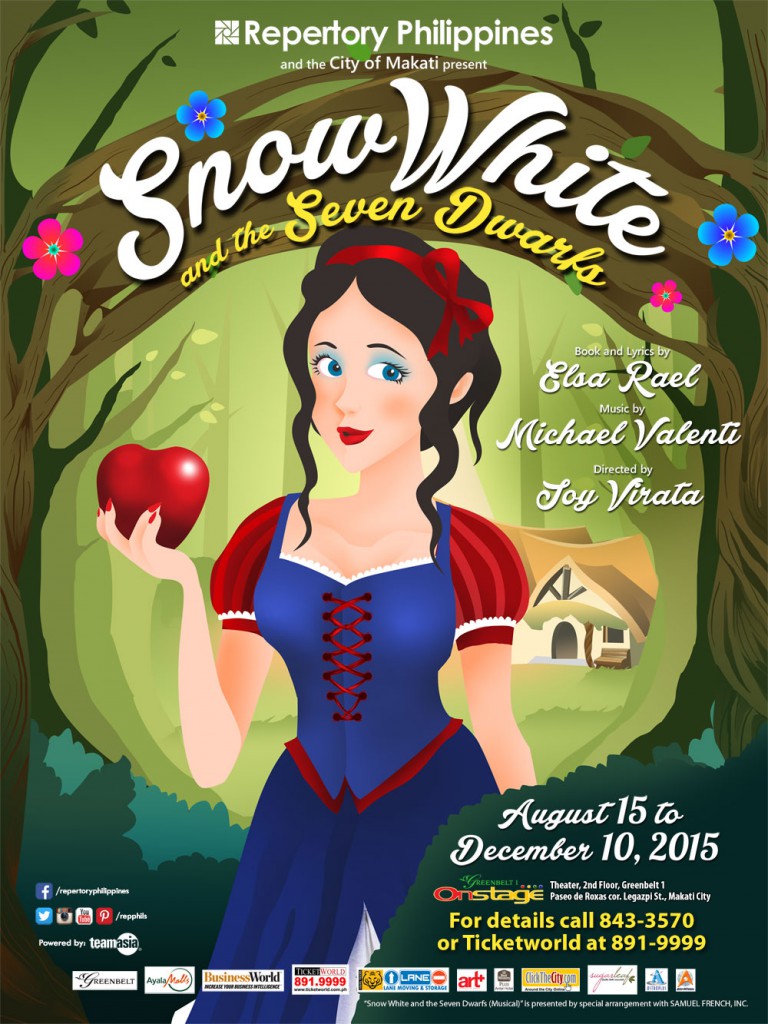 Not just a simple re-telling, Repertory's version of the Michael Valenti and Elsa Rael's adaptation comes with an enthralling fusion of live music with mesmerizing choreography and classical ballet. This live entertainment is designed to appeal to the sense of wonder of today's young generation whose idea of entertainment is mostly virtual – computer games and gadgets. Repertory Philippines aims to transcend generations and inculcate in the young a love for inspiring tales, music, and live performance where wholesome entertainment happens right before their eyes and valuable lessons are taught straight to their hearts.
Joy Virata, director of the play, highlights the experience the play will bring to kids and kids at heart who will watch the fairy tale live for the first time, "The story is of course the same as that of Disney Version but the songs and dialogue and the way it's staged and choreographed is different. And it's live. Kids like to be entertained. Those who will see it for the first time are always enthralled by seeing something that's live. Theater is live entertainment," she shares.
A wholesome play that today's children are sure to enjoy and learn from, it teaches us that being the fairest of them all is about goodness and fortitude that make us triumph over wickedness. "Snow White's story shows that you can appeal to the good in everyone. You can infect people by being good," Virata adds.
Starring Christine Flores, Alana Vicente, Becca Coates, and Dani Prieto (understudy) as Snow White; Bituin Escalante, Ring Antonio, Pam G, and Christine Flores (understudy) as the queen; and Hans Eckstein, Jos Jalbuena, Jeff Flores as the prince/woodsman.
Snow White and the Seven Dwarfs was successfully staged last month at Onstage Greenbelt 1 Makati and is set to run until December 10, 2015, promising to add more heart-warming entertainment to the Christmas season that kids will surely love.
For more details on the play, call the Repertory Philippines at 843-3570 and book tickets through TicketWorld at 891-9999 or visit their website at www.ticketworld.com.ph.
–
DATE OF PERFORMANCE
August 15 to December 10, 2015
VENUE
Onstage Theater 2nd Floor, Greenbelt Mall 1 Paseo de Roxas St., Makati
TICKET PRICE
Price Zone 1
LOWER & UPPER ORCH. CENTER
(Reserved Seating)
P 625.20
Price Zone 2
LOWER & UPPER ORCH. LEFT & RIGHT
(Free Seating)
P 521
Price Zone 3
BALCONY (Free Seating)
P 416.80