Ron Davis II "Emotional Dissonance" Art Exhibition
FIG Organic Mediterranean Restaurant + Bar presents the first art exhibition of Ron Davis II entitled "Emotional Dissonance" on September 5, 2015, 4:00 PM to 8:00 PM.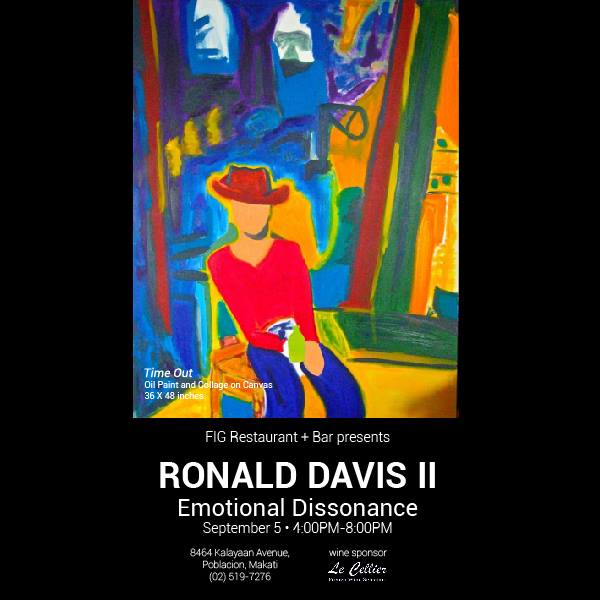 Ronald Lopez Davis II is an Abstract Artist born in Manila but grew up most of his life in San Francisco, California. Working primarily with oil, his mix media works combine a play of colors and textures creating a warm and dynamic energy on the canvas. His works can be found in private collections in Berlin, Barcelona, San Francisco, Berkeley, New York and Florida. 
During his years as an undergraduate in Business at San Francisco State University, he had minored in Fine Arts in order to hone his hobby. He joined a group of young artists from the Berkeley and San Francisco areas, called The Centipede Project Art Cooperative which was started by a local curator who worked at the De Young Museum and the San Francisco State University Fine Art Museum, they did monthly art events in various studios and galleries. By the time he graduated, he realized he wanted to continue with a career in the arts. After six formative years with the CPAC he began to do solo shows in galleries around San Francisco up until his last show in North Beach in 2014. "Emotional Dissonance" will be his first art show in Manila.
–
Address: 8464 Kalayaan Avenue, Poblacion, Makati City
Telephone Number: (02) 519 7276
Facebook: www.facebook.com/figkitchenbar