Future Classics 2015
The rich history of music is glorified at the Future Classics 2015, a three-part concert on Aug. 20, 27, and 30 at the Ayala Museum. It is a gathering of young artists, displaying their own interpretations of classical pieces that have endured the test of time. The shows start at 6:30 in the evening.
–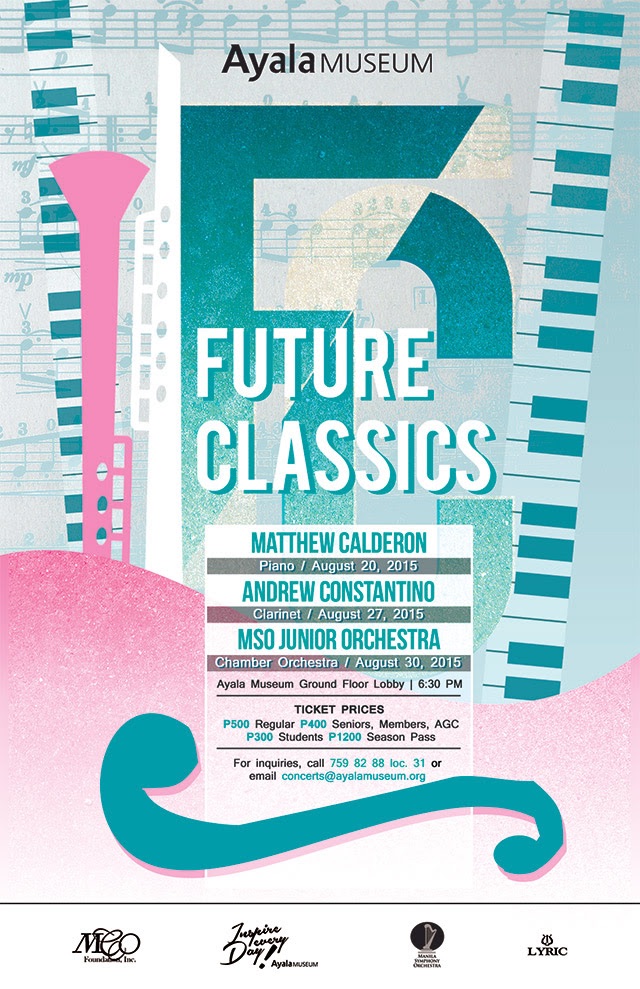 –
About the performers:
Matthew Calderon is a Mozart in the making and is the opening concert of the event with his "Big B's" concert featuring the works of classical composers Bach, Beethoven, Berg and Brahms in a piano solo. An 18 year-old musician pursuing a Bachelor's Degree in Music, major in Piano Performance at the Lynn University Conservatory of Music in Boca Raton, Florida, Calderon is a young star with a bright future ahead of him.  
Andrew Constantino on clarinet, together with Denise See on piano, is a must-see with "Back to Bach" concert. As a music scholar of the Philippine Highschool for the Arts (PHSA), Constantino was given the chance to performing on various music festivals across the country.
The Manila Symphony Junior Orchestra takes the baton by playing on strings. Composed of talented music students between ages 7 – 18, they have previously performed at the Ayala Museum as part of the Rush Hour Concert Series.
The regular ticket rate is P500, while the discounted rate for students is P300, and P400 for seniors, members and AGC employees. One can avail the Season Pass (for all three concerts) for P1, 200.
For further information and inquiries, you can call 759-82-88 local 31 or send an email at concerts@ayalamuseum.org.