Sing and Dance Your Way: The J-Pop Anime Sing and Dance Contest!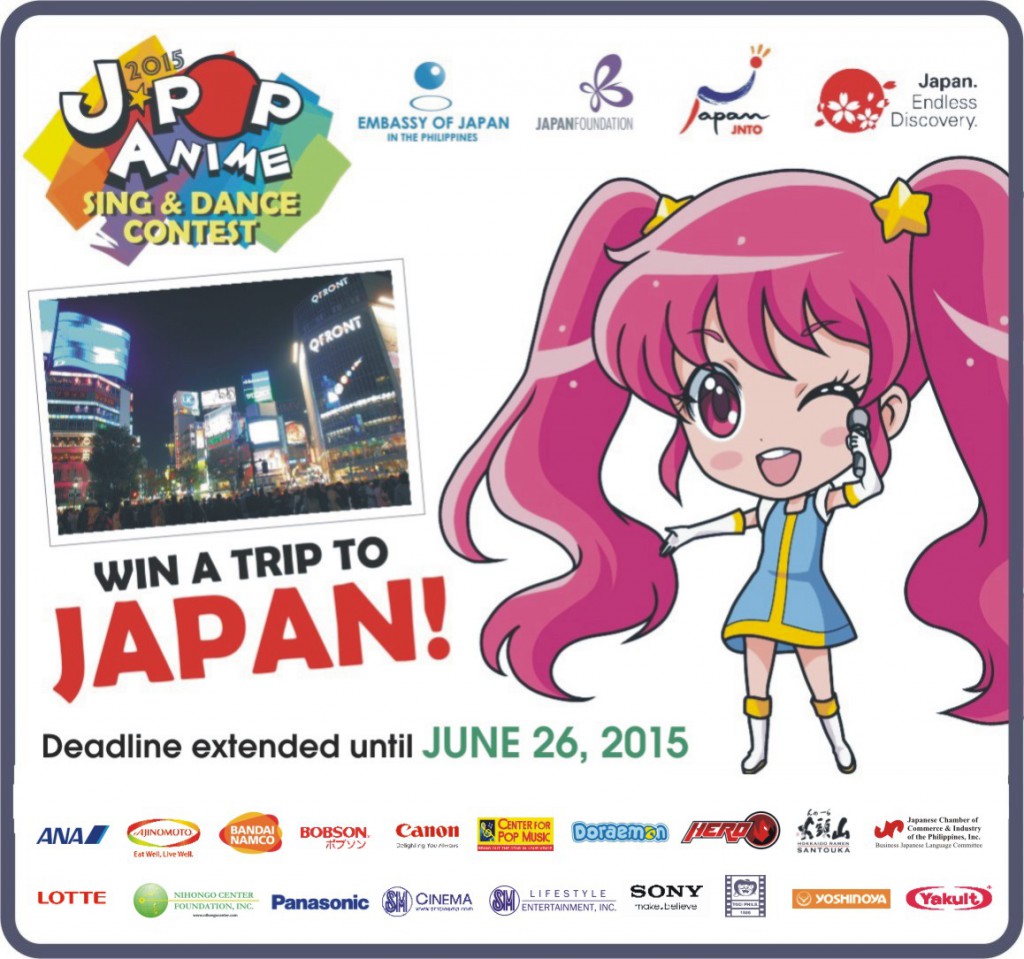 –
Do have enough confidence and skill to win an all-expense paid trip to Japan? Try your luck at the 2015 J-Pop Anime Sing and Dance Contest!
Organized by the Embassy of Japan, The Japan Foundation, Manila and the Japan National Tourism Organization (JNTO) for the Philippines-Japan Friendship Month in July, Filipino amateur singers and dancers of all ages has the chance to win amazing prices including a trip to Japan for free!
Mechanics:
• Interested participants have the option to choose which category to join: the singing category or the dance category.
• A solo or a group composed of a maximum of five members can participate inthe singing category; contestants should form a group of five members in the dancing category.
• Participants should select one Japanese song for the singing category and two Japanese songs for the dancing category, originally performed by a Japanese artist.
• They are to send a filled-out application form, a solo photo or group photo, print-out of the song lyrics with the name of the original performing artist/s, a short write-up about the participant/participating group with a 50 to 100 word limit and a demo CD containing an audio file in MP3 format for the singing category or a video file in MPEG format for the dancing category.
• All entries must be submitted to the Japan Information and Culture Center (JICC) Library, Embassy of Japan, 2627 Roxas Boulevard, Pasay City 1300 on or before the extended deadline of Friday, June 26, 2015.
The top ten contestants for the Singing Category and top five for the Dancing Category will compete in the Grand Finals to be held on Saturday, July 25, 2015 at the SM Cinema Centerstage, SM Mall of Asia, Pasay City.
The 2015 J-Pop Anime Sing and Dance Contest is supported by Ajinomoto Philippines, All Nippon Airways, Animation International, Bandai Namco Philippines, Inc., Bobson Jeans, Canon Information Technologies, Inc., Canon Marketing Philippines, Center for Pop Music Philippines, HERO TV, Hokkaido Ramen Santouka, Japanese Chamber of Commerce and Industry of the Philippines, Inc., Lotte Confectionery Pilipinas Corporation, Nihongo Center Foundation, Panasonic Philippines Corporation, SM Mall of Asia, SM Cinema, SM Lifestyle Entertainment, Inc., Sony Philippines, Toei Animation Philippines, Yakult Philippines, and Yoshinoya.
For more furtherinformation and inquiries about the contest, visit http://www.ph.emb-japan.go.jp, or send an email to jicc-mnl@ma.mofa.go.jp, or contact 551-5710 locals 2311 or 2312.