MAFBEX 2015: Flooding the Filipino with Flavors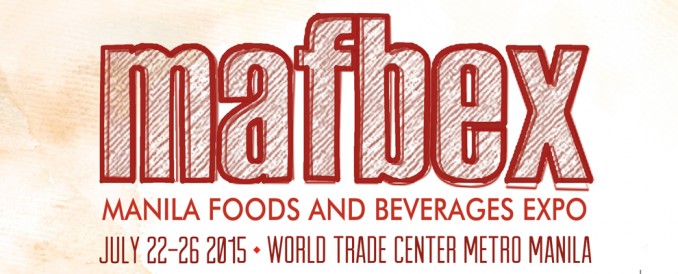 –
Everyone's favorite culinary exhibition in the Metro is back!
Organized by Comexposium and MAFBEX Events Management (MEM), a subsidiary of the leading events and exhibitions organizer Worldbex Services International, they bring you the Manila Foods and Beverages Expo 2015 on its ninth edition this year, to be held on July 22 – 26, at the World Trade Center Main Hall and East Wing Tent A at 10:00 AM – 8:00 PM in the evening.
MAFBEX 2015 is sure to bring not just Filipino foodies but also those who miss the taste of their native homeland. The event will showcase a fusion of flavors, comfort food, foreign and heritage cuisine sure to delight the taste buds.
Neighboring countries are going to open the doors to their culture with select offerings from their roster of good food. Participate in one-of-a-kind food trades and sample the wares of rare food shops and stores. Be a first-account witness to how great food is made by great chefs in their cooking demonstrations. Succumb to the mouthwatering dishes and drinks!
The event is made possible with the partnership of College of Saint Benilde, School of Hotel, Restaurant and Institution Management and the Organization of Bar Professionals.
For further information and inquiries, contact Mafbex Events Management at +6 (32) 656-9239 or email at info.worldbex@gmail.com.