Spend an Art-Filled Weekend at Eastwood City Art Market!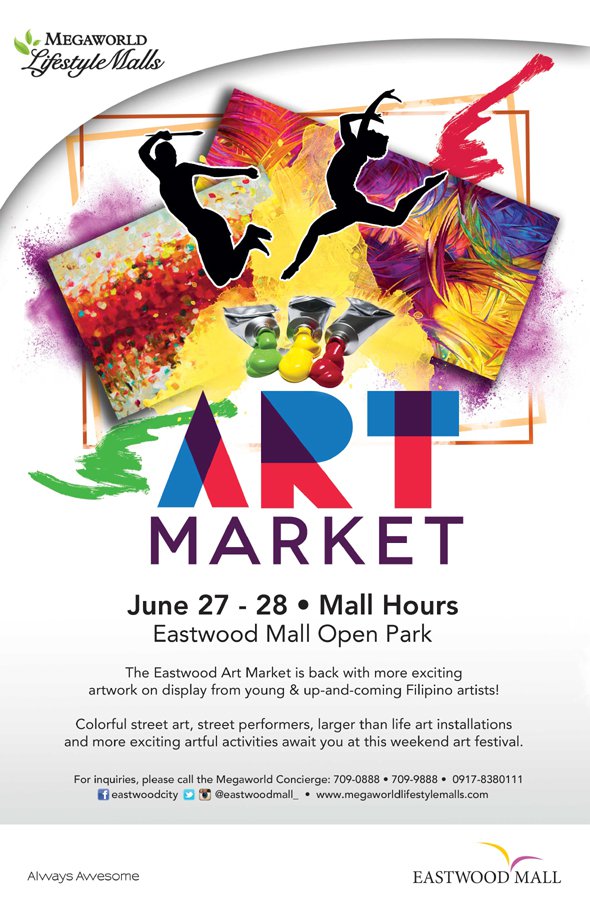 –
After its successful run last May, the Eastwood City Art Market at Eastwood Mall is back with more artwork and art installations. Catch the street murals and performers, the smell of oil and turpentine and the sound of chalk and paintbrushes at the Mall Open Park on June 27 – 28, a two-day festival following the mall hours 10:00 AM – 10:00 PM.
The highlights on the first run of the market are the Portrait Sketching and Pastel Painting workshops conducted by prominent artist and celebrated Father of Philippine Art Workshop Fernando Sena. A platform for young and contemporary artists, the Eastwood City Art Market back in May featured a variety of interactive activities. It included on-the-spot sketching, sculpturing, calligraphy sessions, stamping and origami demonstrations by local arts and crafts shops to name a few.
One of the featured galleries in the event on the June weekend is The Artologist. Known for their paintings made by talented contributors, they conduct live workshops and host brave Filipino upstart artists. They will open their galleries again for public viewing.
For information and further inquiries about the Eastwood City Art Market, contact Eastwood Mall Concierge at 709-0888, 709-9888 or 09178380111 or visit www.megaworldlifestylemalls.com.