Fête de la Musique 2015: Be it! Live it!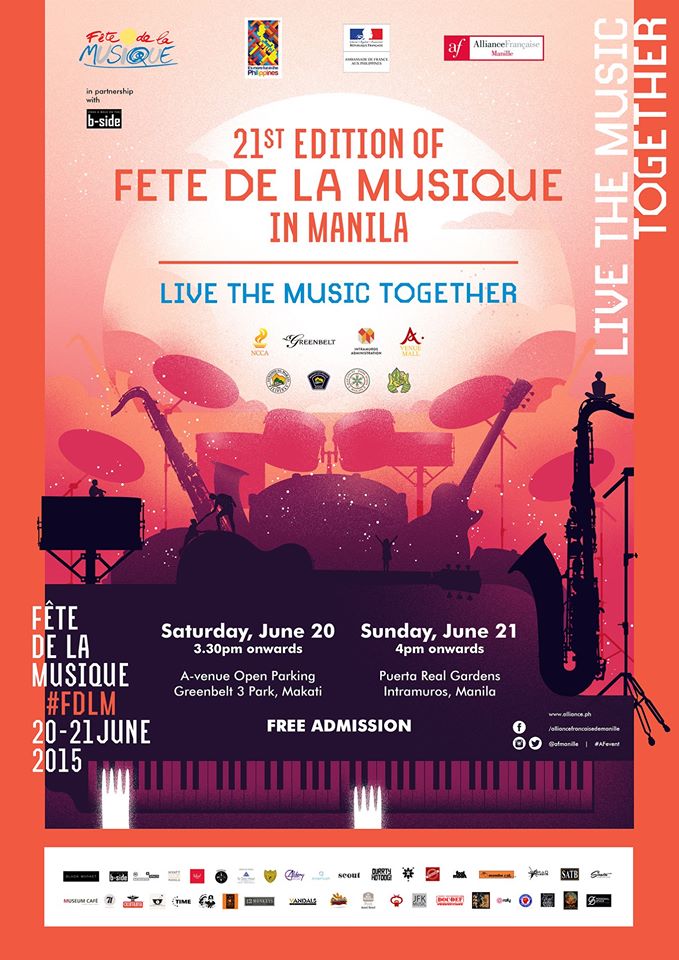 –
#FDLM takes Manila by storm!
It is the time of the year again wherein it is everyone's cue to make music with the 21st Fête de la Musique! The main event to be held in Manila on June 21 and 22, spanning over the weekend on different places in the metro including the SKYPARK in SM Aura Premier Taguig, A-venue Open Parking Lot, Greenbelt 3 Park, and around 17 pocket stages in Makati, before capping off in the historical Intramuros! It would be the first time Fête de la Musique is celebrated as a two-day event, making it more accessible to any Francophile!
Come join the party with the kick-off party at SKYPARK, SM Aura Premier, Taguig on June 19 at 6 pm with French indie folk duo My Name is Nobody.
The fun never stops on June 20 with two Makati main stages set at A-venue Open Parking and Greenbelt 3. They would feature performances from over ten performers on each venue, opening up to a night of non-stop adrenaline rushes and partying. Pocket stages on the same day offer a variety of flavors all music lovers could choose from: rock, reggae and ska, house party, acoustic, feel good, experimental + art, blues, soul and funk, Latin, local indie, electronica, world music, MOD, HipHop and RnB, Jazz, poetry unplugged and punk! The added festivities from 17 different venues, where people can easily switch their moods for music, contribute to the hyped-up vibe of the event.
On June 21, Fête de la Musique brings the main stage to Puerta Real Gardens in Intramuros, featuring local artists from Intramuros Rising, with Leo & the Tolstoys and Shutterlife to name a few. Don't forget to drop by the Nu Jazz Pocket Stage at the Hyatt City of Dreams as well!
Come and be part of one of the biggest parties celebrated all over the globe!
For more information and inquiries, contact Mr. Noe Fuentes, Alliance Française Cultural Coordinator at nfuentes@alliance.ph or check their website and Facebook page.