TOYCON 2015: 14 Years of Pop Culture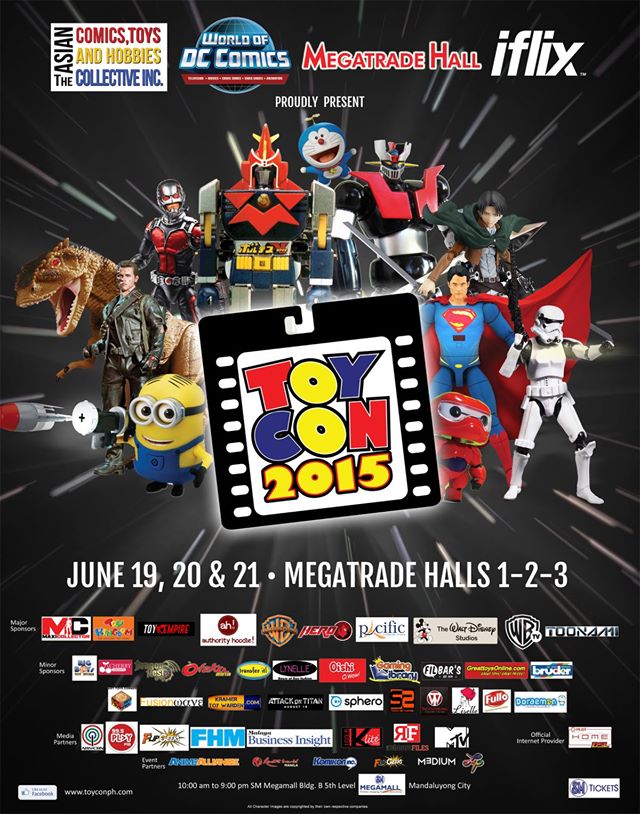 –
Join the biggest pop-culture event of the country, and the longest running interests convention in Asia!
TOYCON 2015 celebrates 14 years of games, comics, anime, hobbies and collectibles on June 19-21, 2015 at the SM Megatrade Halls 1, 2 and 3, SM Megamall, Mandaluyong City, from 10:00 AM – 9:00 PM!
Weeks prior, there was a grand launch for the event on May 30-31 at The Plaza at Newport Mall, made possible by Resorts World Manila. There, the World of DC and Collectors' Exhibit and the World Cosplay Summit was unveiled, a series of panel discussions was held and prizes were given away.
In this year's TOYCON, an exhibit with the cooperation of Pacific Licensing, highlights the World of DC Comics and its characters. IFLIX, the main Internet service provider in Southeast Asia, would also make its presence known in the event, showcasing its unlimited access to movies and TV series. Trial memberships are now open, and content can be accessed on www.iflix.com.
Star Wars would undergo an awakening with the new line of merchandise brought by Walt Disney Pictures based from the original film saga and the release of the new Star Wars Rebels series. Have a glimpse of the minuscule world with a Marvel Interactive exhibit of the smallest superhero Antman and a display of artworks and collectibles of Universal Pictures' Terminator: Genisys and Jurassic World. Also, catch the highly-anticipated upcoming movies live-action Attack on Titan from Pioneer Films and Doraemon: Stand By Me the Movie in 3D.
Expect out-of-this-world exhibitions from local toy clubs: One Sixth Republic, the Coca-Cola Collectibles exhibit, FunkoFunatic Philippines, Planet Krypton, the Pinoy Lego Users Group exhibit,and the Pinoy Sixth Scale collectors exhibit together with the Toycon Gallery exhibit. Watch out for an appearance of Asia's Cosplay queen AlodiaGosiengfiao together with individual and group cosplayers and the Star Wars 501st Philippine Outpost parade.
Together with the pop quiz competitions and the Artist Alley set up by Flipgeeks and Komikon, TOYCON 2015 is undeniable the largest dealer of pop culture merchandise in the form of comic books, graphic novels, cosplay apparel, collectibles and of course, toys! Tickets are at P150 and are now available at SM Tickets till June 18, 2015. Tickets are also available at the gate during the event dates, June 19-21.
Hop on the bandwagon of fun and excitement!
–
TOYCON 2015 is co-presented by Asian Comics, Toys and Hobbies- Collective, Inc., IFLIX, and World of DC. Sponsors are Authority Hoodie, MaxiCollector, Pacific Licensing, Toonami,Toy Empire, Toy Kingdom, Walt Disney Studios, Warner Brother Pictures, and Warner TV. Supported by Big Boys Toy Store,Bruder Toys, Great Toys Online, the Gaming Library, Lynelle House of Fashion, OISHI, Pioneer Films, PLDT Home DSL and PLDT Home Telpad, Sphero, Transfer It, Kramer Toy Warden.com and Universal Pictures. Media partners are ABS-CBN, 99.5 Play FM, 103.5 K-Lite, FHM, HERO, Malaya Business Insight, MTV Pinoy. Event partners are Anime Alliance, FlipGeeks, Komikon, Medium 3 and Resorts World Manila. For further information and inquiries about the schedule of activities, visit their website or their Facebook page or email toyconph@gmail.com.