QUATRE PRIÈRES: A Humble Night of Music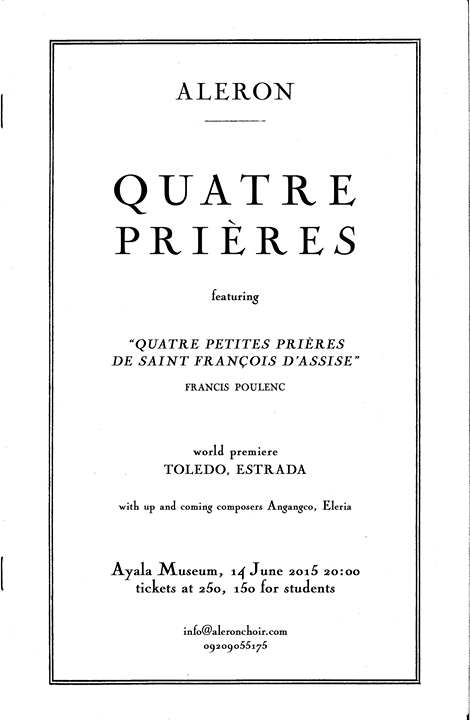 –
Hark, the voices of the all-male choir Aleron, aptly named after the Latin term for the winged one, as they are out to take everyone to new heights with QUATRE PRIÈRES at the Ayala Museum on Sunday, June 14 at 8:00 in the evening.
The highlight of the event is Francis Poulenc's Quatre Petites Prières de Saint François d'Assise, a four-part work intended for the male choir, exhibiting the skills and versatility of each member. Poulenc's work will be accompanied by other contemporary pieces of sacred music. Among them are the works from Josefino Chino Toledo and Robin Estrada, together from up-and-coming Filipino composers Gianpaolo Eleria and Raoul Carlo Angangco.
The performing choir Aleron was formed back in 2006 and is currently under the wing of conductor Christopher Arceo. The group was formed from the banding together of the alumni of the Ateneo High School Glee Club. Aleron's choristers are united in their diversity, further improving their skills, which is evident in their growth. Last October, they were declared champions of the 10th Busan International Choral Festival in South Korea.
It is definitely going to be a night to remember.
Tickets are available at P250.00 for regular, and P150.00 for students with valid IDs. For more information and ticket inquiries, contact info@aleronchoir.com or +639209055175.