Caruso Awards Night 2015: The Young Filipino Painters Competition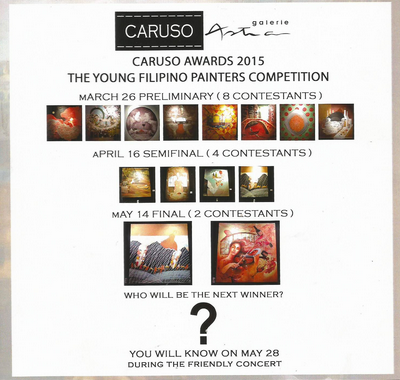 –
Enjoy music, art, food and wine all in one night!
Be one in celebration of the Filipino artistry as The Young Filipino Painters Competition holds its culmination night and awarding ceremony on May 28, 2015 at the Galerie Astra, Makati City.
From 6:30pm-9pm, sit back and relax to the calming tunes of the concert at Galeria Astra with performances from Jose Marie Chan, Arthur Manuntag, George Yang, Rachelle Gerodias, Baritono Park Byeong, Jade Riccio, and Christian Nagano. Italian Ambassador Massimo Roscigno and Mrs. Evelyn Mina will formally award the winners of The Young Filipino Painters Competition after.
After the concert, wine, dine, and enjoy the rest of the night at the Caruso Ristorante Italiano with the presence of many artists and VIP guests. Formal attire is highly-suggested for the whole event. Make your reservations now!
–
For table reservations, please call:
Caruso Ristorante Makati
            LRI Building, Nicanor Garcia Street (formerly Reposo), Makati
(02) 895-2451 / (02) 895-8790
For concert reservations, please call:
Galeria Astra
LRI Building, Nicanor Garcia Street (formerly Reposo), Makati
(02) 890-3988
RSVP: caffe_caruso@yahoo.com / marketing.caruso@yahoo.com.ph
–
Article by Derick Flores