VIXX Live Fantasia Manila Utopia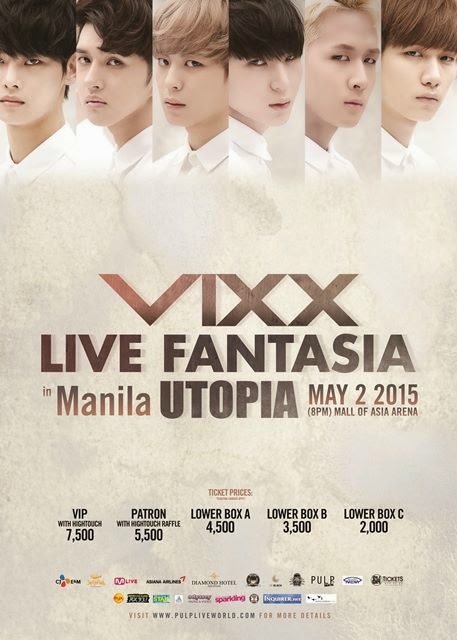 .
Witness the first-ever Manila concert of the emerging K-Pop sensation known for their hits Rock Ur Body, Don't Want to Be an Idol, On and On, Hyde, G.R.8.U, Only U, Voodoo Doll and Eternity.
PULP Live World, in cooperation with 28 Black, presents VIXX Live Fantasia Manila Utopia on Saturday, May 2, 2015 at the Mall of Asia (MOA) Arena!
VIXX stands for "Voice, Visual, Value in Excelsis." They are a group of six formed through a variety show/popularity contest that has been in the Korean music industry for three years. Adored by fans from their native country and internationally, VIXX has taken USA and Japan by storm in 2014. Now, they are coming to the Philippines to transport their fans in a captivating K-Pop fantasy world!
Gates open at 6PM before the show starts 8PM. Tickets are priced at P7,500 (VIP w/ High Touch Raffle), P5,500 (Patron), P4,500 (Lower Box A), and P3,500 (Lower Box B) and are available nationwide at all SM Tickets branches (470-2222, ticketing charges apply). PULP Royalty is also available at P10,000 that comes with a guaranteed photo with VIXX in groups of 10 and High Touch Opportunities with a special gift of a signed poster too.
Visit their website and their Facebook page for more details and updates.