MTV Music Evolution Manila: Hip-hop 2015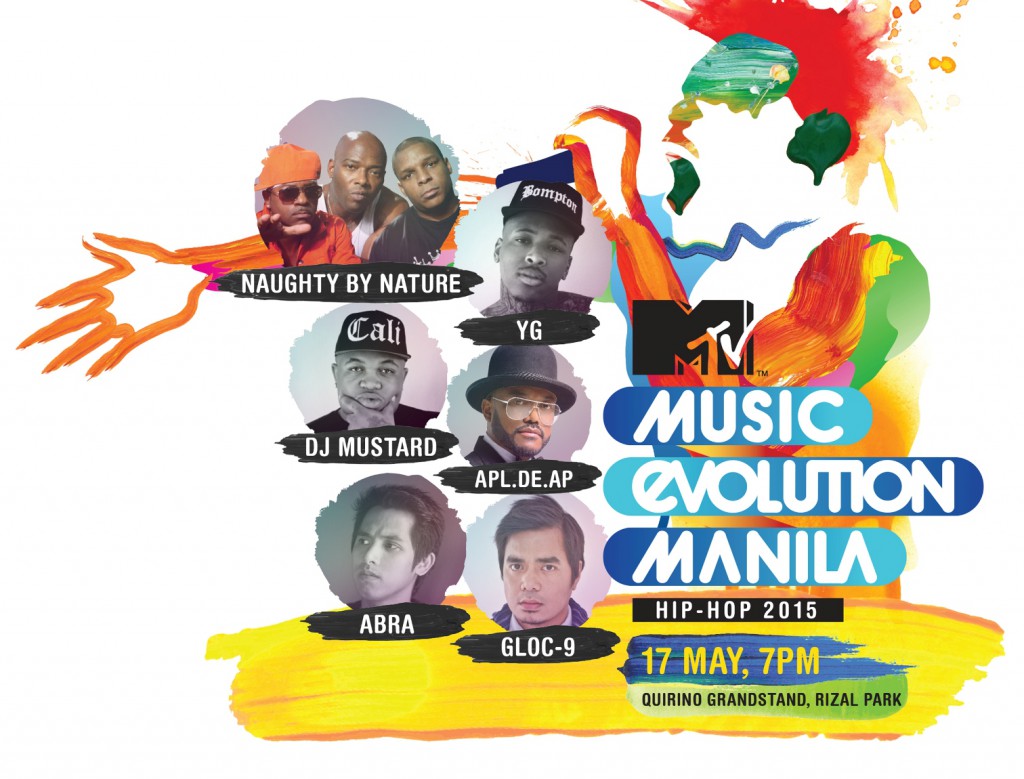 .
Get ready for the most happening hip-hop and art event in the metro! MTV, a unit of Viacom Inc. (NASDAQ: VIAB, VIA), will be holding the MTV Music Evolution 2015 on Sunday, May 17, 2015 at the Quirino Grandstand, Rizal Park in Manila!
Witness the evolution of the hip-hop genre and discover how the styles and sounds have changed over the years. MTV Music Evolution marks its inauguration 2015 edition with a feature on hip hop, showcasing iconic and contemporary hip hop acts from both international and local music scenes such as Naughty by Nature, YG, DJ Mustard, Apl.de.ap, Gloc-9 and Abra on a single stage, while featuring the best of Philippine music and culture to international youth audiences. Also, catch the performances of two of the West Coast award-winning artists YG and DJ Mustard for the first time in Asia!
Watch out for the giant 3D MTV logo art, too! Created in action last April 24, Friday at Eastwood Mall, Quezon City, Manila-based graffiti artists Chichi Monster, Nick Automatic, Egg Fiasco and Chill completed four 10-feet tall logo art installations found in the metro's hot spots, such as The Collective, Glorietta 4 and Quezon City Circle. They will be on display together on the 17th as well.
MTV Music Evolution 2015 will open its doors at 3pm, with the event starting at 7pm. Event is free, but you need to have special passes to be able to get in. Win those free passes to this event through their online game or through Philippine Primer! Watch out for more details soon.
MTV Music Evolution 2015 is presented by the Tourism Promotions Board (TPB) of the Philippine Department of Tourism (DOT), co-presented by Nestle® Drumstick® and major sponsor Nestlé® Kit Kat®, supported by the National Parks Development Committee (NPDC), with media partners Circuit magazine, Gist.PH, Inquirer.net, 99.5 Play FM, Wave 89.1, OOMPH RADIO, WhenInManila.com, broadcast partners Cignal and Dolby, and ride partner GrabTaxi. For more information, visit their website and their Facebook page.