THE TAIKO EFFECT: DRUMS OF CHANGE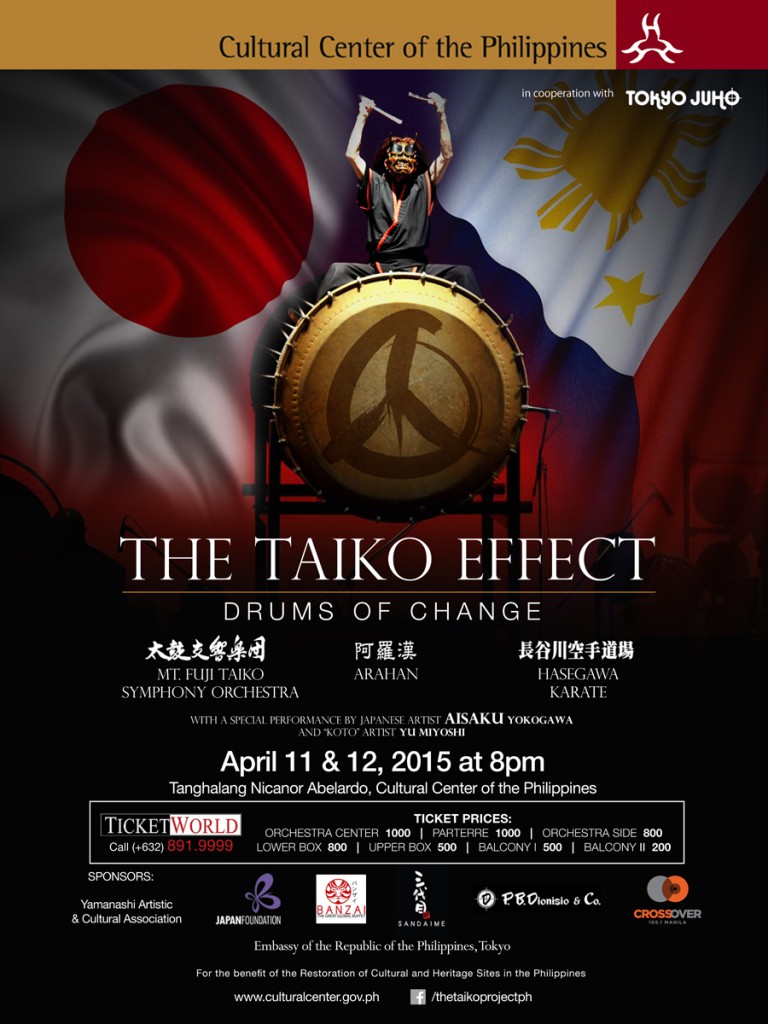 —–
The Cultural Center of the Philippines together with Tokyo Juho, Inc. will be holding a charity concert, THE TAIKO EFFECT: Drums of Change at the Tanghalang Nicanor Abelardo, CCP Main Theater on April 11 & 12, 2015 at 8:00pm. A portion of the ticket sales will be donated to non-profit organizations actively taking part in the efforts to restore and rebuild our Cultural & Heritage Sites in the Philippines that have been damaged by flood and other natural disasters.
The Mt. Fuji Taiko Symphony Orchestra (formerly the Yamanashi Japanese Drum Symphony Orchestra, led by the late Conductor/Composer Amano Sen, 1934-2014), Arahan and Hasegawa Karate will be performing an exciting collaboration between music and the martial arts. They will be joined by Japanese artist, Aisaku Yokogawa who will be serenading us with a medley of international songs to showcase the beauty of our two cultures.
Chairman Hiromi Ishioka (Chief Executive Officer of Akafuji Daiko) of the ASEAN Exchange Committee, with the support of the Embassy of the Republic of the Philippines, Tokyo has initiated an International Cultural Exchange Program to foster stronger ties between our two nations. This concert will be the first of many social and educational activities geared towards encouraging and promoting a deeper understanding of each culture under this program.
This event was made possible through the support of our partners: The Cultural Center of the Philippines, The Yamanashi Artisitic & Cultural Association, The Japan Foundation, Manila, Banzai: The Great Teppanyaki Theater Mall of Asia & Sandaime Eastwood Mall of the SumoSam Group of Restaurants, P.B. Dionisio & Co., Inc., Nemoto Travel & Tours, Philippine Airlines, and our official media partner, 105.1 Crossover Manila.
You may visit http://culturalcenter.gov.ph and http://facebook.com/thetaikoprojectph for more details. Tickets can also be purchased thru Ticketworld. Call (+632) 891.9999 or visit their website at https://www.ticketworld.com.ph.