Madrid Fusión Manila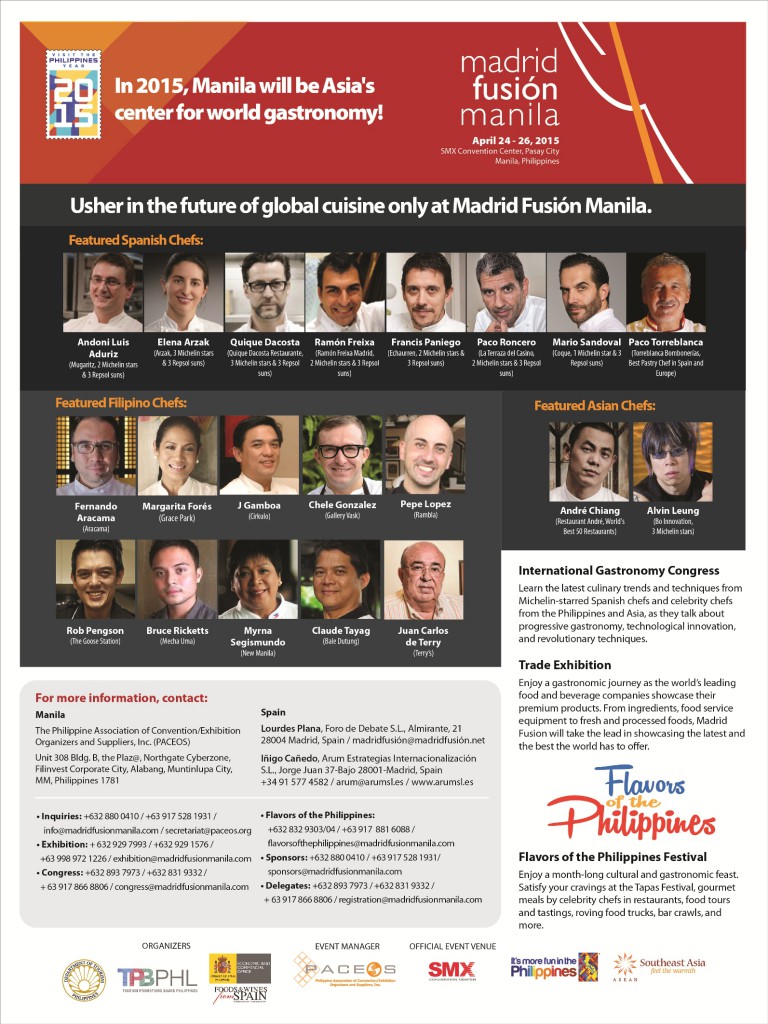 The most anticipated gastronomic event this year is happening right here in the Philippines!
On April 24-26, Madrid Fusión Manila will take place at the SMX Convention. Organized annually in Madrid, Spain, this is the first time that this global event will be held in Asia!
Three very exciting events will take place during these days:
The International Gastronomy Congress. Witness as internationally renowned Michelin-starred Spanish chefs and notable Asian and Filipino celebrity chefs share culinary traditions that are of varying origins and innovations, trends and techniques that contribute to global cuisine. Topics, such as different ways of price preparation, olive oil flavors and Spanish and Filipino tapas, shall be discussed in great detail. (See the profiles of these chefs above.)
The Trade Exhibition. Participate in tasting seminars, degustation tunnels of wines, cheeses, olive oils and many more as premium Spanish and Filipino products — from ingredients, food service equipment to fresh and processed foods — are showcased. The trade exhibition is open to trade professionals, but it shall be open to foodies as well on April 26. Reserve your tickets here.
The Flavors of the Philippines Festival. Foodies will have a field day as food tour and tasting, roving food trucks, bar crawls and even a Tapas festival take place simultaneously all over Metro Manila. Watch out for more details soon.
A joint partnership between the Department of Tourism, the Tourism Promotions Board and organizers Foro de Debate and ARUM, Madrid Fusión Manila aims to highlight the 300 years of shared history between Spanish and Filipino gastronomy.
"The whole concept behind Madrid Fusión is to get the best in the culinary arts to come to Manila, share their knowledge, and learn from our local culinary chefs at the same time," said Department of Tourism (DOT) Secretary Ramon Jimenez, Jr. "Not only are we excited to learn from the modern techniques, this event serves to challenge our food artisans to bring out the best in their craft and to start a crusade to make Manila the center of culinary excellence in this region."
 ———————————–
Highlighting the Philippines as a culinary center of excellence in Asia, Madrid Fusión Manila is part of the "Visit the Philippines Year 2015" initiative. It presents a unique opportunity for chefs, food aficionados, and food-and beverage company professionals to come together, learn new things and share their talent, expertise, as well as products to the market. For information on the chefs, the activities and registration, please visit http://madridfusionmanila.com.