Sailing in Music: Free Orchestra Concert
Enjoy a collaborative performance of classical orchestra music by World-Ship Orchestra (Japan) and Manila Symphony Orchestra (Philippines) on February 21 at 3:00 PM at the Tiu Theater, Makati City.

Program:
He's a Pirate (Pirates of Caribbean)
Mga Katutubong Awitin (L. San Pedro)
Rumanian Folkdances (B.Bartok)
Clarinet Candy (L. Anderson)
Symphony No.2 4th Movement (A.Borodin)
etc.
Bring your friends and families and spend the night with great music!
Admission is free. For more info, please visit their official page.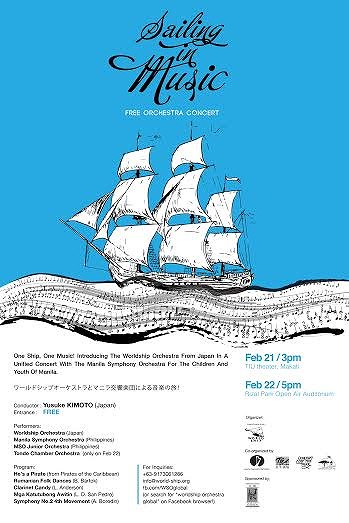 World-Ship Orchestra (WSO), "world-ship" which expresses the vision like that of a SHIP sailing the WORLD and "ship" that could mean 'friendship'. With musicians whose passion is to deliver music and educate the children who has lesser or even no access to classical music, WSO recruits a group of about 30 instrument players from Japan and organize a full classic orchestra to deliver free educational concerts for children in the Philippines and other countries. This is with an objective that after listening to and experiencing our concert, we want the children to have an interest in learning music and improve their life-skills through music education.
Starting February 14, 2015, WSO will explore around Manila to meet thousands of children. Not only watching and listening to the orchestra, the children will have the chance to join, sing along and conduct with the orchestra members onstage. This kind of experience will instill the beauty of music that builds self-esteem, confidence, hope and the inspiration to strive and shine in the future. Immersing one's self in an orchestra teaches how important it is to behave in a team in order to be constructive and cooperative to one another, literally in HARMONY with friends. WSO believes that this is the best way to keep instill the value of peace in our children.