Pili Beauty: Natural beauty comes from feeling beautiful within
Pili Beauty: Natural beauty comes from feeling beautiful within
The Bicol region is known for its lush mountains, bountiful waterfalls, and an active volcano. Aside from those, there are more reasons on why to visit this part of the Philippines. In this region, deep in the forest lies Pili, translated as "Chosen". The locals have harvested them and sold for a fair price for tourist to enjoy or take home to their loved ones. The pili nut is a wonderful nut that has a lot of special properties to help our bodies, inside and outside. For the brand, Pili, there is something more to this nut.  Pili tree is also considered as one of the trees of life as all parts of the Pili Tree can be used.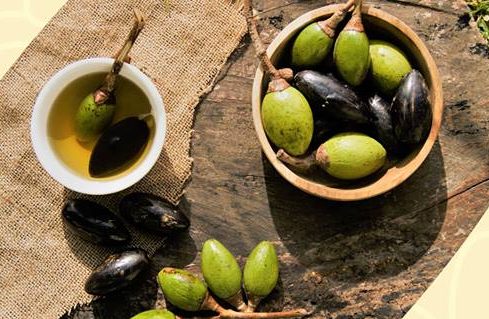 Pili Oil from the Pili Nut in Bikol
Through the discovery of organic agricultural advocate, Rosalina "Rose" S. Tan, who was then searching for ways to help promote Bikol and help the locals caught in poverty from all the natural disasters that beset the region. Pili came to reality and up to now continues to be a local brand to be proud of. With a team of experts, they carefully extracted the oil from the nut and compared them with the most popular oil in the country, the Virgin coconut oil.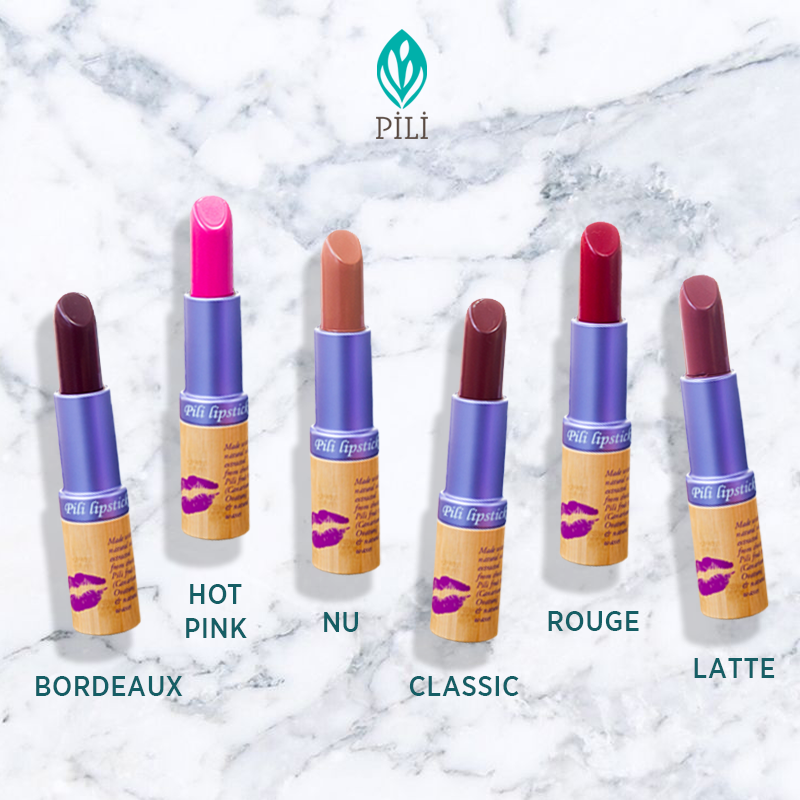 Pili Lipsticks (Php 680)
It is said that Pili Oil, helps hydrate the skin while elemi oil, which is distilled from the resin, helps keep the skin's firmness and elasticity. For more than a decade, Rose Tan continues her contribution to the world and created the oil perfect for all nationalities. Pili then became a luxurious personal care brand that uses 100% natural PILI and Elemi oils as the base and active ingredients for its products.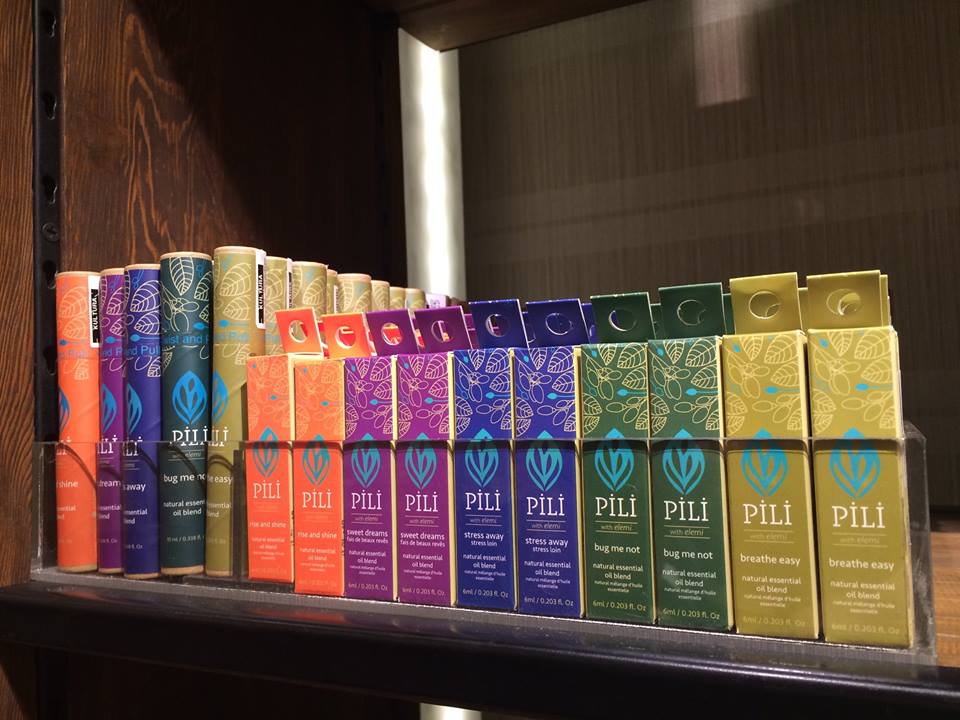 Pili products can be found in every SM Kultura branches in the Philippines
The goal of the brand is to release the beauty within the consumer, to be able to care for our skin the local and organic way. Pili Beauty worked closely with the farmers in Bicol help the plant thrive. They assure that they don't use harmful pesticides, chemicals or other synthetic materials are used to grow the trees or induce harvests. Pili's vision and mission are, to be a responsible role model in the field of natural and organic products backed up by scientific verification from the principles of the law of nature and to attain that business growth equitably with social concerns and moral obligations.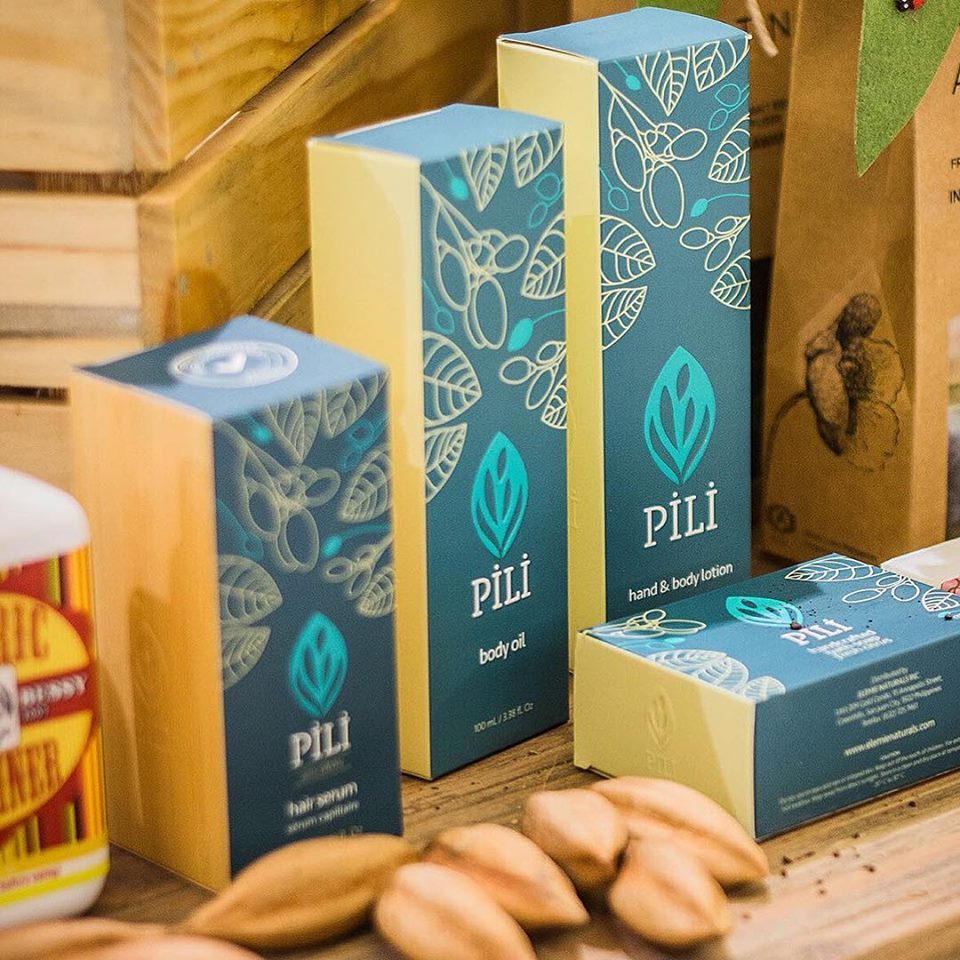 Pili Hair Serum (Php 1000), Pili Body Oil (Php 1150-1792), and Pili Hand and Body Lotion (Php 390-580)
Pili has a wide selection to choose from, they offer lip care, daily essentials such as bath soaps, body oil, haircare, body care, and wellness. The Pili (Pili Pulp Oil) are common in primary forests that can differ sometimes in the location such as Northern Luzon (Cagayan) to Mindoro, Ticao, Sorsogon, Albay, Camarines Sur, Camarines Norte, Bicol. The oil is what makes it possible to hydrate and nourish skin, knowing that plant oils are very suitable for our skin. Pili also has antimicrobial and anti-inflammatory properties that can unclog unwanted dirt.
You've probably seen this brand somewhere, the blue packaging makes it easy to spot the brand. Normally, you can buy them online via www.beautymnl.com, at SM Kultura stores or through their website, ww.pilibeauty.com. If you're looking for a locally made beauty line and would like to expand your knowledge about what the Philippines can offer, Pili will make you what the Philippines feels like when at home. Check out their Facebook page for more information.
---
Images Sources: Pili Beauty and Wellness Facebook page