Bangs Tony & Jackey
Bangs Tony & Jackey
Where to go to get that fashionable K-Pop hairstyle
Surely there's something about having that enviably sleek, long black hair or a hairstyle worthy of a cover of Vogue Japan, Elle Korea or Nonno Magazine that countless of Filipinos and expats alike have come to frequenting the many Japanese and Korean hair salons in the Metro. If you are on the look-out for fashionable hair cut and styling, efficient and precise staff and hair care technology that gives more than amazing results,  then read on because Philippine Primer knows where to go.

Probably one of the most recognized hair salons is Bangs Tony & Jackey, a hair salon that's been in the Philippines for 15 years, starting from its ever hair salon in Malate, which was opened in 2001. Hair cut usually begins at PHP800 (senior stylist), while treatment starts at PHP1,000. The salon is known for generously offering promos every month to its customers.
–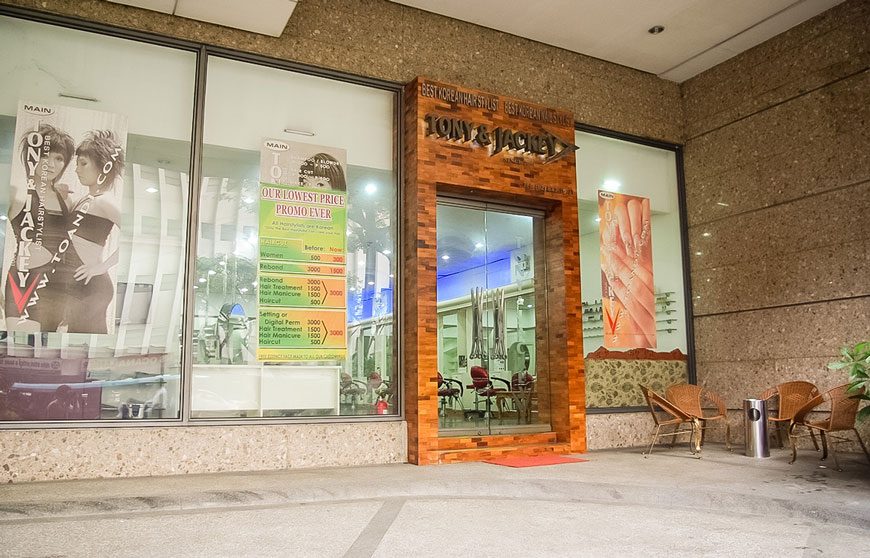 Bangs Tony & Jackey West of Ayala branch serves majority of Makati denizens

–
Each Bangs Tony & Jackey salon is usually helmed by Korean hairstylists and ably assisted by Filipino hair staff which serve both as interpreter and assistant to the Korean stylists. The Filipino staff usually primps and preps the hair prior to hairstyling. A visit to any Bangs Tony & Jackey salon unfolds like clockwork – a Filipino assistant will wash your hair as the hairstylist studies the current condition of the hair and recommends an appropriate treatment.
The whole process goes in quick succession: hair is primped and washed; treatment is applied depending on preference; cut and styled then washed again before the final blow drying and styling. While there is a bit of a language barrier, the stylists usually does his or her best in explaining the process while getting feedback from the customers. There is usually less chatter amongst assistants (as opposed to local salons) and you are offered water or coffee and a stack of magazines during the long wait.
–
Salon interiors are usually trendy and spotless, perfect for a day of primping and pampering
–
Interiors are clean and often times trendy. Hair care and styling products are usually available for purchase at the salon should you prefer at-home hair care maintenance.
For branches and contact details, visit http://bangs.com.ph/.
–
Article by Melanie Suzon
Photos from Tony & Jackey website