Chinatown x Divisoria Spot 2020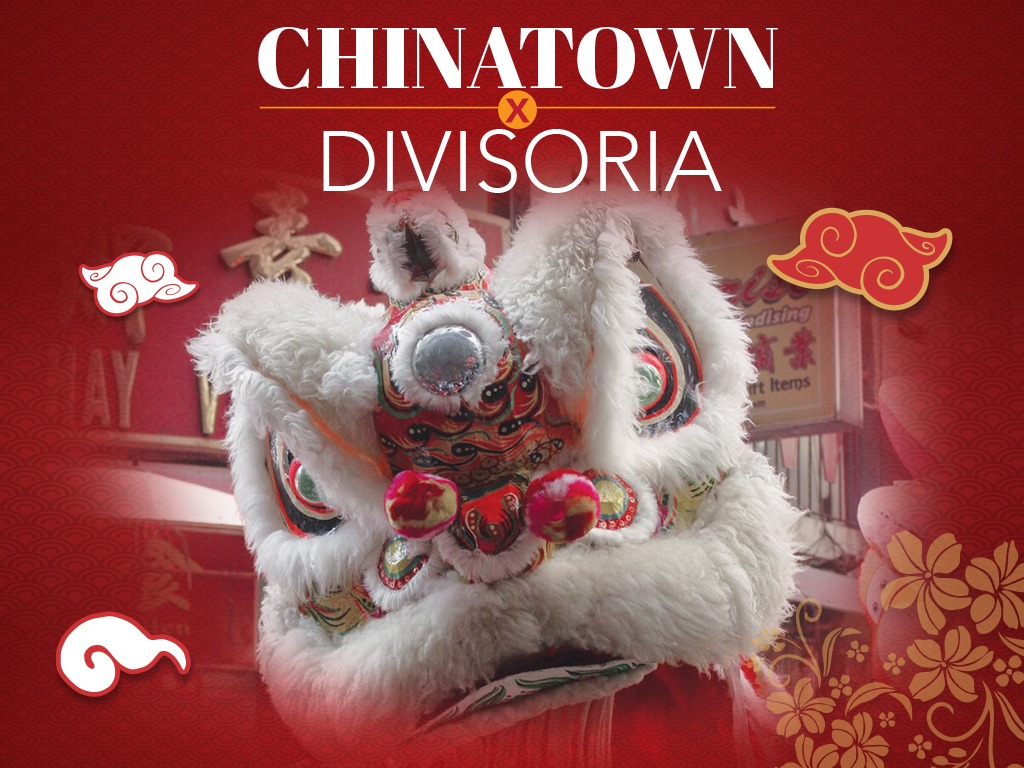 We have welcomed a happy new year, yet there is immediately another one to celebrate: the Lunar New Year. And what better place to celebrate this Chinese festivity than in the place deeply saturated by their culture?
The Binondo district of Manila is the oldest Chinatown in the world. Its beginnings can be traced back to the late 16th century when Chinese traders were pushed to isolation from the Spanish colonists in Intramuros. This led not to their downfall, but rather the complete opposite—the Chinese immigrants have since flourished and completely integrated into the Filipino society.
And Binondo is now the perfect representation of the strong cultural and historical ties of the Filipinos and Chinese. The streets have an unmistakable ambiance of an ancient town, filled with feng shui stores, Chinese drug stores, and delicious restaurants that call for a food crawl.
Meanwhile, Chinatown intertwines with Divisoria, a bustling commercial center of Tondo district that is the ultimate destination for cheap and novel finds. Many people flock here to shop for holiday gifts during Christmas and—in time for the new year—to grab new personal and household items after one has thrown or given away old things from the past.
Divisoria also shares the history of Chinatown as the district was also occupied by Chinese merchants during the Spanish era. Over the years, Divisoria paints a picture of a chaotic space of makeshift stalls, interlacing traffic, and a sea of shoppers. Some even say that this is part of the overall charm of the place.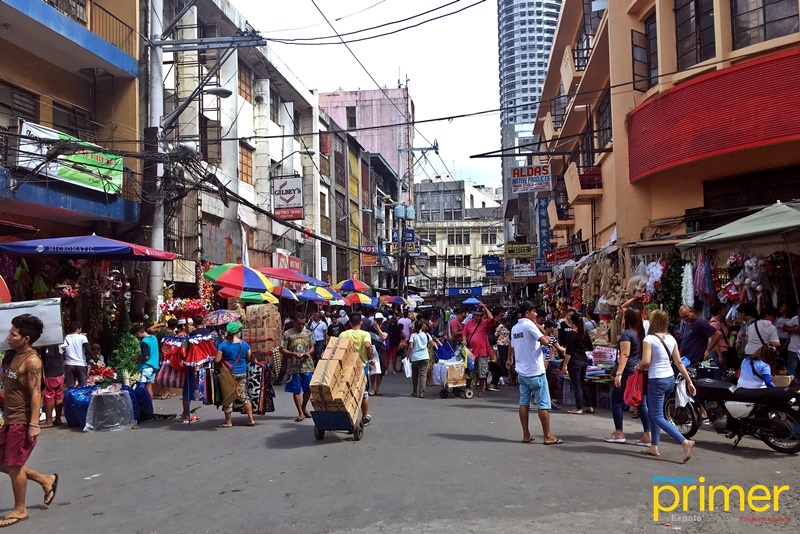 However, thanks to the efforts of the new city administration, Divisoria is now less intimidating for first-timers and fainthearted shoppers after the clean-up operations. It has become easier to navigate and the roads now offer more space to walk around.
In this month's feature, we explore the streets of Chinatown and head for a shopping galore to Divisoria!
Access
By car
There are three major parking areas in Chinatown. If you plan to explore the area of Ongpin Street, you can park your car at Binondo Church or Eng Bee Tin. If you are exploring both Divisoria and Chinatown in one day, you may park at Lucky Chinatown Mall, but paid parking spaces are also available in other malls.
Always remember, street parking is not recommended.
Outside of mall hours: Php 100 for 3 hours; Php 50 per succeeding hour
Within mall hours: Php 50 for 3 hours; Php 20 per succeeding hour
After the 5th hour: 40 per succeeding hour
Php 80 for 1 hour; open 24 hours
Eng Bee Tin Flagship Store, 628 Ongpin St., Binondo
For Eng Bee Tin customers: Free 2 hours for a minimum spend of Php 700
For customers of affiliated stores (The Great Buddha Cafe, Chuan Kee, and Cafe Mezzanine): Free 2 hours for a minimum spend of Php 500
For public: Php 150 for 2 hours; Php 100 per succeeding hour
Php 50 for first 3 hours; Php 20 per succeeding hour; additional Php 150 for overnight parking
Php 50 for 1 hour; Php 20 per succeeding hour
Php 50 per hour for the first 3 hours; Php 20 per succeeding hour
By public transport
The nearest LRT station to Chinatown is Carriedo Station, a 5-minute walk to the Arch of Goodwill on Ongpin Street. From the MRT line, you can connect to LRT Line 1 at Taft Station.
Meanwhile. the closest train station to Divisoria is LRT2 Recto Station, where you can ride a jeepney to Divisoria. It is also possible to get to Divisoria by foot.
Safety tips
When in Chinatown:
Avoid the attention of pickpockets and thieves by dressing simple, comfortable clothes and wearing minimal jewelry.
Keep money in a single wallet, and plan the amount you will bring. Don't bring big amounts of money.
Wear your bag across your body on the front.
Keep your smartphone and other gadgets in your bag and only use them as needed. Avoid putting them in your jean pockets.
When in Divisoria:
The same safety tips as in Chinatown applies to Divisoria.
Take Divisoria as a battlefield of sorts! Eat before you shop and stay hydrated.
Prepare a list and know where to find these items.
Be discerning with the quality of the items you purchase.
Haggle if you must—most vendors are willing to offer discounts, so ask before you buy.
Try to schedule your visit on weekdays when there are fewer crowds.
Where to go: a guide map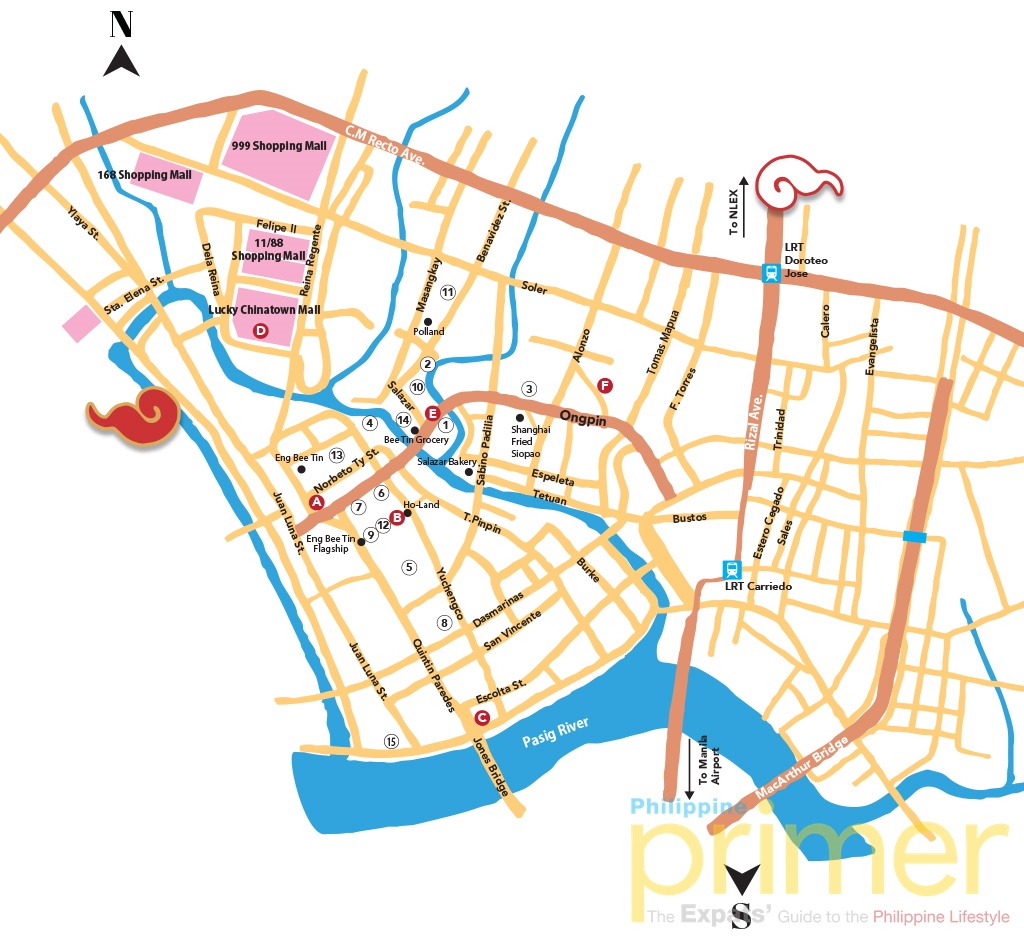 click the image to enlarge
Where to Go in Chinatown x Divisoria
Where to Eat in Chinatown x Divisoria