Japan Fiesta Returns This February at Glorietta
Travelers who seek the majestic sights, culinary wonders, and delightful pop culture of Japan are invited to the much-awaited return of Japan Fiesta this February 18 and 19, 2023 at the Glorietta Activity Center and Palm Drive Activity Center in Makati.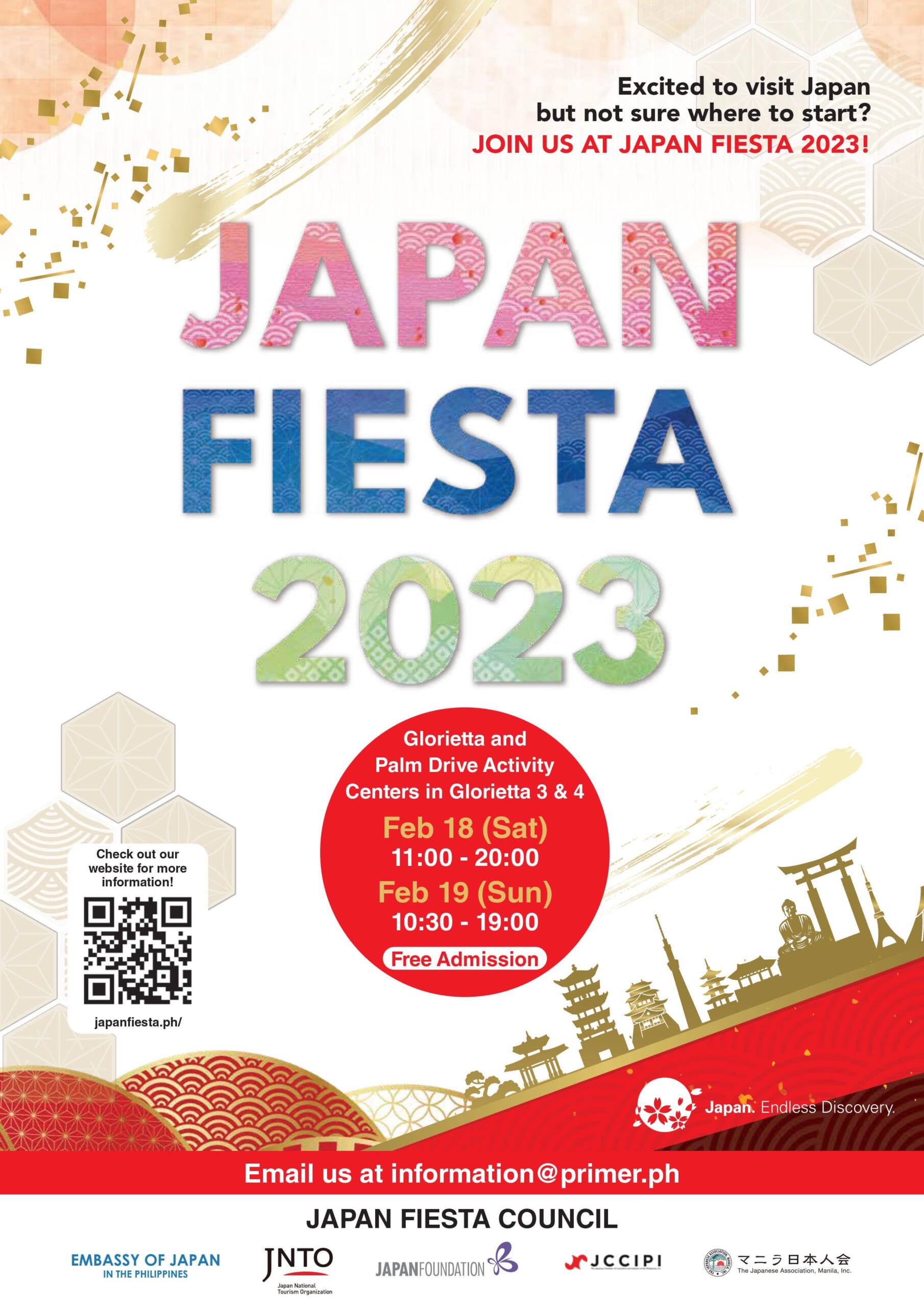 With the goal to strengthen the friendship of Japan and the Philippines, the Japan Fiesta Council gathers major airlines and travel agencies that offer trips to the Land of the Rising Sun. Visitors can book their tickets, schedule their tours, and buy their travel essentials from the council's partner airlines and agencies during the event. 
Meanwhile, a festival of Japanese flavors can be celebrated at the food booths that offer visitors their all-time favorite Japanese snacks and beverages such as Pocky, takoyaki, gyoza, and Japanese beer among others. After having a snack, visitors may drop by the Festival (Omatsuri) Area that will feature various fun games and exciting activities for kids and children at heart.
To further showcase the country's rich and fascinating culture, the Japan Fiesta Council also invited Namahage Satokagura, Taiko Drummers, and a guest performer from Japan to celebrate the country's unique heritage and traditions through music and performing arts.
OtaCutE, on the other hand, will take Japan Fiesta visitors to the world of cosplay through various stage and booth activities.
OtaCutE continues to make anime a reality by hosting various Cosplay festivals in the Philippines. / IMAGE from OtaCutE

The influence of Japanese culture to the Philippines can also be witnessed through jaw-dropping performances by local and international artists including all-girl groups MNL48 and R RULES, as well as through a special appearance of Half-Japanese Beauty Queen Yana Fuentes.
The rising Fil-Japanese group, R RULES, redefines the rules and represents modern women with their music. / IMAGE from R RULES
This much-anticipated event will be hosted by the fun trio of Japanese Singer Aisaku Yokogawa, The Voice Kids Finalist Sharla Cerilles, and Japanese Comedian Yuki Horikoshi.
Save the date, gather your family and friends, and discover the endless possibilities Japan has to offer at the Japan Fiesta 2023! 
To discover more about Japan Fiesta 2023 at Glorietta, visit its official website at www.japanfiesta.ph and its Facebook page, Japan Fiesta PH. 
For media inquiries, please get in touch with Japan Fiesta 2023 Project Coordinator Chin Sanigan at chin@primer.ph. 
About the Japan Fiesta Council
Japan Fiesta 2023 is organized by the Embassy of Japan in the Philippines, in partnership with Japan National Tourism Organization, The Japan Foundation, Manila, The Japanese Chamber of Commerce and Industry of the Philippines, Inc., and The Japanese Association Manila, Inc., which complete the Japan Fiesta Council. Its common goal is to strengthen Japan and the Philippines' friendship by exhibiting the beauty of Japan through its tourist destinations, culture, and culinary wonders.