Know More About Studying Abroad at The EducationUSA Fair
If studying abroad has been your lifelong dream, grab the opportunity and drop by at this annual event supported by the U.S Department of State.
The EducationUSA Fair is opening its doors again in the Philippines on February 27, 2020 at The Podium Hall, Ortigas Center, Mandaluyong and on February 28, 2020 at Radisson Blu, Cebu City.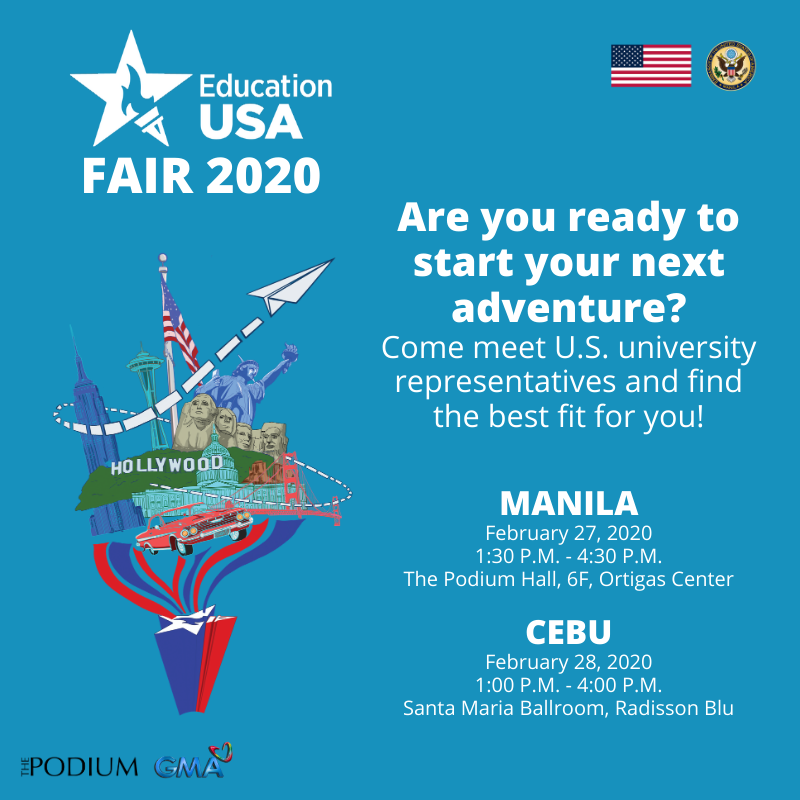 The annual fair aims to inform Filipinos further about the U.S. higher education opportunities specifically on U.S. college application process, programs, and different resources available to Filipino students.
Highlighting the essence of five steps to U.S study, this serves as a guide to those who want to pursue a degree program in the U.S. These steps include researching your options, seeking university financial aid, completing your requirements for your desired program, applying for a student visa as well as preparing for your departure.
Some of the participating U.S. colleges and universities are Aviation Institute of Maintenance, Bowling Green State University, Embry-Riddle Aeronautical University, Full Sail University, Hawai'i Pacific University, Johns Hopkins University School of Education and many more!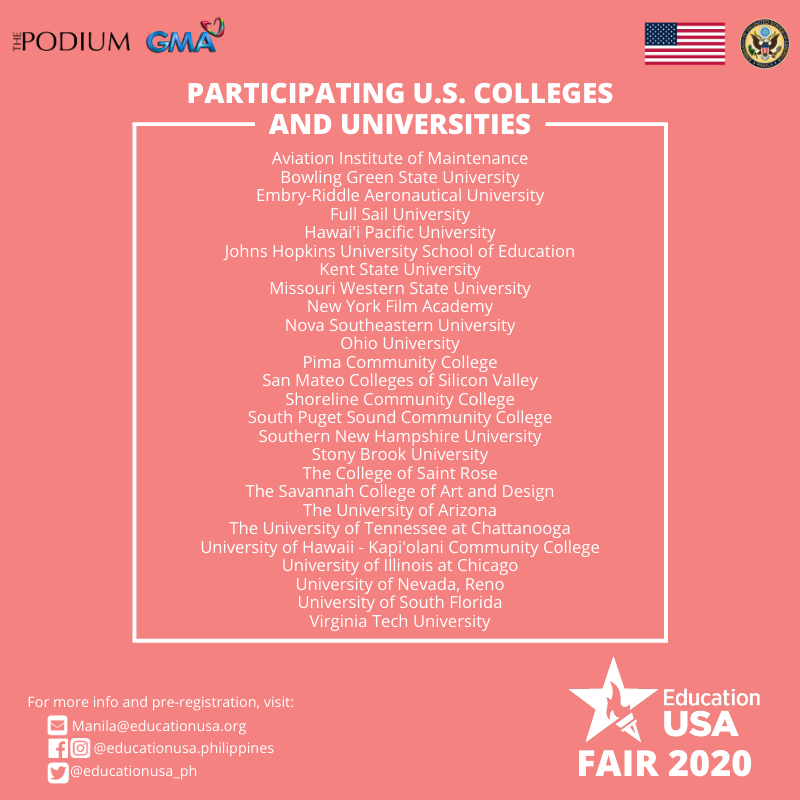 It's your chance to meet some of the admission representatives from United States universities and colleges, might as well ask some of your concerns about studying abroad. Here, you might find the ideal university that suits you!
Pre-register here to receive a welcome kit and win exciting prizes. On the other hand, walk-ins are also welcome to join the fair.
The EducationUSA Southeast Asia Fair Tour 2020 will visit 19 cities across 10 countries in Southeast Asia from February to March including Surabaya, Indonesia, Medan, Indonesia, Yangon, Myanmar, Kula Lumpur, Malaysia and Bangkok, Thailand.
For more information and inquiries, visit the EducationUSA website or their Facebook page. 
Details 
What: EducationUSA Fair 2020
Where and when:
• February 27, 2020- The Podium Hall
• February 28, 2020- Radisson Blu, Cebu City.
Ticket information: Free admission
Website: ph.usembassy.gov/education-culture/educationusa/
Facebook: facebook.com/educationusa.philippines/
---
Source: U.S. Embassy of the Philippines website 
Images grabbed from EducationUSA Philippines Facebook Page