Take Your Marks at the Batman Night Run This March
Runners, take your marks! Experience a different kind of fun run at the Batman Night Run this March 21, 2020 at Arca South, Taguig City.
The night run is organized in celebration of the 80th anniversary of Batman since he was first introduced by DC Comics.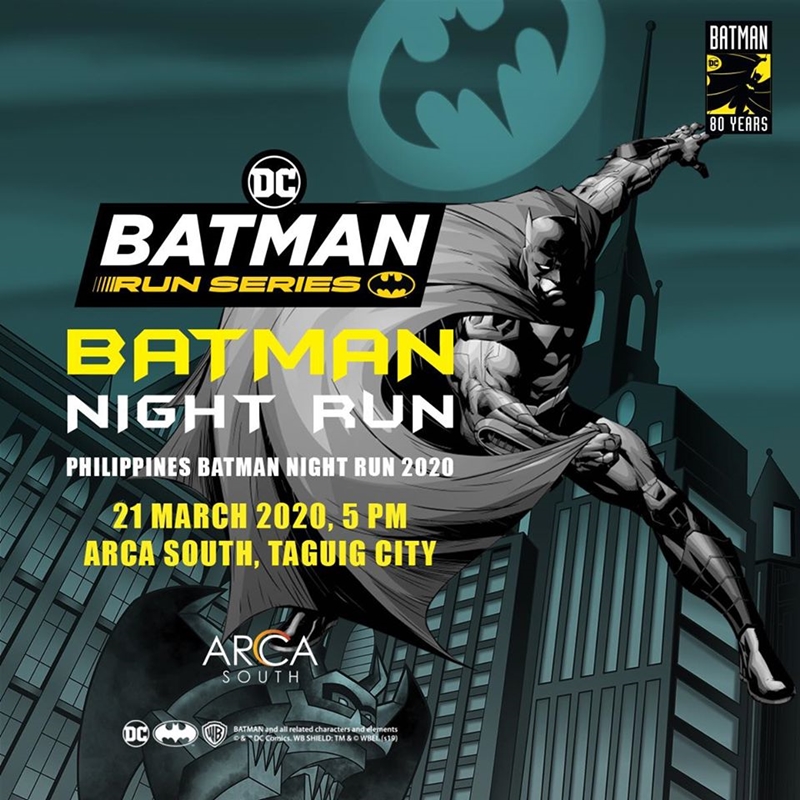 The event is open to adults and kids alike and is separated into three categories—the 1KM, 3KM, and 5KM categories. The 1KM Kids Night Run kicks-off the fun run at 5 p.m. This will be followed by the 5KM Night Run at 6 p.m. and finally, the 3KM Night Run at 7 p.m.
Parents and guardians may accompany kids at the 1KM Night Run for an additional fee with both the child and the parent receiving individual race kits and finisher medals.
Further, all runners will be given their very own Batarang Finisher Medal and a luminous Batman shirt to celebrate their crossing of the finish line.
Earn your very own Batarang at the finish line and display it with the Batarang Medal Rock Holder available at the…
Batman made his debut in Detective Comics #27 and has since then become an icon for DC and comic book fans alike. His first appearance in Detective Comics led to his popularity, resulting in the publishing of his own comic series the following year. Since then, the Batman franchise has made its way to different mediums including television, film, and even video games.
He is the night, the protector of Gotham City to fight evil and strike terror to crime!Join us at the inaugural Batman Night run at Arca South Taguig this March 21, 2020 and rise from the shadows! 🦇Sign up at Bit.ly/BatmanRunPH see you at the starting line 🦇#BatmanRunPH#BatmanRunSeries#LongLiveTheBat#Batman80Video from Batman/Dc Heroes

Batman Night Run Philippinesさんの投稿 2020年1月16日木曜日
Join the first Batman Night Run on March 21, 2020, at Arca South, Taguig City. The race starts at 5 p.m. with the 1KM Kids Night Run. The registration fee for the 1KM Kids Night Run is priced at Php 800, however, if they are to run with an adult companion, it will be priced at Php 1,500. For those interested to run in the 3KM and 5KM night run, registration is priced at Php 1,000 and Php 1,2000 respectively.
For more information, you may visit Batman Night Run Philippines' official Facebook page or e-mail them at batmannightrunph@gmail.com.
Details:
What: Batman Night Run
Where: Arca South, Taguig City
When: March 21, 2020, 5 p.m.
• 1KM Kids Night Run – 5 p.m.
• 5KM Night Run – 6 p.m.
• 3KM Night Run – 7 p.m.
Ticket Information: You may register through Xivado.
• 1KM Kids Night Run – Php 800
• 1KM Kids Night Run (with 1 adult) – Php 1,500
• 3KM Night Run – Php 1,000
• 5KM Night Run – Php 1,200
Facebook: facebook.com/batmannightrunphilippines