Learn How to Invest in Your Employees at the Philippine Talent Development Summit 2019!
Investing in your employees is a big factor especially when training future team players in the company.
Join the 2019 Philippine Talent Development Summit this coming July 4, 2019, at the Philippine International Convention Center and effectively develop the talents of your employees!
Learn from the experts in the field of Talent Development as they share important points on spotting, training, managing, and preparing your employees for bigger responsibilities in the organization.
This event will bring together people from Human Resources as well as Learning and Development heads to co-create the Philippine Talent Development Framework.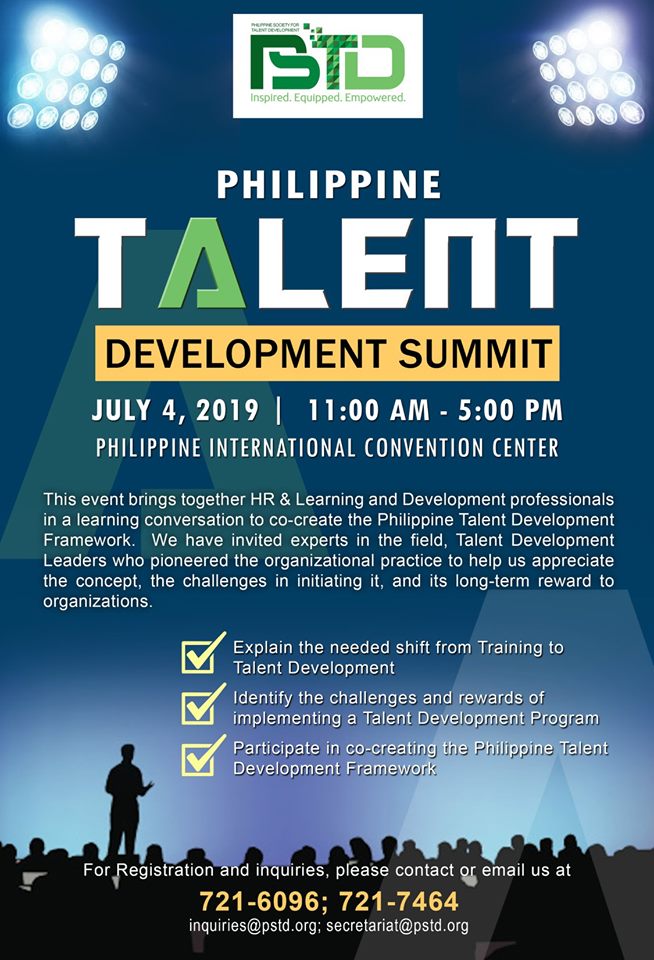 Guests will not only gain a new perspective in developing talents but will also learn the effective strategy to help both the employees and the organizational leaders.
Registration for the summit is now open. Those who are interested may register at PSTD TALENT DEVELOPMENT SUMMIT. Regular rate is at Php 3,000/participant.
For more details about the event, please call 02-721-60-96 / 02-721-74-64 or email them at inquiries@pstd.org or secretariat@pstd.org.
Details:
What: Philippine Talent Development Summit 2019
When: July 4, 2019, 11 a.m. to 5 p.m.
Where: Philippine International Convention Center, Vicente Sotto St., Pasay City
Facebook: facebook.com/myPSTD
Website: pstd.org
Ticket information:
Investment Rate: (includes lunch, PM snack, and VAT)
Early Bird (On or Before June 25)
Php 2,800 per participant
Php 5,000 (for 2 participants)
Regular Rate
Php 3,000 per participant

Php 5,500 (for 2 participants)