Learn More About Endoscopic Spine Surgery at the 5th ASEAN MISST This June
The 5th Association of South East Asian Nations Minimally Invasive Spine Surgery & Technology (ASEAN MISST) is happening from June 26 to June 29, 2019 in the city of Manila.
Said four-day medical conference is set to be led by 58 global experts in endoscopic spine surgery from over 24 different countries.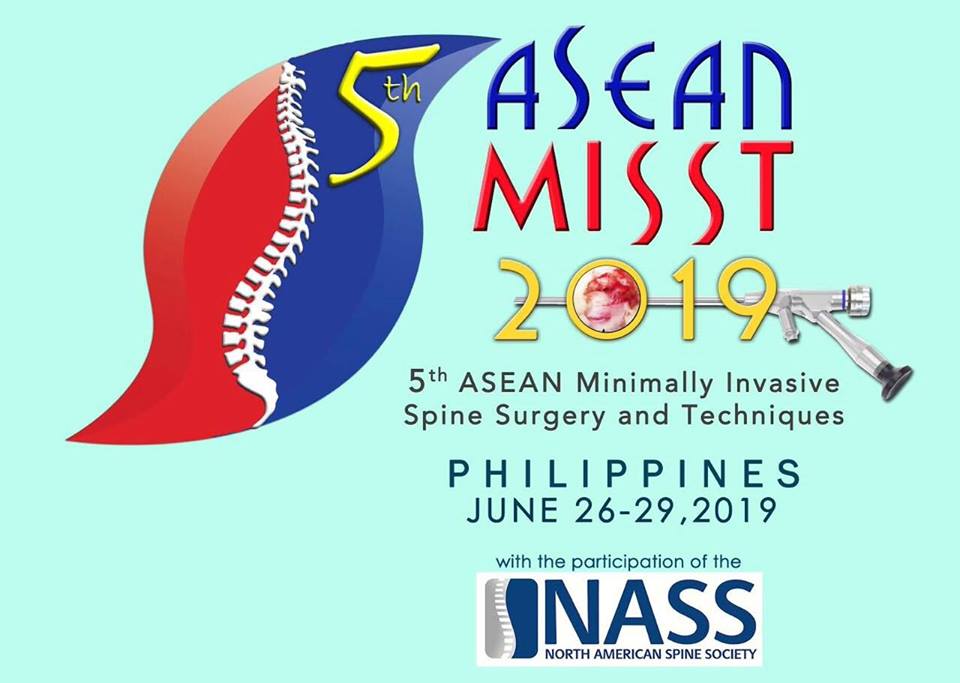 With a theme of "Paradigm Shift to Minimally Invasive Spine Solutions… Basic Concepts to Evolving Advanced Applications," this year's ASEAN MISST will open with a Cadaver Workshop at the University of the Philippines College of Medicine on June 26 and 27. 
The workshop aims to introduce the basic techniques and instruments used in MISS, as well as serve as an opportunity for a hands-on experience. 
A plenary conference, on the other hand, will be held on the last two days of the convention at the Manila Hotel. This is to educate participants on the basic science and evidence of MISS, familiarize them with the current technologies available, demonstrate its advanced applications, and take on issues commonly debated—like its benefits. 
Interested participants may register at 5thaseanmisst.org/registration. Registration fees are as follows: 
Regular (Until June 26)
Non-ASEAN Physicians – US$ 300
Local/ASEAN Physicians – US$ 250
Residents – US$ 150
Nurses – US$ 130
PSS/AFN Members – US$ 200
Late On-Site (June 27)
Non-ASEAN Physicians – US$ 350
Local/ASEAN Physicians – US$ 300
Residents – US$ 200
Nurses – US$ 180
PSS/AFN Members – US$ 300
Do note, however, that the special rates for active members of the Academy of Filipino Neurosurgeons, Inc. (AFN) and Philippine Spine Society (PSS) are only for the Plenary Symposium. Those who wish to participate in the Cadaver Workshop need to pay the complete workshop fee stated above.
The 5th ASEAN MISST is in partnership with the North American Spine Society.
For more information, please visit the 5th ASEAN MISST's official website or follow their Facebook page and official event page. 
Details
What: 5th ASEAN MISST
When: June 26-29, 2019
Where:
UP College of Medicine, Pedro Gil St., Taft Ave., Ermita, Manila (June 26-27)
Manila Hotel, Ermita, Manila (June 28-29)
Ticket information: 
Regular: from US$ 130 to US$ 300
Late On-Site: from US$ 180 to US$ 350
---
Images grabbed from 5th ASEAN MISST website and Facebook page