Pista ng Pamana: Philippine Heritage Week Celebration in Escolta, Manila
Join in the celebration of the National Heritage Month as Pista ng Pamana graces the historic street of Escolta in Binondo with tons of festivities from May 27 to June 2, 2019.
Organized by HUB: Make Lab, a creative community & alt-retail incubation space in Binondo, the week-long celebration will showcase certain facets of the Philippine heritage each day. There will be photo walks, exhibits, talks, film showing, fashion presentation, performances, parties, and a lot more!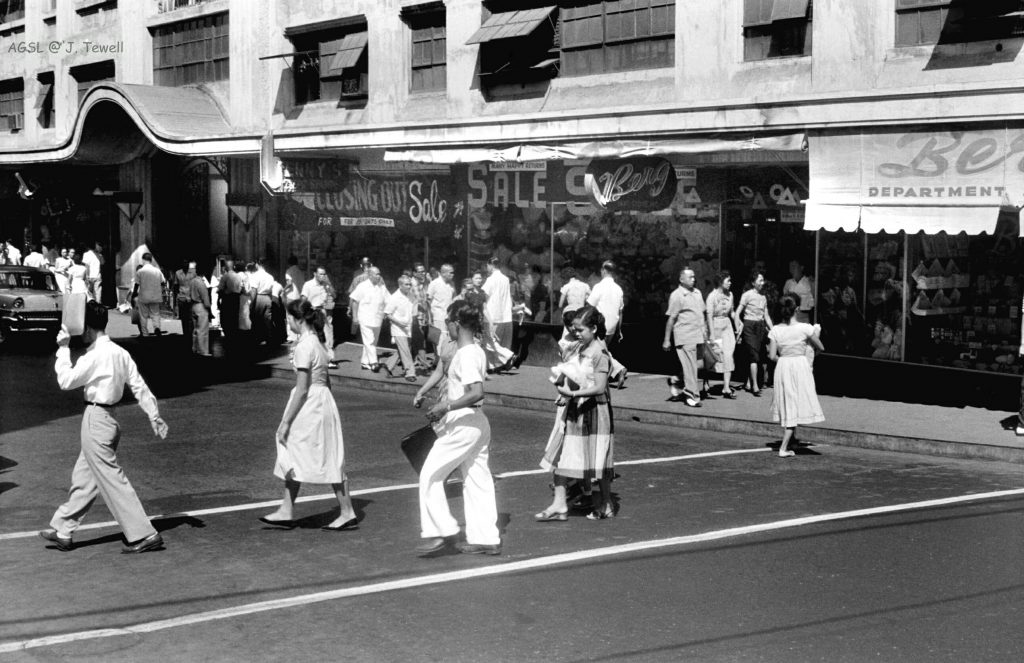 Escolta in 1930's. The historic commercial district of Escolta functions as an inclusive access point and a living case study of how modern urban lifestyle affects Filipino cultural heritage. /IMAGE HUB: Make Lab
Here are the full schedule of activities:
Monday, May 27
Lakbay at Litrato:Pag-alala sa Piangmulan (Photography & Walks)
– Jilson Tiu [Talk] – Shifting Frames
– Alex Lim & Stephen Pamorada [Photo Walk / Historical Tour] – Let's Walk the Talk
Tuesday, May 28
Arkitektura at Disenyo: Haligi ng Pamana (Architecture & Design)
– Arch. Ramil Tibayan [Talk] – Preventive Maintenance Conservation
– Makerspace Manila [Workshop] – Design Thinking
– iAcademy [Exhibition] – Heritage Architecture in Virtual Reality Launch
Wednesday, May 29
Paglilinang sa pamamagitan ng: Sining at Pamana (Art & Heritage)
– Marika Constantino [Talk]
– Yanna Ofrasio [Workshop] – Indigenous Dye
– Sanghabi [Workshop] Indigenous Instruments
Thursday, May 30
Kanlungan ng Pamana: Pelikula at Panitikan (Film & Literature)
– Seb P. De Jesus [Workshop] – Intro to Baybayin
– Zapateria Hub [Talk & Workshop]
– Pakiusap [Film Screening]
Friday, May 31
Tagapagbuklod ng Pamana: Pagkain at Komunidad (Food & Community)
– Good Food Community [Conversation]
– Tea House with Ralph Tan & Ivy Soon [Tasting & Conversation]
Saturday, June 1
Ipagdiwang ang Stilo at Pamanang Pilipino sa Kalye Escolta: Magarbong Pagsasalo! (Fashion, Market & Party)
– Pamana Outdoor Market – Food, Art, Locally Made Products
– Xiao Chua [Talk] –
– Melvin Mojica [Talk] – Fashion Styling
– Tony Cajucom [Talk] – Fashion Design Council in the 70's
– Ibarra Watches [Talk] – Watchmaking History & Legacy in the Philippines
– Leon Denim [Workshop] – Denim Making Workshop
– Christian Nagaño [Performance] – Kundiman Serenade
– All Vinyl DJ Set All Night – Major Chie, Sgt Vez, Cesar Camilo + more tbc
– 1920's – 1940's Fashion [Period Fashion Presentation] – Mode Elle
– Traditional Filipiñana and Barong [Period Fashion Presentation] – Mode Elle
Sunday, June 2
Makabuluhang pagdiriwang at pag-alala sa ating Pamana: Musika at Yugyugan! (Market & Music)
– Pamana Outdoor Market – Food, Art, Locally Made Products
– Vintage Car Collection Presentation
– Ivan Dy [Walk] – Art Deco Tour in Binondo
– Arch. Dom Galicia [Talk] – Architecture in Dialog with Heritage
– Kasuotang Zarsuela [Period Fashion Presentation] – Mode Elle
– Grand Filipiñana Sagalahang Bayan [Period Fashion Presentation] – Mode Elle
– Glorious Diaz [Fashion Presentation] – Glorious Divas
Moreover, as the highlight of the celebration, the Escolta Street Fiesta will gather several acts to recognize "OPM (Original Pilipino Music), disco, nostalgia, and more." Headliners include PEDICAB, PASTA GROOVE, Bing Austria, Bloomfields, Project Yazz, DMAPS, SGT. VEZ, MAJOR CHIE, and DJxAW.
Activities are open to the public and will be held mostly in the First United Building along Escolta Street. However, some will require registrations and minimal fees, like the workshops.
Celebrate with Escolta, the queen of Manila streets, and the HUB Make Lab as they close National Heritage Month in style. #LetsShapeOurCulture #LetsMakeItMeaningful #LetsMakeOurhistory.
To know more of the event, visit the Pista ng Pamana event page. For real-time updates, follow them on Facebook and Instagram.
Details
What: Pista ng Pamana: Philippine Heritage Week Celebration
Where: Escolta Street, Binondo Manila
When: May 27 to June 2, 2019
Tickets: Free
Also read: Learn French at Alliance Française de Manille's Free Trial Classes
Also read: 5 Must-Visit Sites That Celebrate Filipino Culture