Ergo & Wellness Show 2019: Making Your Space Ergonomically Designed
Discover how you can live a more comfortable and better life!
Ergo & Wellness Show will be the first-ever trade show to encourage ergonomics and wellness practices in the Philippines, happening on May 17, 2019, at the SMX Convention Center in SM Aura, Taguig City.
Experience comfort zones that will highlight different work and lifestyle aspects, where ergonomics and wellness can be applied. Ergonomics is the practice of designing workspaces to improve efficiency and minimize accidents.
The Ergo & Wellness Show Philippines 2019 is a platform for knowledge-sharing to gather, educate and foster positive change in achieving a more productive Philippines.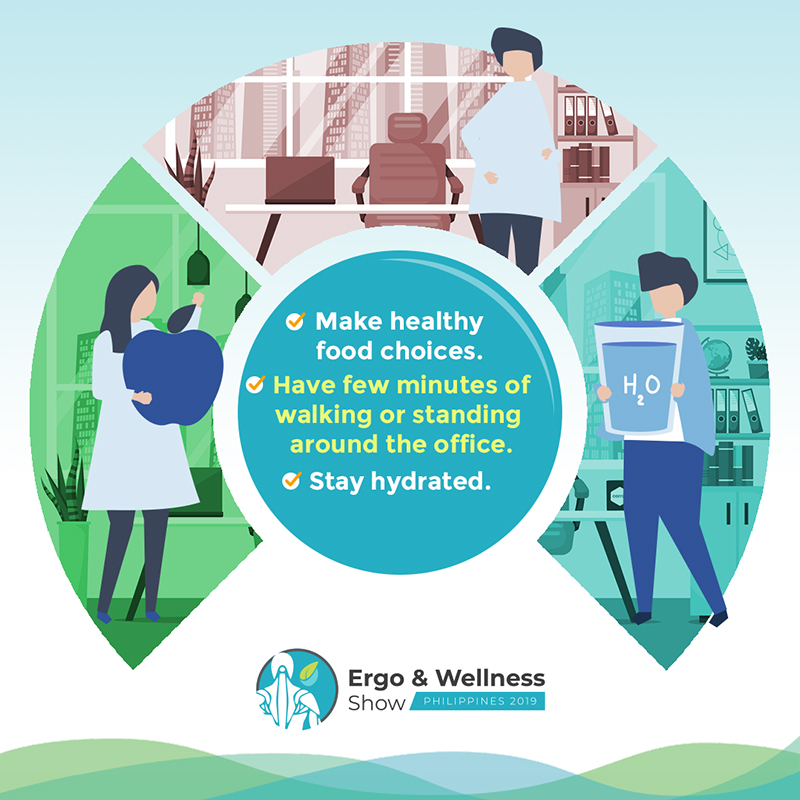 Learn how to make your environment at home or in the office ergonomically sound
In the one-of-its-kind conference, learn about the social media-led health tips and pointers, as well as wellness activities. Join the community in working together to experience and create a happy, healthy and comfortable community.
Listen to their invited thought leaders from government, partner organizations and participating companies. Bond with your family, colleagues, and friends through various health & wellness activities.
Simple everyday objects such as your backpack should be both useful and pain-free
Discover all the products and services that promote comfort and well-being for the different aspects of your life. Finally, avail discounts and freebies from participating brands!
Expect 100+ participating companies, 20+ activities, workshops, and talks to be held, and 250+ products to be showcased.
Schedule of Conference:
8 am
Registration
8:30 am
Philippine National Anthem & Opening Prayer
8:40 am
Welcome Remarks
9 am
Keynote: Government Initiatives to Create a
Productive and Healthy Philippines
9:30 am
Keynote: The New Law on Safety and Health Standards-
Maximizing Filipino Productivity for a Better Economy
10 am
Keynote: Ergonomics and its Effect on
Human Well-Being & Productivity
10:30 am
Chair Yoga and Morning Break
10:45 am
Panel Discussion: Increasing Health
Awareness Among Filipino Workers
12 pm
Preventing and Reversing Chronic Diseases
through Lifestyle Medicine
12:30 pm
Lunch Break
1:30 pm
Panel Discussion: Reducing Work-Related Injuries and
Illnesses in the Workplace through Ergonomics
2:45 pm
Best Practices on Workplace Wellness Programs
3:15 pm
Stretch and Afternoon Break
3:30 pm
Health and Illness Management – an Expanded
Framework for Corporate Wellness Programs
4 pm
Attaining a Safer Work Environment for Manufacturing Plants
4:30 pm
Fatigue Management Workshop
5 pm
Functional Training Exercises
5:30 pm
Announcements, Raffle & Awarding of Prizes
5:45 pm
Closing Remarks and Prayer
6 pm
End of Conference
All-day Events
Health Screening by Biomark (Random Blood Sugar & Cholesterol Check)

Blood Pressure Check

Body Mass Index

The Bio-Med Scan (valued at Php 5,000++)

Lifestyle Medicine Consultation

Ergonomic Office Furniture Showcase

Posture Screening + 

Basic Chiropractic Consultation

Osteopathy Session
Heart Health Screening
Therapeutic Art
Attend the conference, exhibition, and cocktails on May 17 for Php 5,000. Get your tickets at
Eventbrite
.
Details:
What: Ergo & Wellness Show Philippines 2019
When: May 17, 2019
Where: SMX Convention Center, SM Aura, McKinley Pkwy, Taguig City
Ticket information:

Php 5,000 with Php 249.50 fee
Registration: ergo-wellness-phil2019.eventbrite.com/