Resorts World Manila Presents The Golden Sound of The Platters
Listen and relive the greatest rock and roll and R&B hits of the world-famous American vocal group, The Platters, as Resorts World Manila presents The Golden Sound of The Platters on February 7, 2019 at the Newport Performing Arts Theatre.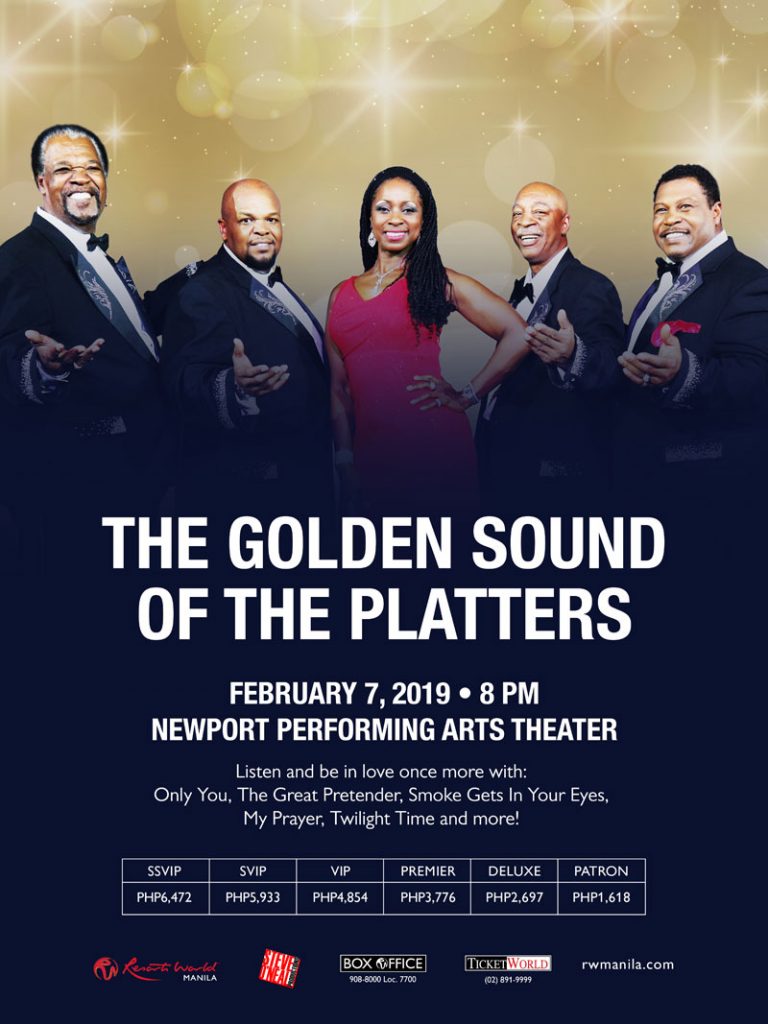 As one of the most successful vocal groups of the 1950s, The Platters is the first African-American music group to rise to international popularity during that era. Its original group's name came from the idea of the metal disk that rotates vinyl records in the phonograph called "platters".
This vocal group has created numerous chart-topper songs for at least 40 times in the Billboard chart and 16 gold records.
Also read: Resorts World Manila's Grand Countdown to 2019
Now composed of members Eddie Stovall Sr., Mose Edward Stovall Jr., Kim Leo Green, Frederick Berry and Deneen Davis, The Platters is set to serenade spectators with their classic hits that made us fall in love back in time such as "Only You", "The Great Pretender", "Smoke Gets In Your Eyes", "My Prayer", "Twilight Time", and many more for a one-night performance!
Also read: A Guide to Manila's Biggest Casinos
Tickets are available at Resorts World Manila Box Office and Ticket World starting from Php 1,618 for Patron tickets, Deluxe ticket at Php 2,697, Premier for Php 3,776, VIP ticket worth Php 4,854, SVIP at Php 5,933, and SSVIP at Php 6,472.
For more information and reservations inquiry, contact Resorts World Manila Box Office at 02-908-8000 local 7700 and customerservice@rwmanila.com, or call Ticket World at 02-891-9999.
Details:
What: The Golden Sound of The Platters
Where: Newport Performing Arts Theatre, Resorts World Manila
When: February 7, 2019, 8:00 p.m.
Ticket Information:
SSVIP – Php 6,472
SVIP – Php 5,933
VIP – Php 4,854
Premier – Php 3,776
Deluxe – Php 2,697
Patron – Php 1,618