Watch Selected Movies from the Venice International Film Festival This November 14 to 18
It's not every day that you can catch award-winning, Italian films at local cinemas. Luckily, this year, the Italian Chamber of Commerce in the Philippines and the Philippine Italian Association, together with the Film Development Council of the Philippines, will once again present the second edition of ITALIAN CINEMA FROM VENICE TO MANILA, a selection of movies from the Venice International Film Festival.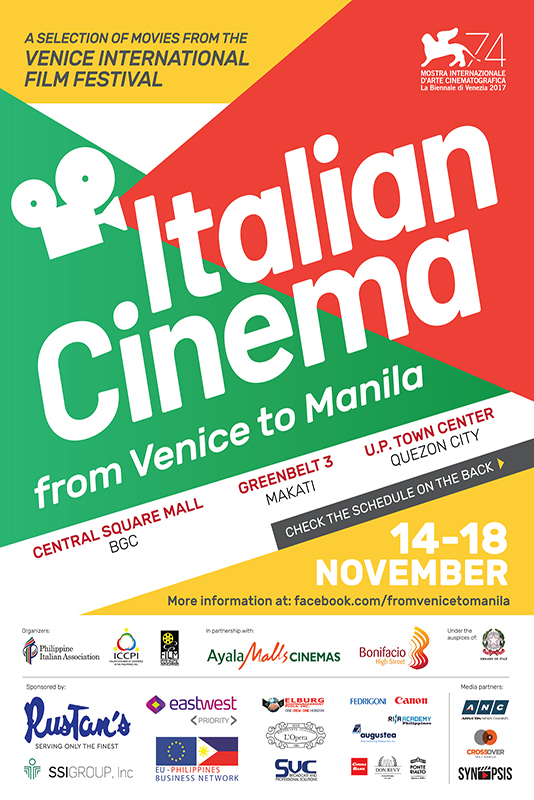 For only Php 150 for adults and Php 100 for students, you'll get a grasp of Italian cinema–serving as a platform for us viewers to know more about their culture.
Nine movies will be screened at Central Square in Bonifacio Global City, Taguig on the festival opening this November 14. By the following day, you'll also be able to watch these movies at Greenbelt 3 in Makati, and UP Town Center in Quezon City.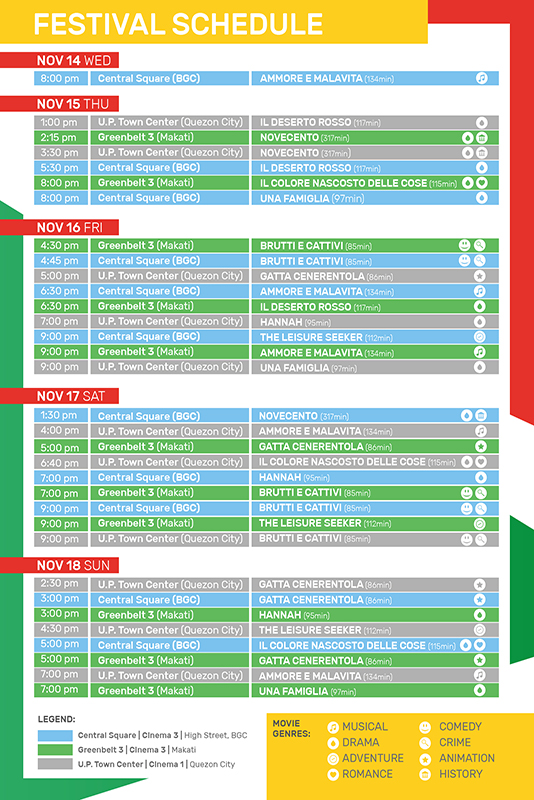 Read on to know more about which movies will be screened this year:
Ammore e malavita
Ammore e Malavita, also known as Love and Bullets, will entice you with its crucial plot, whereas a feared killer is told to kill a woman who has unexpectedly seen too much in a crime scene–who also happens to be his young lost love. In the face of love and crime, which side will win? This action-packed movie is directed by Manetti Bros, garnering Best Production Manager in an Italian Film for Daniele Spinozzie, as well as Best Cast awards.
Watch trailer here:
Una famiglia
Tackling controversial issues in relationships, Sebastiano Riso's Una Famiglia is about a couple who does not seem to meet eye to eye when it comes to having children. This rather emotional film is a must-watch as it mirrors some relationships in today's world.
Watch trailer here:
Hannah
Hannah is the only film in French in the Venice International Film Festival, directed by Andrea Pallaoro. It explores the intimate portrait of a woman as she swims in the world of both denial and reality. Actress Charlotte Rampling won as the Best Actress, while Robert di Pietro won the Best Stagehead award.
Watch trailer here:
The Leisure Seeker
Directed by Paolo Virzi, this film will take you to places as an old couple's RV named as The Leisure Seeker was once again used to travel around America, just like back in the 1970s. Undoubtedly hilarious and exciting, this film will touch your hearts in ways you never thought possible.
Watch trailer here:
Il Colore Nascosto Delle Cose
Il Colore Nascosto Delle Cose, which directly translates to the hidden color of things, is a romantic movie that brings together two opposing characters from completely different worlds: a successful man who is always on the run, and a blind woman who appreciates life despite her disability. Directed by Silvio Soldini, this film was inspired by his encounter with blind people in his documentary a few years back.
Watch trailer here:
Brutti e Cattivi
Exploring with the underlying theme of equality, Brutti e cattivi features four bizarre characters–one with no legs, the other with no arms, a drug-addict, and a dwarf rapper. The four starts a robbery that also foreshadows a series of betrayal. This action comedy is directed by Cosimo Gomez.
Watch trailer here:
Gatta Cenerentola
Ever watched Cinderella with a twist? Gatta Cenerentola, or Cinderella the Cat, still shows the same plot of a young woman trapped with a terrible stepmother, but this time with six wicked stepsisters. Directed by Alessandro Rak, Ivan Cappiello, Marino Guarnieri, and Dario Sansone, you could say that this animated movie twisted traditional Cinderella with technology, as well as a more critical plot.
Watch trailer here:
Il Deserto Rosso
One of the most significant Italian film directors during the postwar period, Michelangelo Antonioni with his 1964 film Il Deserto Rosso took home a bunch of awards, such as FIPRESCI Prize, Golden Lion, and New Cinema Award. The movie is about a depressed woman who finds herself having an affair with her husband's friend after he tries to help her from her unstable life.
Watch trailer here:
Novecento
Directed by Bernardo Bertolucci, 1976 film Novecento takes us back to an epic story of two childhood friends as they unravel Italy together. The movie spans from 1900 up to 1945 filled with setbacks among the leads.
Watch trailer here:
Just like the Philippine cinema, Italian films also put emphasis on family and intimacy. Hence, every amazing movie for this year's Venice International Film Festival will embrace you with familiarity.
But that's not all of it as you can also join Italian Cinema from Venice to Manila's free masterclasses from November 12 to 14 at the University of the Philippines Diliman, Film Institute; College of Saint Benilde, School of Arts and Design, Digital film school; Film Development Council of the Philippines, Cinematheque Center.
MASTERCLASS 1: New Soundtracks to New Horizons by Franco Eco 
MASTERCLASS 2: Philosophy of an Ordinary Cinematographer by Davide Mancori
MASTERCLASS 3: FVX Design by Paolo Bertola
Which films are you going to watch for this year's Venice International Film Festival in the Philippines? Let's hear them in the comments!
For more information, visit Italian Cinema From Venice to Manila's official Facebook page. You may also contact Philippine Italian Association at 02-815-1310, or email philippineitalianassociation@gmail.com.
Details
What: Italian Cinema from Venice to Manila
When: November 14 to 18, 2018
Where: Central Square in Bonifacio Global City, Taguig, Greenbelt 3 in Makati, and UP Town Center in Quezon City
Facebook page: facebook.com/fromvenicetomanila/
Contact: 02-815-1310
Email: philippineitalianassociation@gmail.com
Tickets: Php 150 for adults, Php 100 for students