Choose Your Own Adventure with April Yap
Whether taking a road trip by land, sailing on a cruise ship by sea, journeying another country by air, or just plain trekking on an undiscovered path by foot, travelling is always meant to be captured- not only through photographs but also through words. So, if you missed Ayala Museum's first workshop on travel writing, worry no more, because another one is on its way!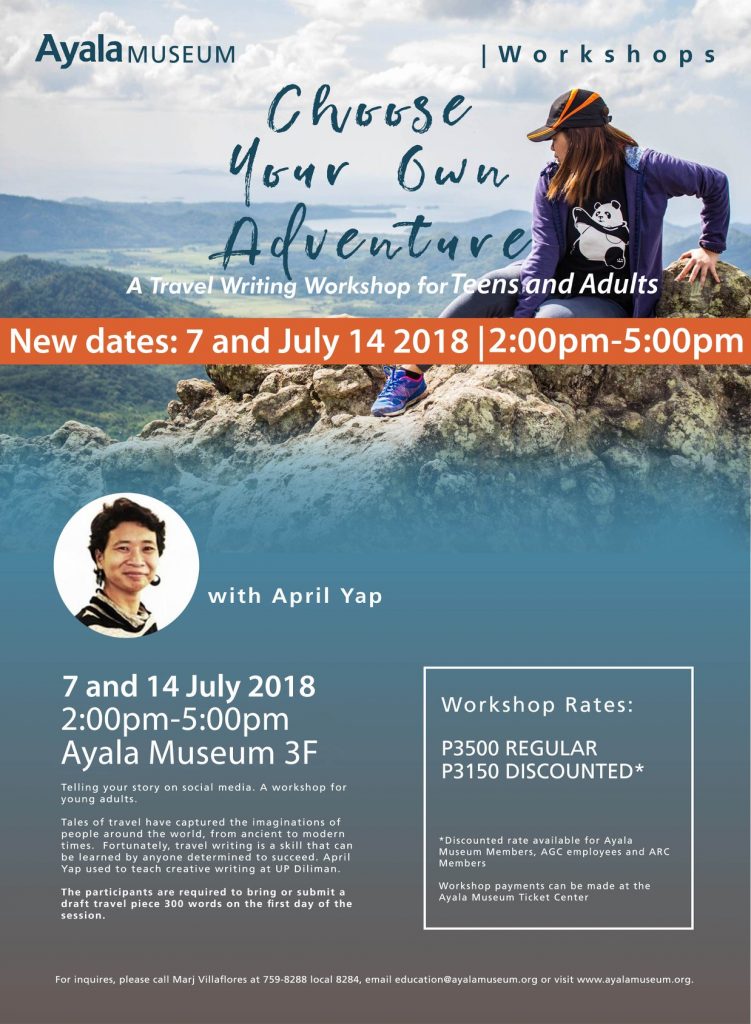 "Choose Your Own Adventure: A Travel Writing Workshop for Teens and Adults" will be facilitated once again by April Yap, a keen traveler, a food and travel blogger, an author, and a previous professor of Creative Writing at the University of the Philippines Diliman. Happening on July 7 and 14, 2:00 to 5:00 p.m. at the Ayala Museum, the travel writing workshop is a travel enthusiast's second chance to write their travel tales with skill.
The workshop is covered with a fee of Php 3,500.00 inclusive of travel-writing materials and handouts, a certificate, snacks, and a free admission to the museum and the library for a day. A discounted fee of Php 3,100, on the other hand, is granted for Ayala Museum Members, AGC employees, and ARC members. Different modes of payments for the workshop may also be settled at the Ayala Museum Ticket Center.
There's more! Be sure to prepare a 300-word travel write-up for the workshop's first day!
If travelling is your goal and writing is your passion, why not try to combine these to make up the most of your experience? Or, if you just wanted to immortalize your most favorite adventures through the art of writing, then "Choose Your Own Adventure" may just be the workshop for you.
Details
What: Choose Your Own Adventure: A Travel Writing Workshop for Teens and Adults
Where: 3/F Ayala Museum, Makati Ave. cor. Dela Rosa St., Greenbelt Park, Makati City
When: July 7 and 14, 2018; 2:00 p.m. to 5:00 p.m.
Ticket Details: Php 3,500 and Php 3,100 for Ayala Museum, AGC, and ARC members
Facebook: https://www.facebook.com/theayalamuseum/
Website: http://www.ayalamuseum.org/
---
Source: Ayala Museum
Written by Chin Sanigan