Pelikula: 100 Years of Philippine Cinema at Ayala Museum
Watch, enjoy, and learn the history and culture of Philippine Cinema with Nick DeOcampo all Saturdays of June at the Ayala Museum.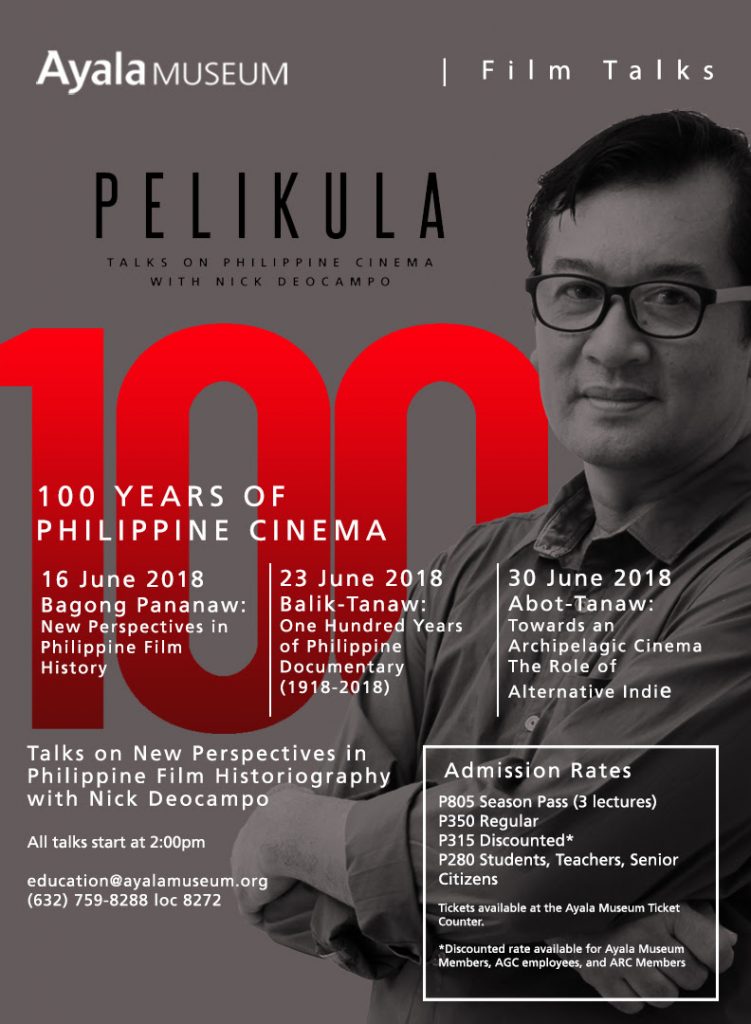 Pelikula, the Tagalog word for movie, is the title of the series of talks about the Philippine Cinema which is celebrating its 100th year in existence. Take a deep dive into a century's worth of history with Filipino filmmaker, historian, and the director of the Center for New Cinema, Nick Deocampo.
For three days, listen to a lecture on the different perspectives on Philippine Cinema: Bagong Pananaw (New Perspective), Balik-tanaw (Look Back), and Abot-Tanaw (Future perspective).
Bagong Pananaw: New Perspectives in Philippine Film History on June 16
This lecture challenges the century-old dominance of popular mainstream cinema by presenting new paradigms that call for a wider and more inclusive definition of "national cinema" beyond movies. Among them: short films, documentaries, student films, animation, experimental films, home movies, and many more.
Let this film serve as a manifesto for a new cinema documentary by speaker Nick Deocampo/IMAGE centerfornewcinema.net 
Balik-Tanaw: One Hundred Years of Philippine Documentary (1918-2018) on June 23
This lecture asserts the significance of the documentary as one of the enduring cinematic legacies from the colonial period till now. The lecture brings out the rich documentary heritage reflecting the development of the Philippines as a modern nation-state.
Abot-Tanaw: Towards an Archipelagic Cinema—The Role of Alternative Indie on June 30
This lecture wagers on the alternative cinema. If given enough resources, it will provide a truly alternate path that is bound to redefine the meaning of "national cinema," as new cinematic forms and functions will emerge coming from the country's archipelagic regions.
All lectures start at 2 pm. Admission to all the lectures is the Season Pass for Php 805 while it is Php 350 for regular, Php 315 for Ayala Museum Members, AGC employees, and ARC Members, and Php 280 for Students, Teachers, Senior Citizens
Tickets are available at the Ayala Museum Ticket Counter. For inquiries and reservations, email education@ayalamuseum.org or call 02-759-8288 loc. 8272.
Details:
What: PELIKULA: 100 Years of Philippine Cinema
When: June 16, 23, and 30, 2018; 2:00 pm
Where: Ayala Museum, Makati Avenue corner De La Rosa St., Greenbelt Park, Makati City
Ticket Information: Php 805 (all 3 lectures), Php 350 regular, Php 315 Ayala Museum Members, Php 280 for Students, Teachers, Senior Citizens
Website: www.ayalamuseum.org