YouthStock! Kids Music & Arts Festival
More than anyone, kids are easier to influence and Youthstock Kids Music and Festival aims to do just that. Happening this April 21 to 22, let your kids make the most out of their summer as they attend a festival that's specially made for them!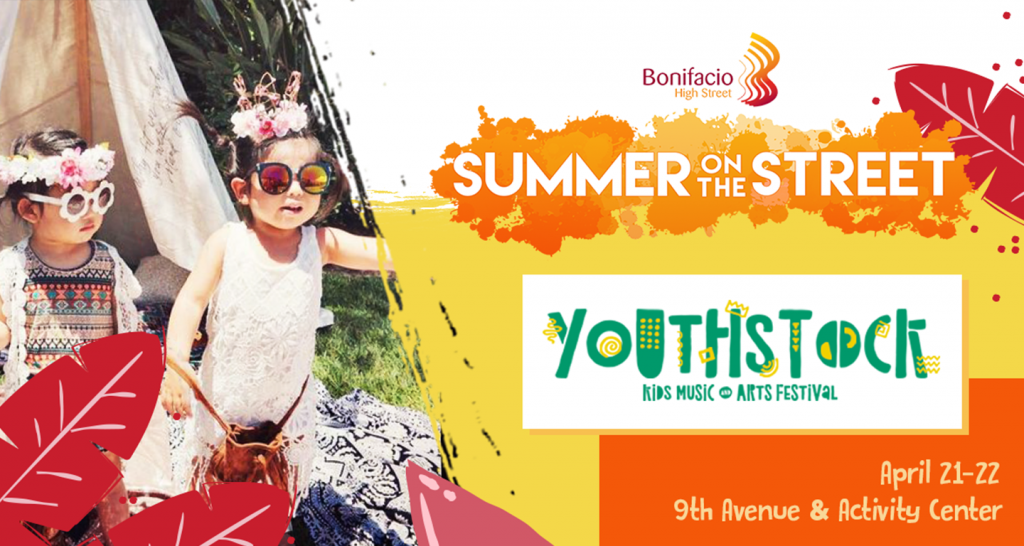 The Bite Me Manila Team, in cooperation with Bonifacio High Street's Summer on the Street, came up with this fantastic event which aims to hone your child's talent and teach them how to socialize in a community. More importantly, Youthstock  can make kids discover their passion early in their lives!
At BGC's 9th Avenue and Activity Center, there will be an all-day activity where kids can join workshops, see art installations, play festival games, enjoy live performances, and more on April 21 and 22 from 11 am to 10 pm. It is the first Kids Music and Art Festival in Manila so make sure to bring your kids in this amazing event! Entrance is free, however, workshops have their own corresponding fees. 
Parents and guardians who will accompany their children will definitely have fun as well as they can enjoy free performance from singers, dancers and DJs in the festival. In fact, the event can somehow be a family event too!
To register on workshops, email korin.youthstock@gmail.com and state the workshop of your choice with the name and age of participant/s.
For further information, see details below. 
Details:
What: Youthstock Kids Music and Festival
When: April 21 and 22, 2018; 11 am to 10 pm
Where: 9th Avenue Activity Center, Bonifacio Global City, Taguig
E-mail: korin.youthstock@gmail.com
Instagram: @youthstock_ph and @manilaforkids
Facebook: @youthstockPH and @manilaforkids
---
Written by Diana Nava