14th Philippine Food Expo
The 14th Philippine Food Expo is set to showcase the Philippine food industry once again this April 20 to 22, 2018 at the SMX Convention Center.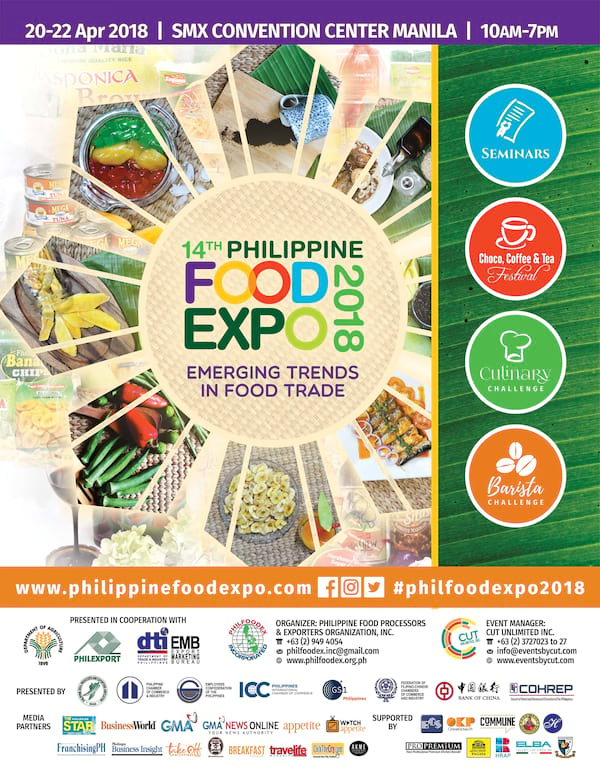 With the theme "Emerging Trends in Food Trade", this year's 14th Philippine Food Expo aims to adapt to the change in preferences of people to food due to growing population and change in demands. Philippine Food Processors and Exporters Organization (PHILFOODEX), an association of food industry that is prominent in the country, emphasized how big the part of agribusinesses hold to globalization of food trade as it is rising.
Philippine Food Expo is known as the "Only All-Filipino Food Show" that caters local entrepreneurs with participants from manufacturers to exporters and visitors from the government to media men. Exhibiting products to consumers, suppliers, various entrepreneurs and exporting companies for bigger market, the event's objective is to gather all entrepreneurs in one roof and expose the Philippine food industry.
There will also be activities such as the choco, coffee and tea festival, culinary challenge, and Barista challenge. The event is supported by the Government of the Republic of the Philippines through its specific agencies.
Details
What: 14th Philippine Food Expo
When: April 20 to 22, 2018 (10:00 am to 7:00 pm)
Where: SMX Convention Center Manila, Seashell Lane Mall of Asia Complex, Pasay City
Website:www.philfoodex.org.ph
Email: philfoodex.inc@gmail.com
TEL: +632 949 4054
---
Sources: Philippine Food Expo website; Philippine Food Expo Facebook
Written by Vinnise Marcelo