In_Pact Asia Forum 2018
Innovation for Inclusive Impact (In_Pact) Asia Forum 2018: "Designing Tomorrow's World Today" is set on April 13, 2018, Friday. This year's event is designed to drive change-making and inclusive innovation through digital enablement and creative thinking. Attend the event at the Multipurpose Hall, Henry Sy Building, De La Salle University, in Manila, Philippines.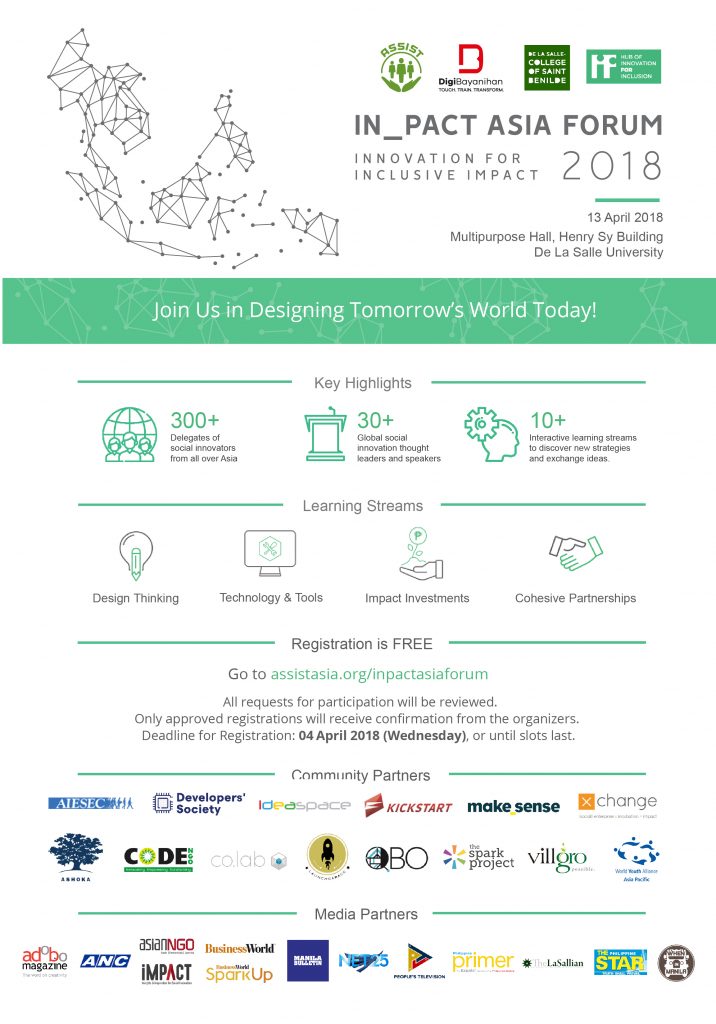 This is the first In_Pact Forum to be held by the De La Salle—College of Saint Benilde (DLS-CSB), Hub of Innovation for Inclusion (HiFi), Asia Society for Social Improvement and Sustainable Transformation (ASSIST), and its flagship program, DigiBayanihan (DB). Bringing over 30 thought leaders from around the globe, the event aims to connect with global actors, leaders, and thought leaders on social innovation.
As of writing, several guests have been announced to attend including Mynt Philippines CEO Anthony Thomas, IdeaSpace Foundation Executive Director Diane Eustaquio, HiFi Director AbigailMapua-Cabanilla, and On-Off Group Director Phil Smithson.
This forum will create a path to discuss new strategies and emergent ideas, share best practices, and network with like-minded social innovators and stakeholders from across the region.
For event inquiries, kindly contact the Secretariat at info@inpactasiaforum.org.
Details
What: Innovation for Inclusive Impact (In_Pact) Asia Forum 2018
Where: Multipurpose Hall, Henry Sy Building, De La Salle University in Manila, Philippines
When: April 13, 2018, Friday
Tickets: Registration is FREE. Log on to https://www.surveymonkey.com/r/inpactasiaforum2018