Collab: MØNOmania • A Black + White Photography Fair on Sept. 23-24
The first of its kind in Manila, the Philippines, and even Asia & beyond, this two-day fair includes workshops, portfolio reviews, talks, slide shows, photo-zines and an exhibition, which will feature over 250 photographers and image-based artists from all over the world.
Happening in ASPACE Greenbelt on September 23-24, MØNOMANIA gathers black & white photographers and enthusiasts in the same space. Erin Nøir, the founder of the independent project MONO, co-produces the event.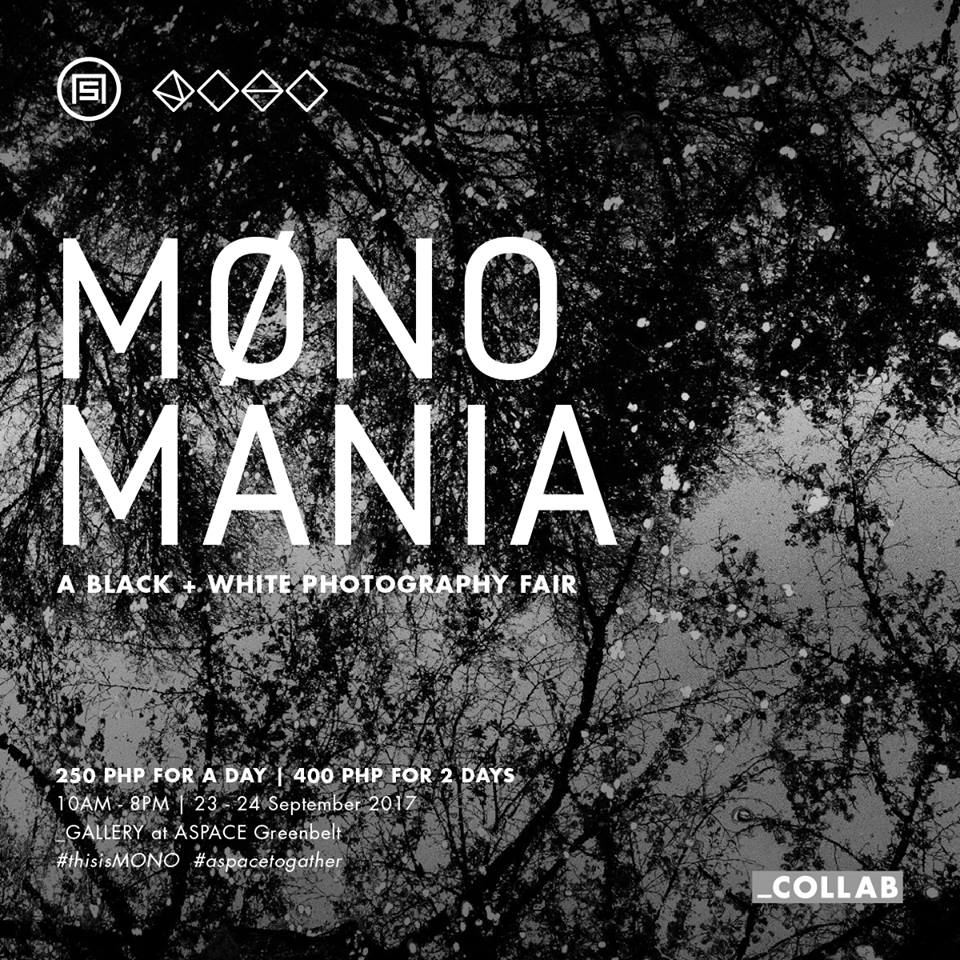 ROSTER OF ACTIVITIES + ARTISTS
I. MØNOlogues • A series of talks on b+w photography by the following special guests:
• Christian Tablazon – on the ontology of black & white photography and conceptual photography via poor imaging techniques
• Neil Daza – from photography to cinematography
• More to be announced!
II. MØNOreviews • Portfolio reviews by the following local experts from different creative fields:
• Aislinn Chuahiock – Founder of Film Folk
• Katya Guerrero – Founder of artbooks.ph
• Nana Buxani – Documentary Photographer
• Raena Abella – Conceptual Photographer
• Alan Navarra – Illustrator, Author
• Quark Henares – Filmmaker
• Victor Balanon – Painter, Videographer
III. MØNOscreen • A series of photo essays & stories by various photography collectives and individuals:
• Cavite Active Photogroup (CAP)
• Filipino Street Photographers
• Tala Photo Collective
• Jamèl Van de Pas
• Tim Heubeck of Waste of Film
IV. MØNOwall • Exhibit of almost 200 monochrome images!
V. MØNOlibrary • Showcase of Photo Books & Zines by various artists across the globe.
VI. MØNOmail • Limited edition postcards sets featuring film photographs selected by Post PH
There will be more activities and surprises in store for everyone. Mark your calendars on September 23-24, 10:00 am to 8:00 pm. Payments are as follows: Php 250 per day and Php 400 for 2 days. You can register at, www.aspacemanila.com.
Details:
What: MØNOmania • A Black + White Photography Fair
When: September 23 – 24, 2017; 10 am – 8 pm
Where: _Gallery, ASPACE Greenbelt, 110 Legazpi St., Legazpi Village, Makati City