'Living Spaces' and 'Dissident Vicinities': Back-to-back Exhibitions from Condition Report
'Living Spaces' and 'Dissident Vicinities': Back-to-back Exhibitions from Condition Report
Japan Foundation Asia Center presents two back-to-back art exhibitions this August entitled Living Spaces and Dissident Vicinities, organized by Condition Report's Filipino junior curators, Lisa Ito-Tapang and Alice Sarmiento, respectively.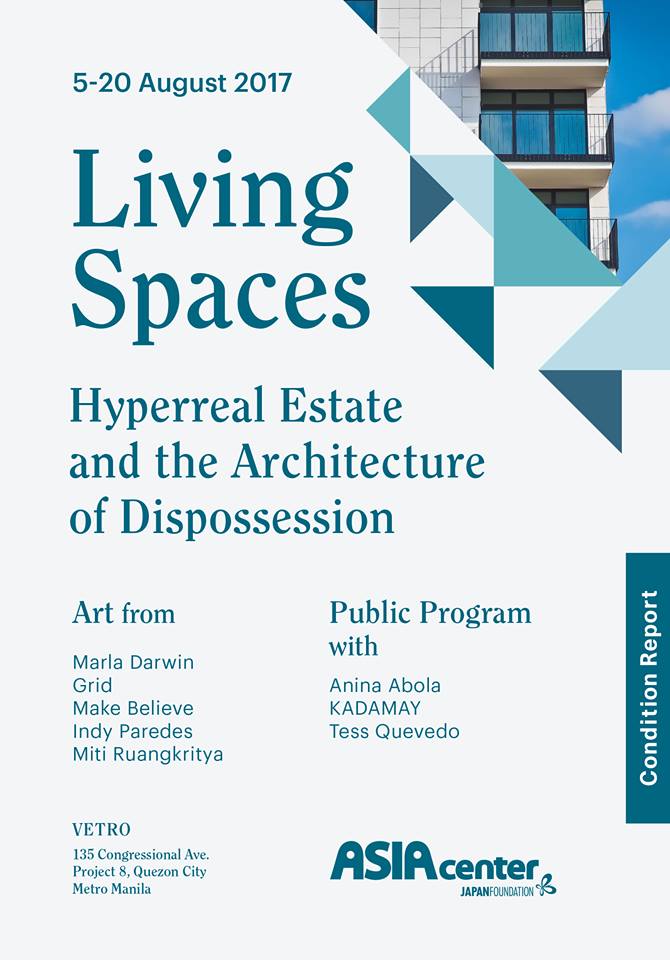 Living Spaces is curated by Filipino curator Alice Sarmiento. /IMAGE Vetro Facebook page
Living Spaces: Hyperreal Estate and the Architecture of Dispossession will run from August 5 to 20 at Vetro art gallery in Quezon City. It delves into the issue of the global housing crisis, as seen in the context of Southeast Asia, and encourages a deeper and more critical understanding of the current condominium boom and other issues concerning how people share space.
Curated by Sarmiento, Living Spaces will feature works by Grid, Make Believe, Marla Darwin, Indy Paredes, and Miti Ruangkritya. There will also be a public program consisting of talks with KADAMAY, professor Chester Arcilla, copywriter Anina Abola, and interior designer Tess Quevedo.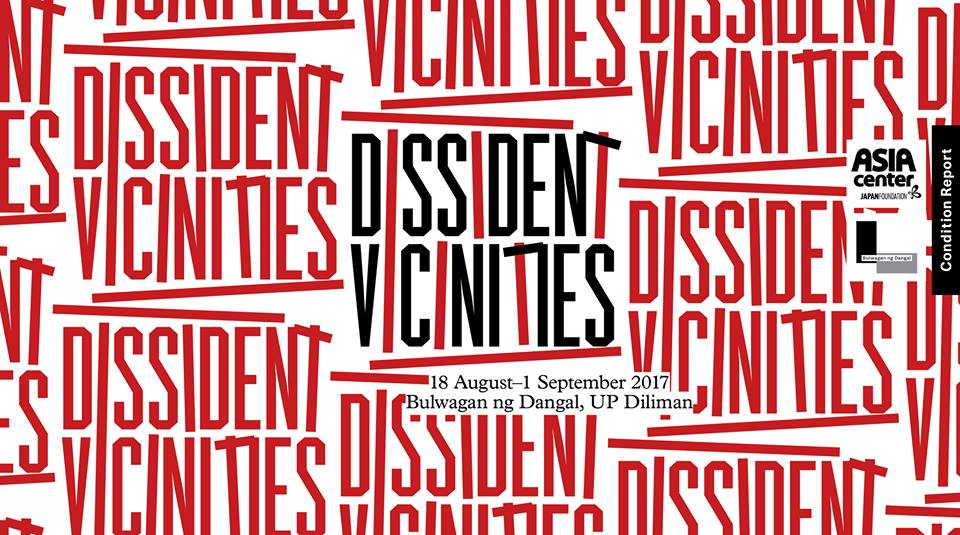 Dissident Vicinities is curated by Lisa Ito-Tapang. /IMAGE Dissident Vicinities Facebook page
Dissident Vicinities will be held at Bulwagan ng Dangal Museum in the University of the Philippines Diliman from August 18 to September 1. This exhibition will prompt insights on how struggles for liberation and rights in the country's history and present state are reflected in works of art and other material objects.
Curated by Ito-Tapang, Dissident Vicinities will feature works by Karl Castro, Nathalie Dagmang, Leonilo Doloricon, in collaboration with Tom Estrera, Boy Dominguez, Voltaire Guray, Renz Lee, Archie Oclos, Renan Ortiz, Henrielle Pagkaliwangan, Melvin Pollero, Iggy Rodriguez, Pablo Baen Santos, Sining Lila, Aldrein Silanga, and UGATLahi Artists Collective.
These exhibitions are a part of Condition Report, a series of contemporary art shows held in different Southeast Asian countries with the over-all theme "What is Southeast Asia."
Living Space Details:
Where: Vetro, 135 Congressional Avenue, Project 8, Quezon City
When: August 5 – 20, 2017
Contact Number: 02-811-6155
Email: alice.a.sarmiento@gmail.com
Dissident Vicinities Details:
Where: Main Hall and Atelyer of the Bulwagan ng Dangal Museum, Southwing Basement, Main Library (Gonzalez Hall), G. Apacible corner Roxas Street (Academic Oval), University of the Philippines, Diliman, Quezon City
When: August 18 – September 1, 2017
Contact Number: 02-981-8500 local 2874 or 2876
Email: litapang@upd.edu.ph
---
Written by Rizelle "Rei" Leaño
Source: Japan Foundation Asia Center press release
Images grabbed from Vetro Facebook page, Dissident Vicinities Facebook page