6th UNWTO Conference on Tourism Statistics on June 21-24
The 6th edition of the United Nations World Tourism Organization (UNWTO) International Conference on Tourism Statistics will be held in Manila from June 21 to 24, 2017.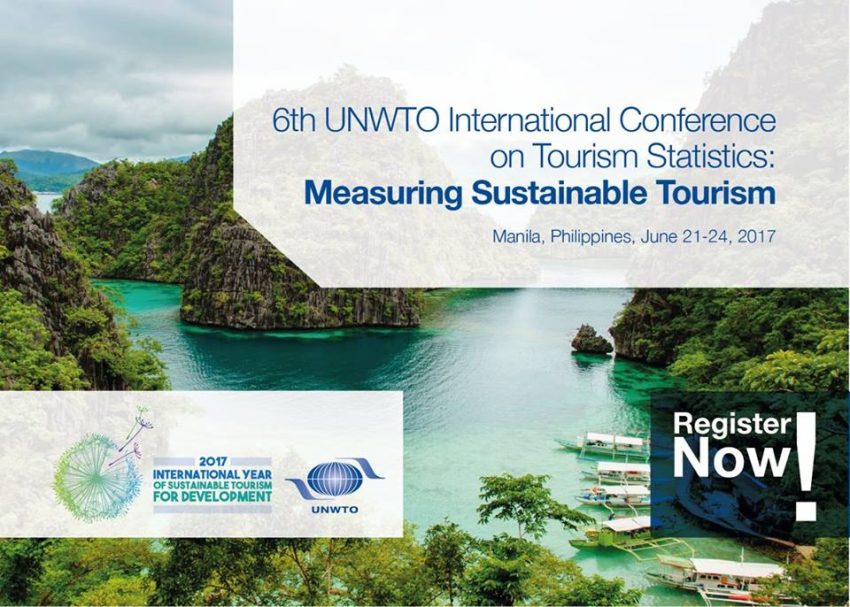 This official event of the International Year of Sustainable Tourism for Development 2017 will address the topic of "Measuring Sustainable Tourism." Supported by the United Nations Statistics Division, the UNWTO initiative "Towards a Statistical Framework for Measuring Sustainable Tourism" (MST) underlines the need to measure the full effects of the tourism sector. The UNWTO International Conference will serve as a platform to discuss the first draft of the MST framework and its future implementation.
Participants will have the chance to discuss methodological advances, explore emerging issues and learn from pioneering country experiences in this area of measurement.
The Manila Conference will gather for the first time ministers, statistical chiefs, policy experts and statisticians dedicated to sustainable development, environment and tourism.
Details:
What: 6th UNWTO International Conference on Tourism Statistics
When: June 21 to 24, 2017
Facebook: https://www.facebook.com/International-Year-of-Sustainable-Tourism-for-Development-2017
Those who are interested to attend should fill up the registration form provided in their website. Passport/ID information and travel and accommodation details are required in order to register. Deadline of registration is on June 16. Click here to register: cvent register
Watch one of their promotional video here:
---
Source: cvent, media.unwto