A slice of Brazilian culture at Brasilipinas 2017
Spotting Brazilians along the streets of Manila have become more and more common. Aside from them popping up on our TV screens every now and then (Daniel Matsunaga and Diana Meneses for starters), Brazilians have taken a liking to the Philippines and its culture… and we've taken a liking to theirs.
To further improve the chances of Filipinos and Brazilians mingling – because why not, a capoiera school in the country has organized something they like to call Brasilipinas, happening from May 18 – 21 at The Upper Deck in Ortigas and Hidalgo Drive in Rockwell.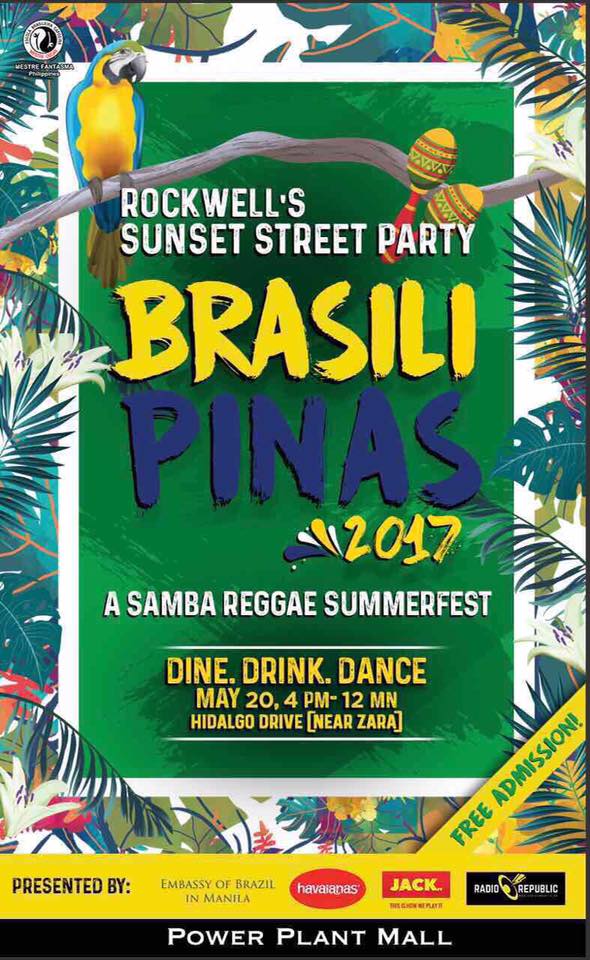 Brasilipinas is the annual celebration of Brazilian and Filipino cultures headed by Escola Brasileira de Capoiera Philippines, the country's first official capoiera school. The celebration brings together both cultures in an effort to strengthen the bond between Filipinos and Brazilians everywhere in Manila.
This year's Brasilipinas will feature the first-ever Open Capoiera Championships for Kids and Adults, along with special workshops on samba and capoieras & rodas. The best part? Everyone who joins Brasilipinas gets to experience a Brazilian Carnaval at the Samba Reggae Summerfest with capoeristas and guests from all over the world!
If you're down to party and live like Brazilians, then head on over to The Upper Deck Ortigas and Hidalgo Drive in Rockwell for this year's Brasilipinas, presented by Escola Brasileira de Capoeira Philippines! It's all happening from May 18-21, 2017!
Details:
What: Brasilipinas 2017
When: May 18-21, 2017
Where:
Workshops: The Upper Deck Sports Complex, 1 Doña Julia Vargas Ave., Ortigas Center, Pasig City
Samba Reggae Summerfest: Hidalgo Drive (near Zara), Rockwell Center, Makati City
Fees:
Workshops and Open Competition – P3,000 for overseas capoeiristas and Php4,000 for Philippine capoeiristas
Samba Reggae Summerfest – FREE