Dante Alighieri Today
Promoting the Italian culture in the Philippines
Società Dante Alighieri (SDA), a society that promotes the Italian culture and language around the world celebrates the 750th birth year of Dante Alighieri, known to the world as Italy's most prolific medieval poet and moral philosopher. His central work The Divine Comedy is considered as one of the greatest in world literature – a timeless masterpiece that has transcended ages.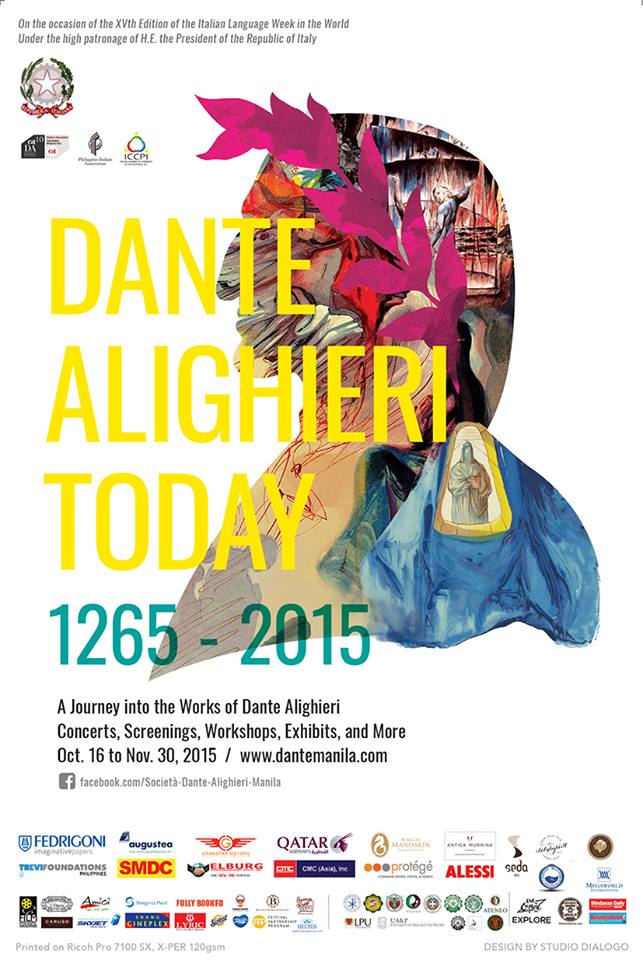 The celebration is a month-long journey into the life and works of Dante Alighieri, a series of events that will highlight the relevance of his works in our contemporary world. The contemporaneity of Dante and the Divine Comedy will be explored through many art disciplines and events. It will focus on three particular perspectives: Dante and the world literature, Dante Today in Italy and Dante Today in the Philippines.
The cycle of events will take place starting in the second half of October 2015 and will run for the entire month of November.
Line-up of upcoming events:
LATER THIS MONTH
PAST EVENTS          
The Societa' Dante Alighieri Comitato di Manila, with the Embassy of Italy in Manila, The Italian Chamber of Commerce in the Philippines, The Philippine Italian Association together with other partners work together to promote the Italian culture by celebrating Dante Alighieri in ways that would encourage more Filipinos to appreciate his work and relevance in modern times.
For more information about the events, tickets and schedule, visit their Facebook or website or contact them at 0998 858 1695.