Makeup Basics Over Coffee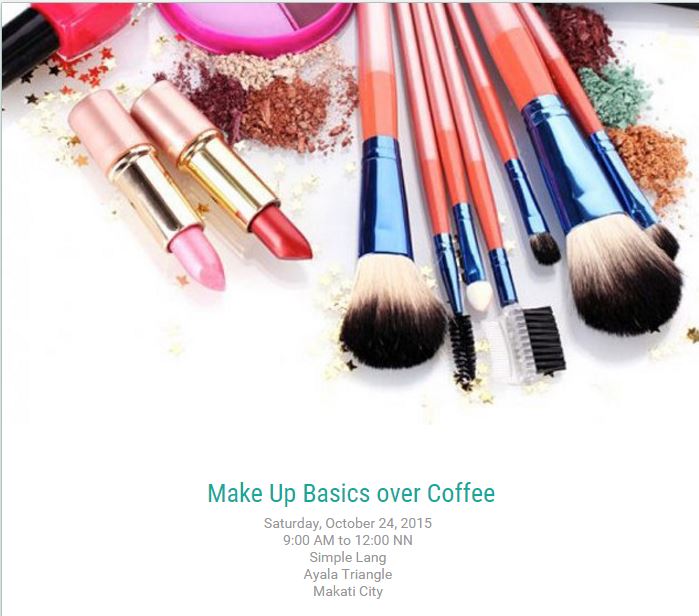 Learn how to apply a layer of confidence to your skin while having coffee with the ladies! 
Learn Lokal and Chuck & Tara will be conducting a workshop called Makeup Basics Over Coffee that will brush away your makeup skill troubles this coming Saturday, October 24. The tutorial will be held from 9am to 12nn at Simple Lang Ayala Triangle Makati. Sign up and learn to DIY your glam look for that special date or those upcoming parties you're dying to go to.
About the Workshop
Brunch and your own set of basic brushes to take home are included in this three-hour session. Make up supplies will also be provided for the session. Learn to apply both everyday makeup and night time colors. The next time you want to line your eyes for that power meeting or transition to your evening party, you can do it yourself.
About the Teacher
Kim Tandog is a teacher, a supermom and a makeup artist. She does makeup for debuts, dinner, parties and other occasions. She comprises half of the event makeup-and-photography duo Chuck and Tara.
Requirements
Brushes, skin care products and makeup will be provided by Learn Lokal and Chuck & Tara. Feel free to bring your own makeup kit, however – Kim will help you optimize its use. You may opt to bring your own brand of skin cleanser if you have sensitive skin.
Registration
The workshop fee is P1,450.00. This includes brushes, skin care products and makeup from Chuck & Tara.
To register and pay, follow this link.
For more details, visit their Facebook event page.