LiSA ~Another Great Day in Manila~: Await the Voice of An Angel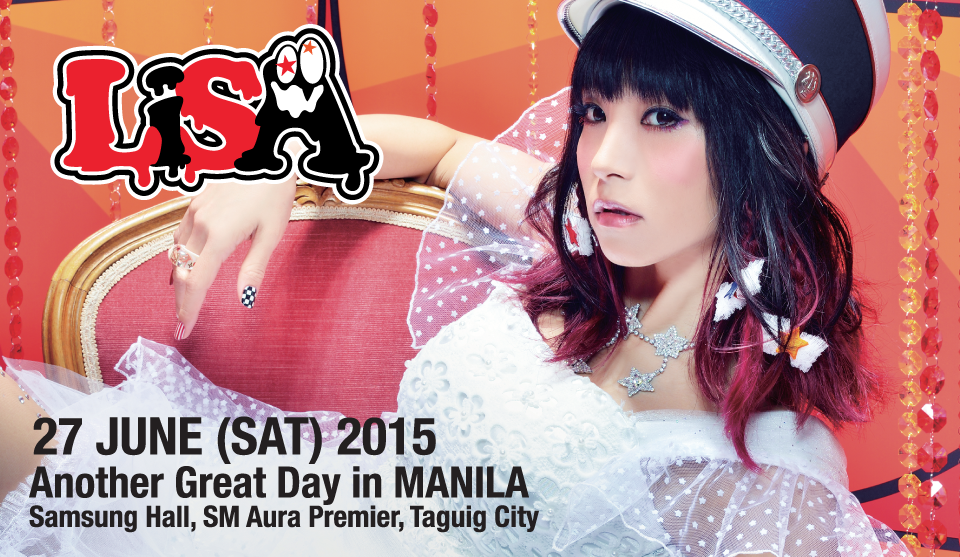 –
Are you ready to hear the voice of an angel, in this case, LiSA?
To celebrate the Japan Music Festival, SOZO PTE LTD, together with local partner Cosplay.PH takes Manila by storm with LiSA ~Another Great Day in Manila~2015, to be held at the Samsung Hall, SM Aura Premier in Taguig City on June 27, 2015 with doors opening at 5:00 PM and the concert starting at 6:00 PM in the evening.
Her first mini live and meet in the Philippines, LiSA is set to perform a special acoustic set for both her anime and Japanese pop rock fans. Offering a window for her admirers to extend an up-close and personal chance to say hello, and capping it with personally handing an autographed poster, the event is a once-in-a-lifetime chance too good to pass up!
LiSA scored her first big break through the hit anime Angel Beats! back in 2010. She provided the voice of vocalist Yui of the fictional band within the series Girls Dead Monster. The songs under the band's name skyrocketed off the Japanese Oricon charts, contributing to LiSA's steady rise and claim to fame. She released a mini-album the following year, debuting as a solo artist, and had subsequent tie-ups with popular anime series, singing theme songs "Oath Sign" for Fate/Zero, "Crossing Field" for Sword Art Online, "Shirushi" and "No More Time Machine" for Sword Art Online II, and "Rising Hope" for The Irregular at Magic High School, to name a few.
Her fanbase is not limited to Japan, having performed in other countries in Asia and the Americas. In January 2015, LiSA was also able to perform at the legendary Nippon Budokan, rendered in English at the Japan Martial Arts Hall, an indoor arena originally meant for the martial arts but now also functions as a music hall. It left a mark on her career as a star performer, selling 20,000 tickets in just two days. Launcher, her third studio album, was released last March 4, 2015, landing No. 3 on the Oricon album charts. Her latest single, "Rally Go Round" is the new opening theme for the wildly popular anime Nisekoi.
Come, hear her sing and let the angel charm you with her voice!
Tickets are priced at P2,998 (lower level, inclusive of autographed poster) and at P999 (upper level, no poster). The Japan Music Festival, managed by SOZO PTE LTD, aims to brings Japanese music enthusiasts, attendees in the South East Asia, closer with their favorite artists, by providing the best Japanese music concert experience, giving the best of Japanese pop, rock and others. For more information, visit their event site, LiSA's official website and her Facebook page.