Have a Lovely Mother's Day 2019 Celebration at Megaworld Lifestyle Malls
Moms need a well-deserved break from their lifetime duty every once in a while. As we celebrate their special day this weekend, Megaworld Lifestyle Malls laid out exciting fairs, performances, and surprises for mothers and their daughters.
MOMents at Eastwood City
Have a date with your mother at Eastwood City' where a lot of beauty, shopping, wellness, and dining offers await them. Start off with the Mother's Day Fair happening from May 6 to 12 at the Central Plaza, followed by empowering talks and activities by Metro.Style's Metro Mom's Day Out on May 10 to 11 at Eastwood Mall Atrium. Lastly, catch the all-girl jazz trio Baihana as they serenade moms at the atrium.
Beautiful Just Like Her at Lucky Chinatown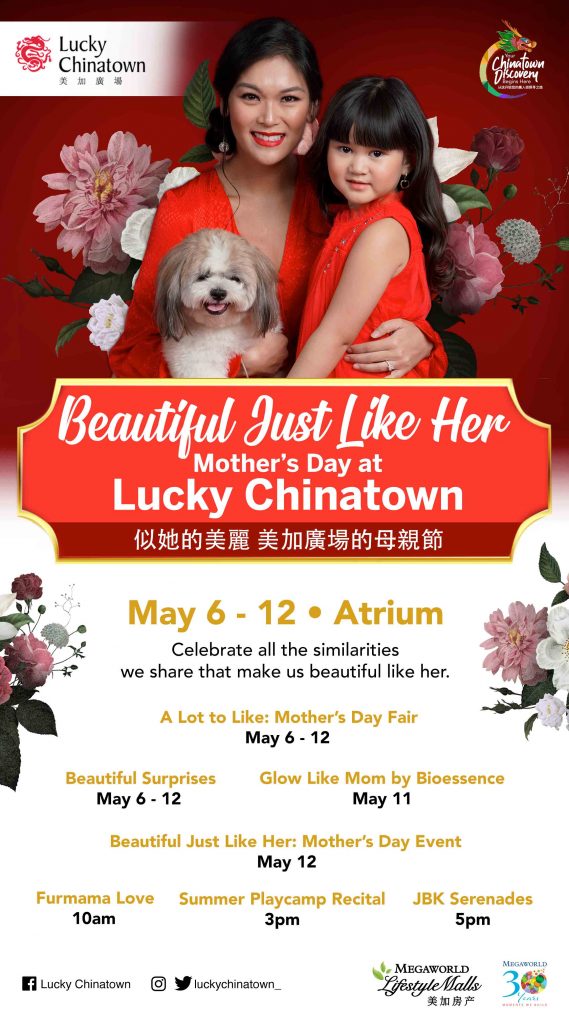 We all know that there is no one like our own mothers. As we cherish each characteristic and quality we got from our mothers, Lucky Chinatown's Mother's Day series highlights an array of activities for perfect for mothers and their children.
Be treated with wellness goodies in A Lot to Like Mother's Day Fair, the Glow Like Mom on May 6 to 12. Pet-loving mothers can also hang out with their furbabies in FurMama Love where they can get free vaccines for their pets.
The event will also feature the recital of Lucky Chinatown's summer kiddie workshop dedicated to moms, and to cap off the day, moms will get to enjoy a musical treat with the music of JBK Serenades.
My Mama, My First Love at McKinley Hill
Mothers will feel like a queen at Venice Grand Canal as they will be treated to exclusive Mother's Day deals starting on May 10 to 12. There is bountiful selection on beauty essentials available for mothers to fancy.
On May 12, moms can put their creative skills to the test at Artsy MOMents to be held at the ground floor of Venice Complex. And by evening, see the legendary Joey G perform his hits live at the Ponte de Amore Bridge on 7 p.m.
All Those Who Mom at Uptown Bonifacio
All kinds for mothers from the single moms, stepmoms, to LGBTQ moms are invited to celebrate "mom-ing" at Uptown Bonifacio's array of fun activities from May 6 to 12.
There will be an All For Moms dining and shopping deals and a Weekend Market at the Parade on May 8 to 12 where they can find all the mom essentials they need.
Moms can drop by at the Shop For Mom fair to look for the perfect gift ideas running from May 9 to 11 or see how beautiful flower bouquets are made in Moms Who Bloom flower pop-ups on May 10 to 12.
Also, catch the FoxLife Mother's Day event called the League of Extraordinary Moms: Year 3 on May 12.
I Got it From My Momma at Forbes Town
Forbes Town also takes part in the whole Mother's Day festivities set on May 10 to 12. Make your mom's best attributes shine with the All For Our Kween wellness and dining deals that will make mom feel like royalty. Meanwhile, guests can also pick up gift items at Mom's The Bomb Weekend Fair.
MOMabilidad Southwoods Mall
Southwoods Mall honors all hardworking and go-getting moms with a perfect celebration for the practical-minded this May 8 to 31. Starting with the It's A Mom Thing gifts and specialty fair at the Atrium.
Guests can also try Mom's Specialties for go-to establishments with exclusive promos and discounts. The festivities continue on May 12 with Mom's DIY where mom can learn life hacks at the Do-It-Yourself workshop.
The Minimalist Mom at San Lorenzo Mall
Let's go back to the basics at San Lorenzo Mall with their line up of minimalist activities aimed to celebrate the simplicity of mother's day. They will feature a Mom's Favorite Fair from May 6 to 10 and Thank You Mom deals from May 5 to 12 at participating establishments.
Moms can also watch Grand MOMents at 3 pm, where other inspiring moms share their real-life motherhood stories. At 5 pm, guests can watch Momma Ramps for the best fashion ideas for their little ones.

Finally, from May 17 to 28, moms are invited to attend the MOM-preneur fair for home-based businesses perfect for moms who are looking for a side hustle.
A Mom in a Million at Twin Lakes
Moms can enjoy amazing discounts and promos from select establishments at the getaway destination of Twin Lakes Tagaytay from May 10 to 12 wherein guests can delight on sweets, flowers, and gift items to at the Mom's Favorites fair. Finally, on May 12, Twin Lakes will host Mom's Playlist from 5 p.m. onwards featuring live music performances to serenade moms.
For more information on the upcoming Mother's Day activities at Megaworld Lifestyle Malls across the country, visit their website at www.megaworld-lfiestylemalls.com.
---
This is a press release. Minor edits were made prior to publishing.
Images courtesy of Megaworld Lifestyle Malls