About Advertising
Company
About Advertising
Information about Primer advertising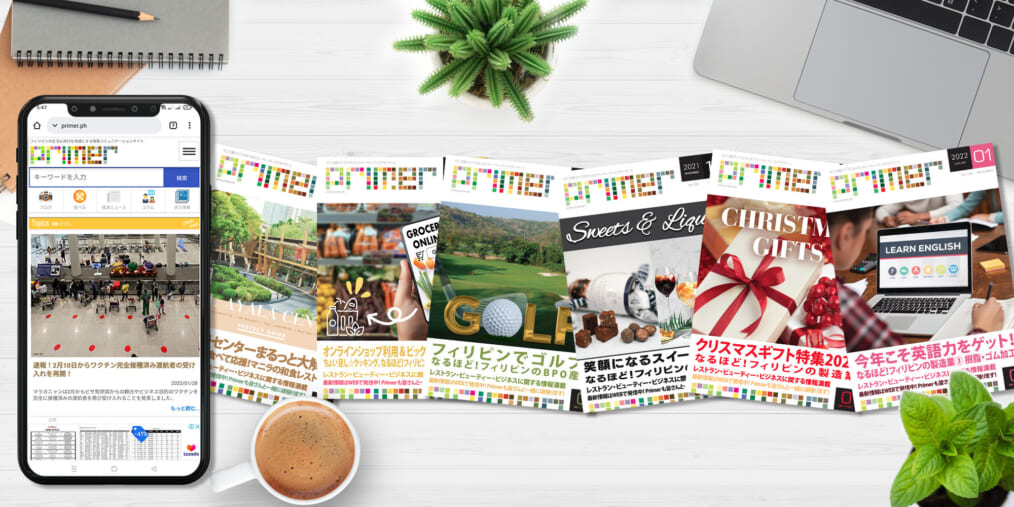 Philippine Primer is the No.1 media in the Philippines for Japanese recognition, Expats and Filipino people from upper class AB market through free magazines, web, and SNS. We help advertisers with their marketing efforts. Please take advantage of our know-how and services cultivated in the Philippines to expand your business in the Philippines.

Click here to see the company profile of Philippine Primer :
about the Philippines Primer company
List of Advertising Services
●Free Magazine
This is a free magazine for Japanese living in the Philippines. Our website is also seen from outside the Philippines.
●Service Web Page
This service is to create your own page. Value of use as LP We will post it on the Primer Japanese and English websites.
●SNS Mail Magazine Package
This is a service that enables you to reach more than 9,000 people on Primer's SNS (Facebook, Twitter, LINE, Instagram) and Mail Magazine in English and Japanese.
●Web Banner
This is a banner advertisement on the Primer website which has a total of 480,000 PV in Japan and English.
Service Introduction Video
Primer's advertising services are explained in this video. Please take a look.
(1) Media Business Introduction
・Media business (primer concept)
・Target audience (Japanese and foreigners)
・Benefits of using it (Japanese and English versions)
・Major Client Companies
(2) Free magazine introduction
・Summary of the Japanese versions of the media
・Number of distribution locations
・Ad Size
・Independent Page
・Description of the ad production schedule
(3) Web service introduction
・Japanese and English versions of the web service
・Services webpage (new services)
・Blog Posts
Advertise with us!
We are now accepting advertisement placement for magazine and Digital Media.

For inquiries and concern please feel free to contact us. Our Sales representative will be happy to assist you. You may send us an email at sales@primer.ph or you may contact directly Ms.Abby.

Abby Ghayle
0998-843-4959 (smart )
0927-843-4959 (Globe )
Contact Us About Advertising
Thank you for partnering with Philippine Primer. Our team is dedicated to help you grow your company through our effective marketing strategy. Be informed and explore our services by simply entering your information below:

We will work with you hand in hand to achieve your business goals. To learn more about the Philippines Primer, click here.
Document Download
Please fill out the form below and press the submit button. A download URL will be sent to you by email. Please make sure that the information you have entered is correct.We ask you to enter your email address so that we can send you the latest information in the future.