Philippine's Top Japanese Jobs Provider
J-K Network Recruitment Services and Consultancy Inc.
We are the leading recruitment company in providing Japanese bilingual job opportunities across different positions and industries.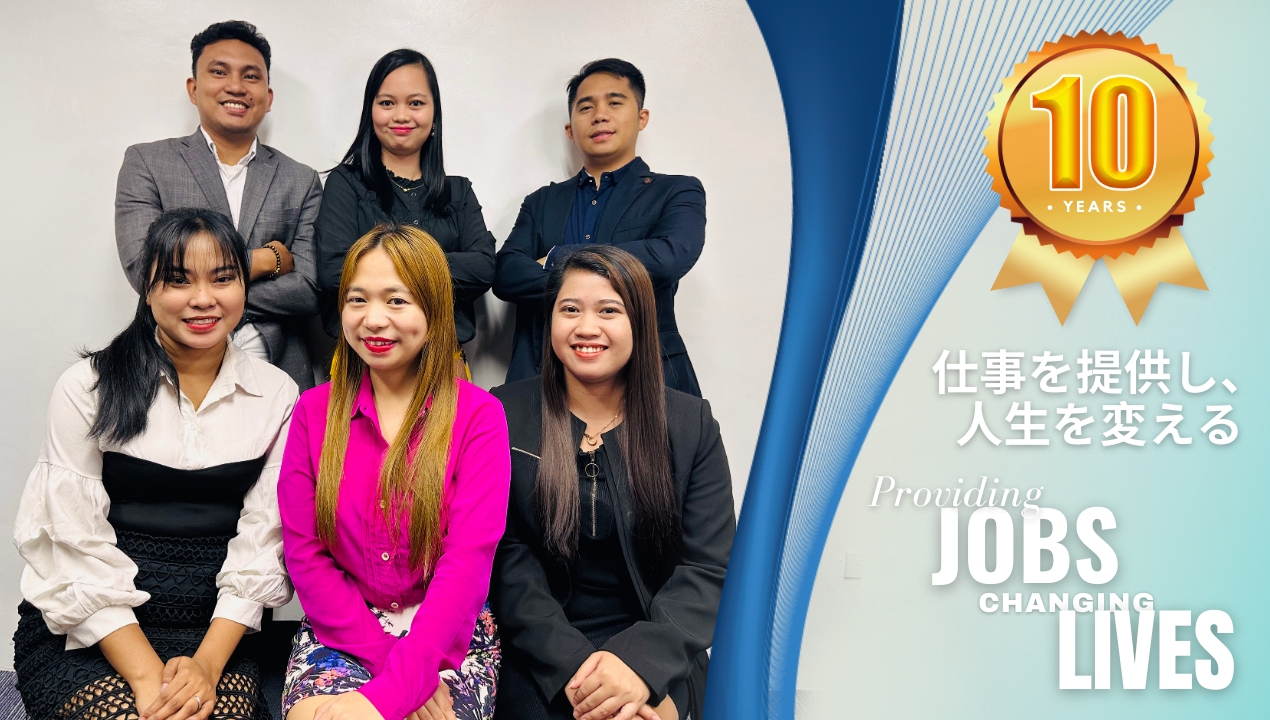 Service introduction
J-K Network Services is a direct hire recruitment company in the Philippines. We are the trusted partner of FORTUNE 500 Companies. We're recognized as the Top Multilingual Job provider by our world's largest clients in the Philippines. Our clients are the biggest BPO, IT, Shared Services, Manufacturing, Accounting and Finance, Engineering, Marketing, Travel, Airlines, E-commerce, Gaming, Resorts and many more. We provide jobs in different locations such as Makati City, Taguig City, Pasay City, Paranaque City, Muntinlupa City, Las Pinas, Mandaluyong City, Pasig City, Quezon City, Cavite, Laguna, Batangas, Bulacan, Pampanga, Bataan, Zambales, Cebu, Davao and Cagayan De Oro.
We have an average of 200-250 job vacancies for Japanese speakers on a monthly basis. We have a variety of openings from no experience required up to managerial levels. Some of our hirings are in Administrative, HR, Finance, Accounting, Sales, Marketing, IT Support, Developers, Network Engineers, Executive Assistant, Chef, VIP Host, Social Media Moderator, Airline Support, Engineers and other roles that require Japanese language skills.
We offer free career consultation for the available opportunities based on applicants' work experience and preferences. We give interview tips to increase your chances of passing the interview, including English training.
J-K Network Services is Accredited by the Department of Labor and Employment with PEA License Number: M-22-02-040 issued 2022.
We also offer English and Career course for Japanese who wish to prepare in finding a job and migrating in the Philippines.
English & Career Course: https://jk-ryugaku.com/
RECRUITMENT SUPPORT, YOU CAN VISIT US ON:
Official Website: https://jknetwork-jobs.com/
YouTube: https://www.youtube.com/LifeasaBilingualinthePhilippines
Facebook: https://www.facebook.com/jknetworkservices
Twitter: https://twitter.com/jknetworkjob
Linkedin: https://www.linkedin.com/company/4286496/admin/feed/posts/
Instagram: https://www.instagram.com/jknetworkservices/
Line: j-k_jpteam
IF YOU ARE A COMPANY SEARCHING FOR A RECRUITMENT PARTNER, YOU'RE IN THE RIGHT PLACE.
We have applicants with different backgrounds and experiences from entry levels up to managerial levels. We have a pool for Bilinguals and Filipinos.
Click here for detailed inquiries
Company Information
Many Japanese want to move to another country, however most of them don't have any idea how to start living abroad. J-K Network can help you as we offer end-to-end support. It might be scary at first but it's worth trying. We can give you more tips so avail our free consultation.
Address:Unit 2-F 2nd Floor Crissant Plaza Bldg 272 Commonwealth Ave., Matandang Balara 1119 Quezon City
TEL:(+63) 9176381854 | (02) 8245 2829
E-mail:jkmanpower@jp-network-e.com
Line: j-k_jpteam
Skype: live:jknetworkjobs
WEB:
https://jknetwork-jobs.com/
https://www.facebook.com/jknetworkservices