Camiguin Island: The Philippines' Answer to Jurassic Park
Article and images by Kate Moxhay
Flying to Camiguin feels a lot like arriving into the land that time forgot.
This tiny island soars out of the Bohol Sea in dramatic form, its more than 20 jungle-clad peaks belying a tumultuous geological history, which caused the land to rise and a whole town to sink down to the seafloor.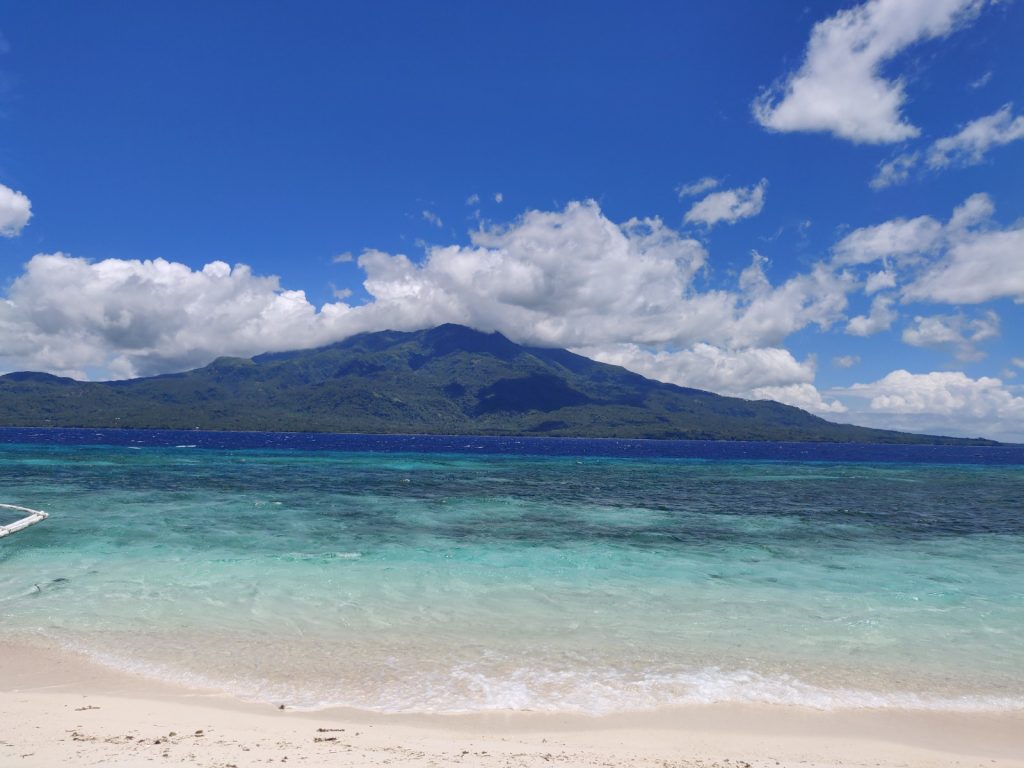 Camiguin is colloquially known as "the island borne of fire" and that's pretty apt. The island is home to seven volcanoes, two of which, Mount Hibok-Hibok and Mount Vulcan, are still active and loom menacingly from every corner.
Also read: Batanes 4-Day Itinerary: Experiencing Heaven's Beloved Island
Camiguin's diminutive size of just 238 sq km means this little patch of land has more volcanoes per sq km than anywhere else on earth. That's more volcanic action than Hawaii.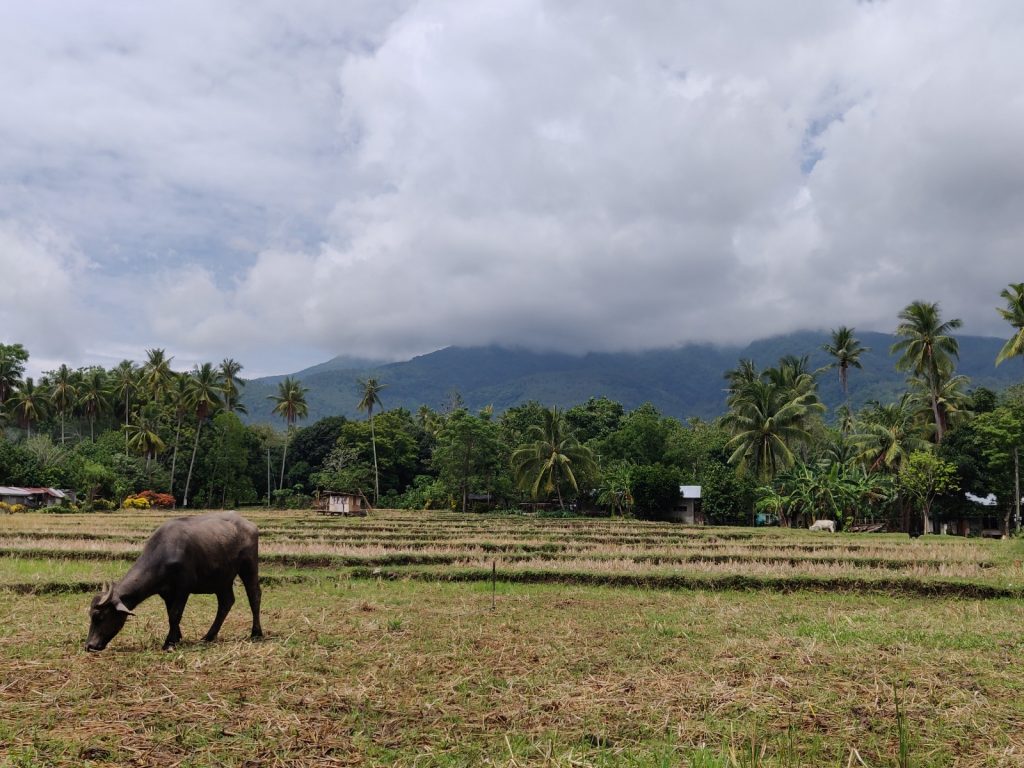 If you are an outdoor adventurer, then Camiguin will be your playground. From towering waterfalls deep in the jungle to volcano hiking and an underwater cemetery turned coral garden, it isn't short on impressive natural wonders.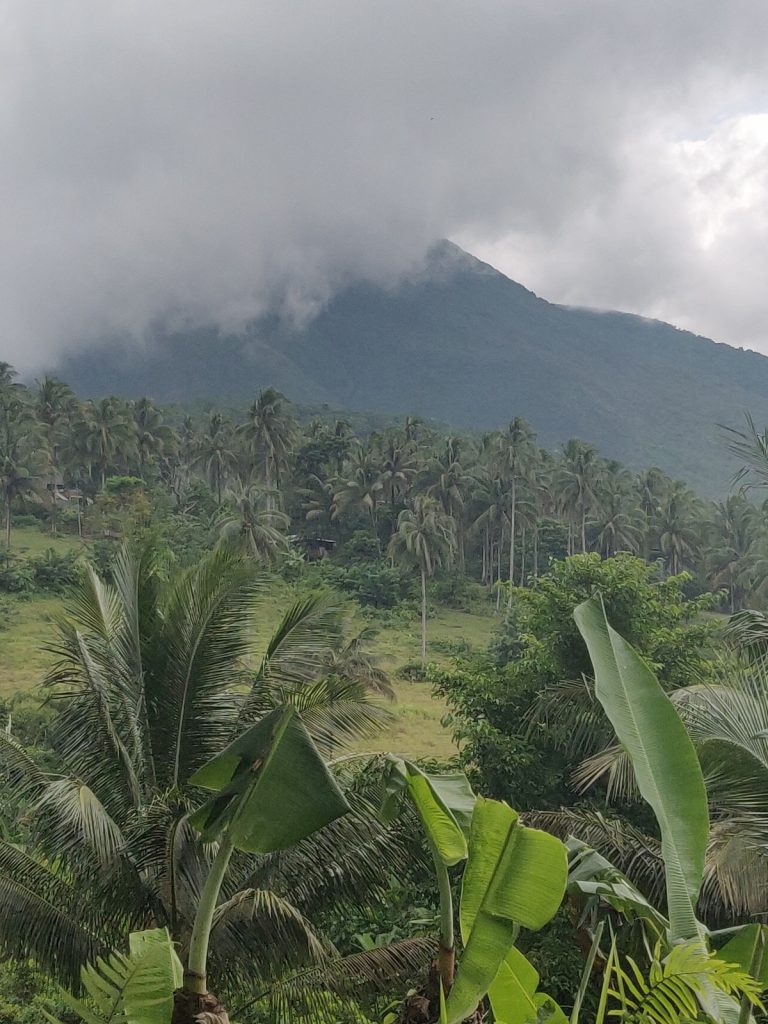 Camiguin's charm lies altogether in its dramatic natural beauty and exploring this remote little outpost was an absolute pleasure.
If you're searching for that Nirvanic idea of an Asian island that existed before the backpacker trail was even a thing, then Camiguin is a good place to start.
Also read: Siargao: Dream Island Getaway
Katibawasan Falls
This 70-meter high waterfall is located just outside the provincial capital of Mambajao and one of the top sights on the island.
Located deep in the jungle, the falls plunge into a cool deep pool at its base good for swimming. Ferns and vines twist around huge mossy boulders as butterflies and birds fly around, catching the spray.
Reached via a good paved road, this is a great place to chill out and breathe in Camiguin's wild heart. Plus, visit on a weekday and you're likely to get the whole place to yourself.
Old Church Ruins
The Old Church Ruins are the place to visit to immerse yourself in Camiguin's history.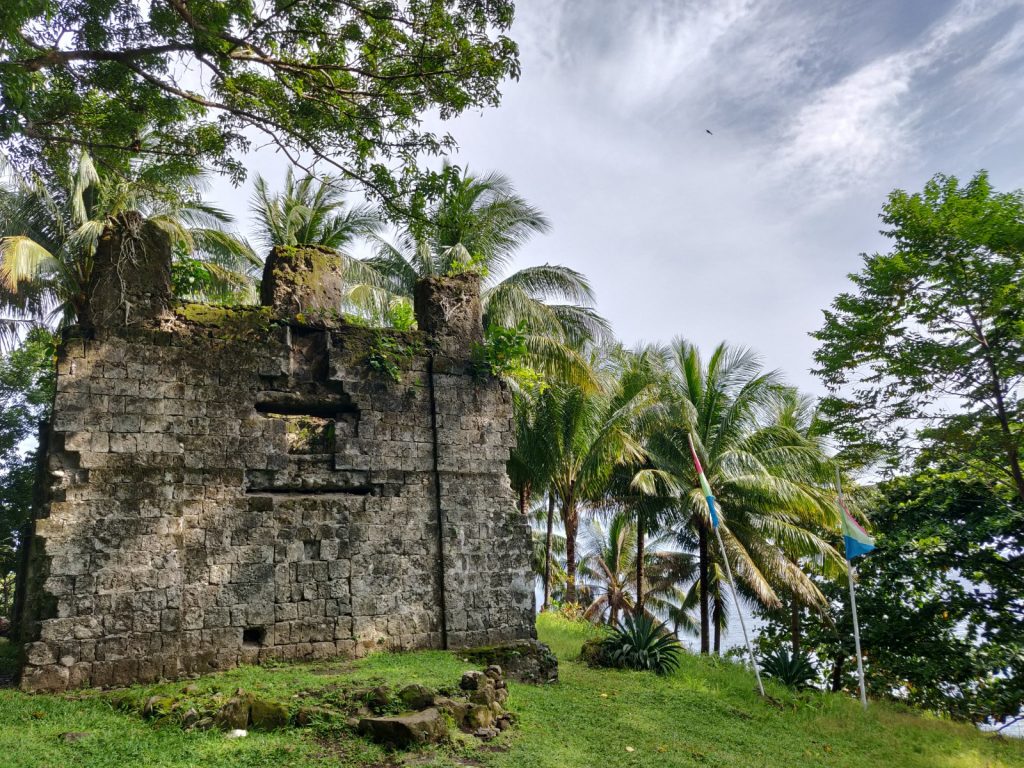 A large complex of moss-covered stone walls and a tower looking out to sea are all that remain of a large Spanish church complex, buried under lava and rocks during the fiery birth of Mount Vulcan back in 1871.
Also read: Bohol: Balm for the Soul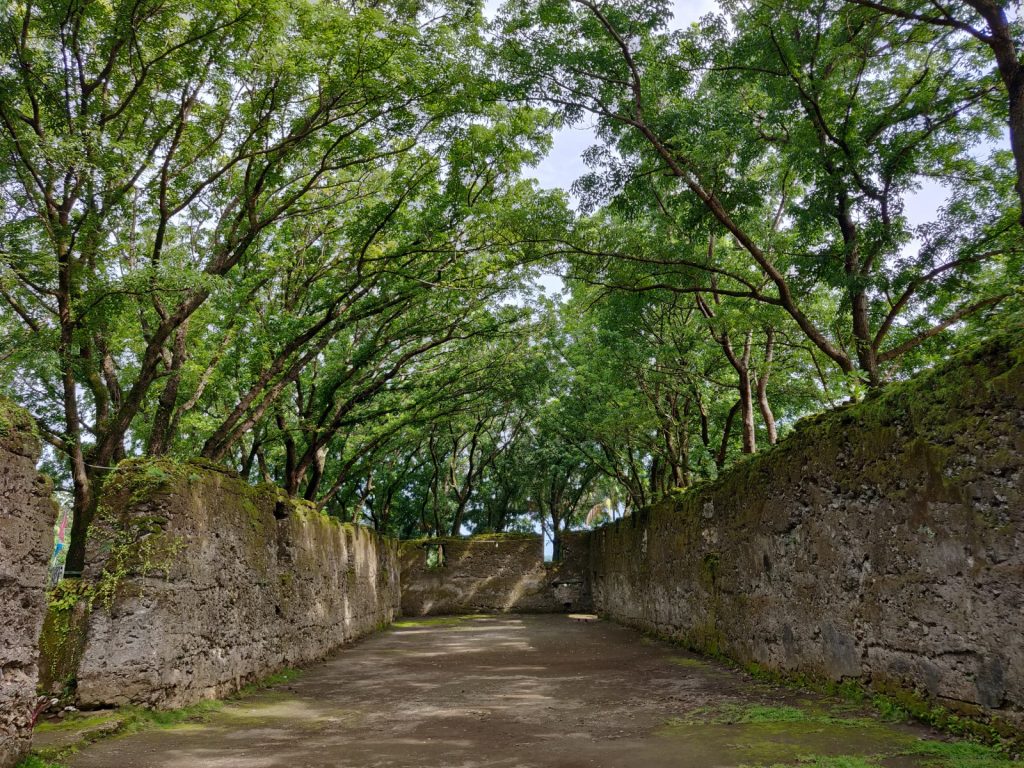 The eruption caused the land to rise and a whole town to sink into the sea, claiming the lives of many who now remain entombed under the earth here.
Just the top level of the structure can be seen now and it's an eerie feeling to know so many lay dead just under your feet. Head here late in the afternoon to catch the evening light.
Mantigue Island
What Camiguin lacks in white sand beaches is more than made up for at Mantigue Island, a beautiful island just offshore.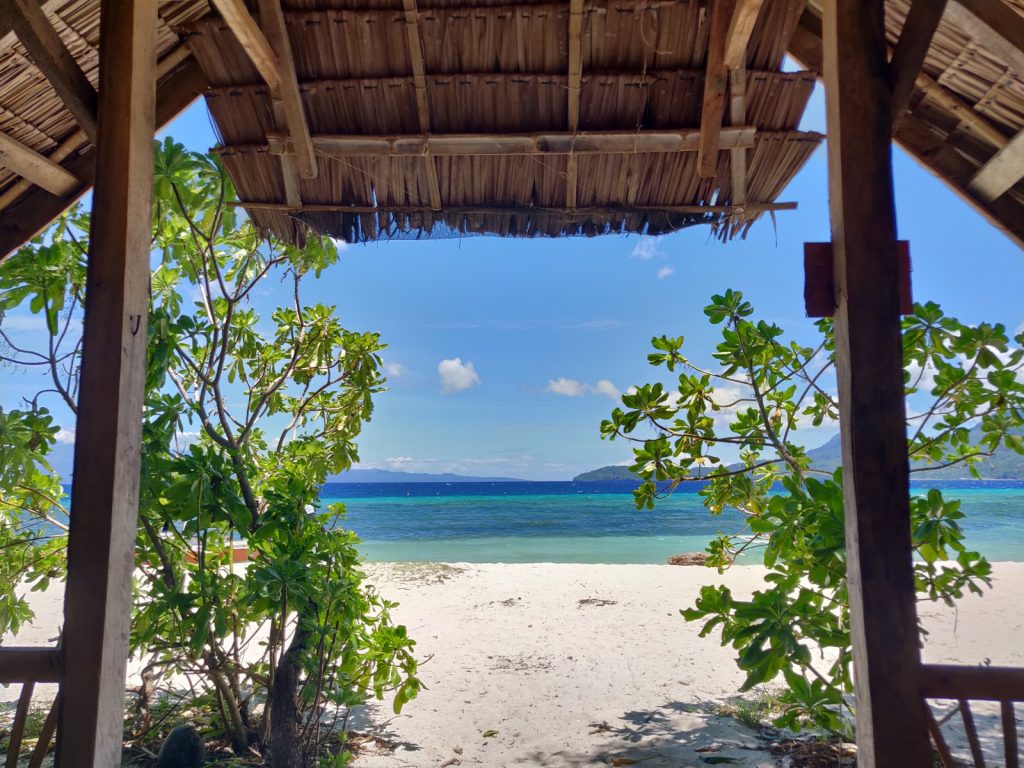 It takes just 15 minutes to reach by boat from San Roque Port, a 20-minute drive from Mambajao. There is a flat fee of P600 per boat so if you can get a few people to travel with, it is an amazing deal.
This tiny volcanic island has powdery white sand and excellent snorkeling, a small cafe and bar. You can only stay until 4 p.m. so, try to arrive early and take your own snorkeling gear to save on rental costs.
Sunken Cemetery
Camiguin is shaped by its volcanoes, both literally and figuratively, and nowhere is this more evident than at the Sunken Cemetery.
The Mount Vulcan eruption of 1871 completely obliterated the town of Bonbon, and with it went the town's cemetery, which was buried deep under the sea bed.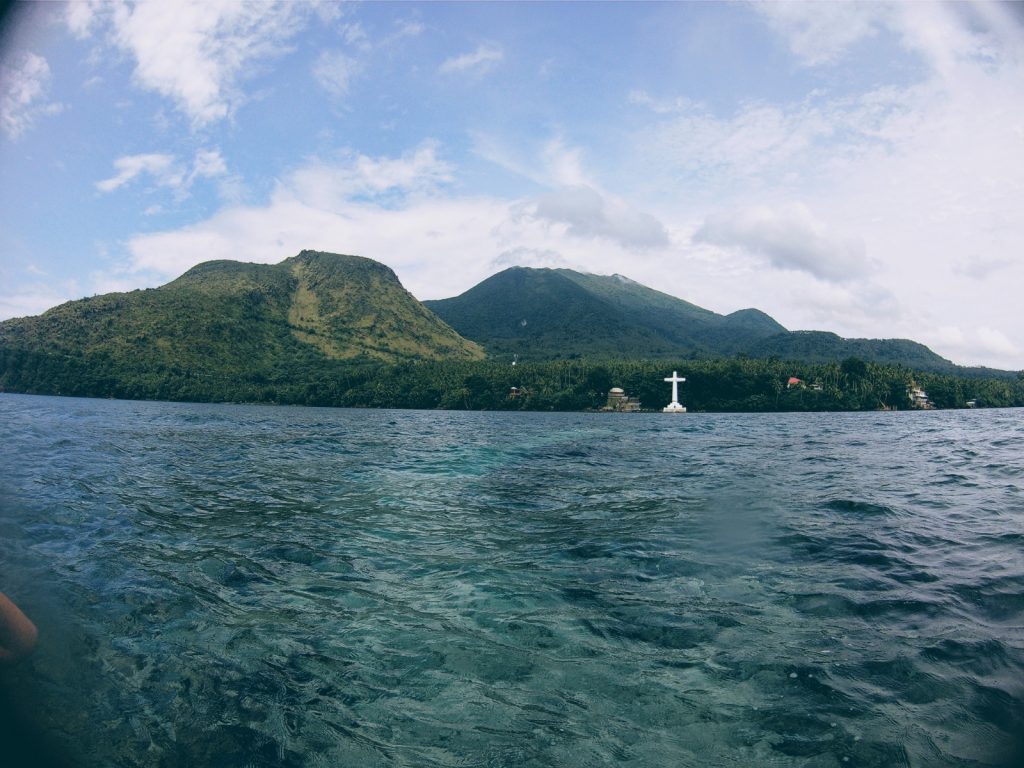 Its site is now marked by a large white cross in the waves, and the only evidence to be seen under the waves is a stone cross lying barnacled and decaying on the sea bed.
Corals and reef fish mostly occupy the space where the dead once lay, which seems a rather fitting legacy for such a sad event. Snorkeling over the site is one of the must do's while you're on the island.
Also read: The New Boracay: Freshness of a Reawakened Tropical Paradise
White Island
If you've ever dreamt of being Robinson Crusoe for a day, then White Island is the place to do it.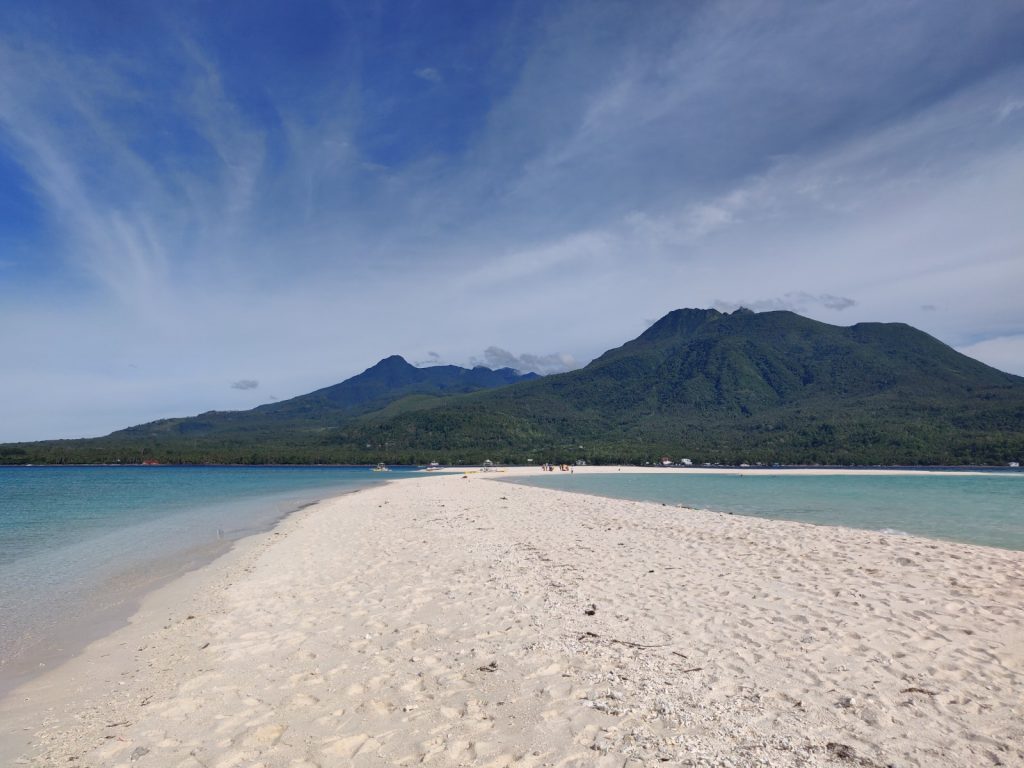 This beautiful sand bar just off the northwest tip of the island is an oasis in the sea, surrounded by a reef and with pristine white sand.
Like much of Camiguin, there are often very few people here so you can feel like a castaway as soon as you step off the boat. The sunset views are stunning and its the best picnic spot in Camiguin.
Catch a boat from the small harbor next to Paras Beach Resort.
Where to stay
Nypa Style Resort is a peaceful resort of comfortable bungalows with an excellent onsite restaurant serving fresh fish and homemade Italian pasta.
Set around a tropical garden, each bungalow comes with a terrace and private bathroom. There is also a small plunge pool fed by a natural spring if you feel the need to cool off.
Tips
Hire a scooter from 350 pesos per day to get around at your own pace.
Take a lot of mosquito repellent as it's difficult to find on the island.
Cash is king and the ATM in Mambajao isn't always working so bring your own.
Camiguin is a relaxed island with a peaceful charm, so if its a party you're after, head to Boracay!
How to get here
Fly direct from Manila with Skyjet airlines, or catch a ferry from Cagayan de Oro in Mindanao.
---
About the writer
Kate Moxhay has been traveling solo on and off for the past 20 years. Originally from England, she now lives in the murky madness of Manila, Philippines as a full-time writer and independent traveler. She is a great advocate of solo female travel and thrives in unfamiliar environments, seeking out interesting and unusual stories, experiences, and people where ever she goes. Check out her latest adventures at katemoxhay.com.