Legazpi Sunday Market
If going to the mall is not an option for you to spend your Sunday morning with, here's an alternative: Legazpi Sunday Market, the go-to place for your fresh and organic shopping needs.
It is open on Sundays from 7 a.m. to 2 p.m. at the parking lot along Herrera st. cor Legazpi and Salcedo, V.A. Rufino St., Legazpi Village, Makati City.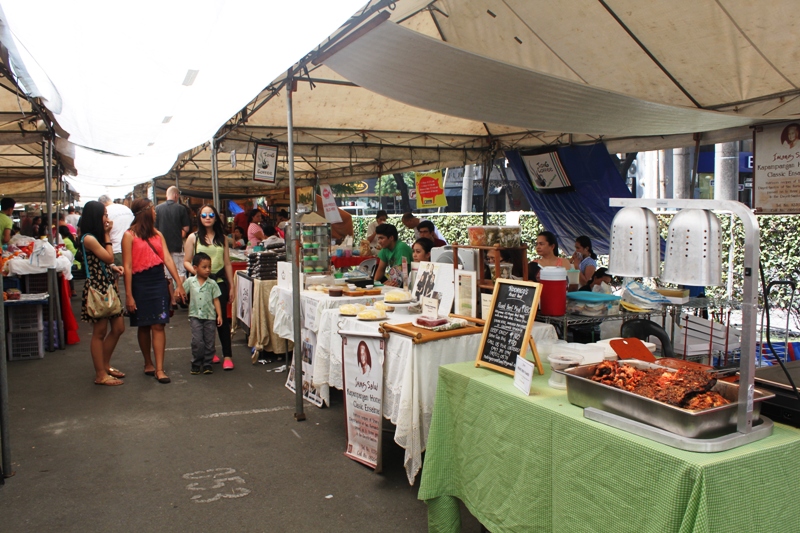 LEGAZPI SUNDAY MARKET. Various stalls with fresh, organic, and handmade finds.
Formerly located in Greenbelt for 20 years, the Legazpi Sunday Market is now found at the corner of Legazpi and Rufino streets in Legazpi Village.
Also read: One Day Guide to Legazpi Sunday Market
Still, the market is home to hundreds of concessionaires that offer a variety of needs such as food, and items like clothing, home decorations, toiletries, and handcrafted things. 
It's a one-stop shop for shoppers who don't fancy going to the malls on weekends, as it's a great market place on its own. What makes it different from malls is that it's set outdoors and also because they sell fresh, organic, and handcrafted products made by groups, usually for a cause.
LOVE LONGANISA? See this stall that sells your favorite longganisa for breakfast at P200 per pack.
For foodies, going to the Legazpi Sunday Market is such a feat. A variety of cuisines can be found in the place that serves authentic Malaysian, Moroccan, Filipino delicacies, Indian, Indonesian, Greek, Thai, and Mexican dishes among others.
It's also the place where you can find organic produce for healthier options and artisanal delights for a flavourful selection.
HEALTHY OPTIONS. For your organic needs, there are a lot of food stalls that serve plant-based or natural options for healthy eaters

It's also the perfect place to shop items that are locally-crafted, which are mostly sold for a cause. Items such as home decors, pouches, stationeries, jewelry, beddings, infant needs and a whole lot more are found here as well.
Also read: Salcedo and Legazpi Weekend Markets
PROMOTE LOCAL. Check out some handmade goods from pouches (P200) to bicycles (P45,000).
Want to spend a Sunday like no other? Have a great shopping and dining experience at the Legazpi Sunday Market!