Yummify Tofu: 3 Veggie Veggie Tasty Recipes
Tofu is arguably infamous for its bland taste, but when it is prepared correctly it can compete with any kind of protein, be it beef, chicken, or fish. This versatile ingredient works perfectly in stir-fries, skewers, soups, and many more. To prove that, we're sharing you these easy tofu recipes will make you think you're not actually eating this thing.
Fried Tofu with Yurinchi Sauce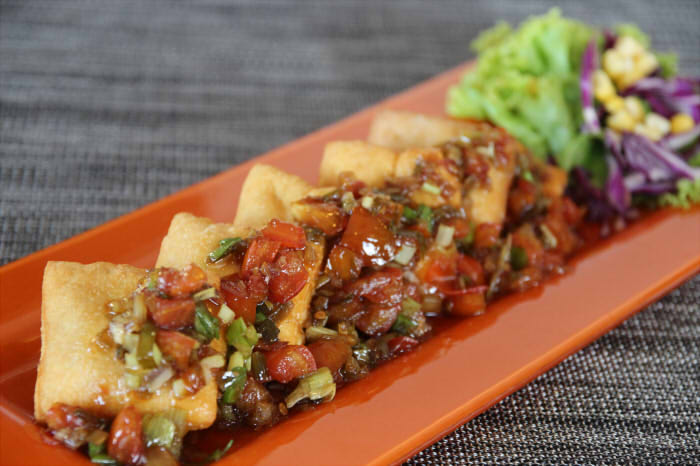 IMAGE from Philippine Primer
Ingredients:
300g tofu
1 pc medium onion, chopped
50g leeks, chopped
100g tomatoes, chopped
2 tbsp soy sauce
2 tbsp vinegar
1 tbsp sugar
3 tbsp sesame oil
100g flour
oil for frying
Cooking directions:
1. Slice tofu into bite-size pieces. Drain excess water on a paper towel.
2. Coat the sliced tofu with flour, and fry them in a pot.
3. Sauté chopped onion, leeks, and tomatoes in sesame oil. Add the soy sauce, sugar, and vinegar, then simmer for a few minutes.
4. Drizzle the sauce on the fried tofu. Serve.
Tofu Stir-fry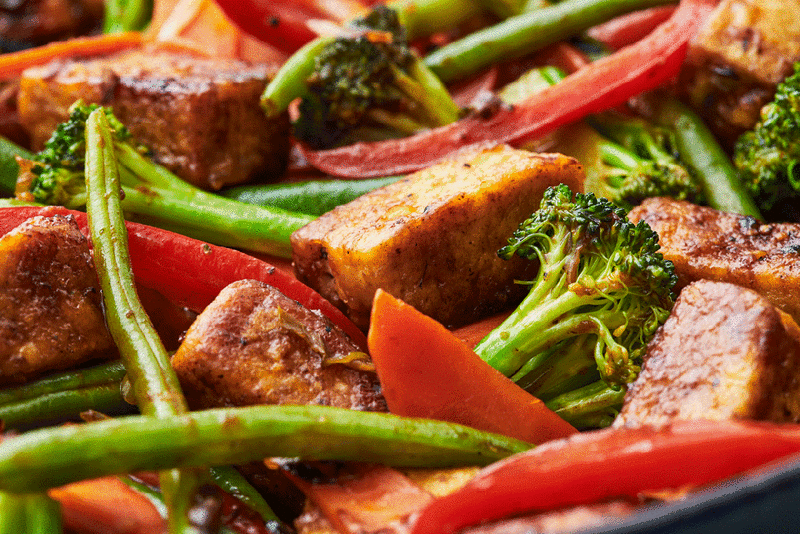 IMAGE from Delish
Ingredients:
14 oz firm tofu
1 tbsp soy sauce
1 tbsp sesame oil
1/2 tsp black pepper, ground
2 tbsp cornstarch
Stir-fry:
3 tbsp. extra-virgin olive oil, divided
3 cloves garlic, minced
1 tbsp ginger, minced
8 oz string beans, trimmed
2 small carrots, sliced
1 small head broccoli, cut into florets
1 red bell pepper, seeded and sliced
2 green onions, thinly sliced
salt to taste
Sauce:
2 tbsp soy sauce
2 tsp sesame oil
1/4 cup water
2 tbsp brown sugar
2 tsp cornstarch
Cooking directions:
1. Simmer tofu in salted boiling water for 2 minutes. Remove from heat and let drain in a colander lined with paper towels. When cool enough to handle, gently squeeze and pat dry.
2. Cut tofu into bite-sized pieces, then toss together with soy sauce, sesame oil, and black pepper in a medium bowl. Once the liquids are absorbed, toss the tofu with cornstarch.
3. In a large skillet over medium-high heat,  put 2 tablespoons oil. Add tofu and let cook until golden on all sides, turning occasionally, 7 to 8 minutes. Season with salt and pepper and remove from skillet and set aside.
4. Heat remaining 1 tablespoon oil and add in garlic and ginger and cook until fragrant. Add string beans, carrots, broccoli, red pepper, and green onions. Cook for 8 to 10 minutes, or until tender. Season with salt and pepper.
5. Stir together soy sauce, sesame oil, water, brown sugar, and cornstarch. Return the tofu to skillet and add sauce mixture to pan. Stir and cook until slightly thickened.
Asian Garlic Tofu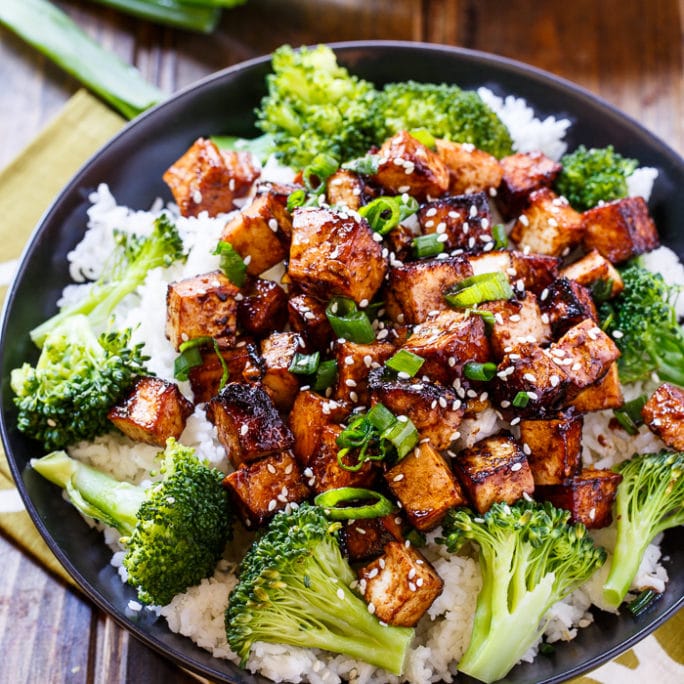 IMAGE from Spicy Southern Kitchen
Ingredients:
300g firm tofu
1/4 cup Hoisin sauce
2 tbsp soy sauce
1 tsp sugar
1 tsp ginger, grated
2 cloves garlic, minced
1/4 tsp chili flakes
1 tbsp olive oil
1 tsp sesame oil
spring onions for garnish
rice for serving
Cooking directions:
1. In a medium bowl, mix Hoisin sauce, soy sauce, sugar, ginger, garlic, and red pepper flakes together.
2. Slice tofu into bite-sized pieces. Place in bowl with the sauce mixture and toss to coat. Let sit for 30 minutes.
3. Heat olive oil in a cast iron pan over medium heat. Once hot, add tofu. Once seared on the bottom, flip over. And then repeat.
4. Drizzle with sesame oil and remove from heat.
5. Sprinkle with spring onions and serve with rice.
Store Information