Banana Blossoms: 3 Flowery Recipes to Try
Banana blossoms, as the name suggests, are the flowers of the banana tree. It is extensively used in Indian and Southeast Asian cuisine, and it gained popularity in other parts of the world as an ingredient in vegetarian dishes, such as vegan fish and chips, due to its neutral taste and meat-like texture. What's more, they are packed with potassium, calcium, and vitamins A, C, and E! That's why this time, we're sharing with you three international dishes with a twist utilizing this rising star of an ingredient. Enjoy!
Chinese-style Banana Blossoms with Stir-Fried Vermicelli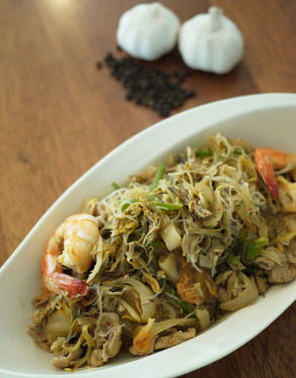 IMAGE from Philippine Primer
Ingredients (for 4 people):
80 g vermicelli
4 cloves garlic, chopped
70 g onion, chopped
180 g pork ribs, thickly sliced
4 pcs shrimp, peeled and deveined
2 pcs chili peppers, chopped
60 g banana blossoms
7 g Aji-Ginisa Shrimp
150 ml water
Cooking directions:
1. Wash the shrimp with water containing potato starch.
2. Pull out the banana blossoms' outer layers until the softcore remains.
3. Heat the oil in a pan, then saute all the ingredients, starting with the onions.
4. Once browned, add water and season with Aji-Ginisa Shrimp.
5. Toss in the vermicelli noodles and saute it with the rest of the ingredients until the liquid dissolves.
Note:
Noodle dishes are extremely popular in the Philippines. This one, in which the vermicelli is added to the soup, gets cooked in it before being stir-fried. By the way, there is an exceptional pork dashi-based soup noodle dish called batchoy in the Visayas region that is similar Okinawa's soki soba.
***
Banana Blossoms and Water Spinach Kinpira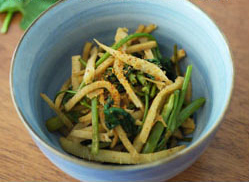 IMAGE from Philippine Primer
Ingredients (for 4 people):
250 g water spinach, chopped
70g banana blossoms, blanched
1 tbsp mirin
1 tbsp soy sauce
1 tbsp sesame oil
3 g Aji-Ginisa Shrimp
Chili peppers (optional)
Cooking instructions:
1. Heat sesame oil in a pan, then saute the banana blossoms and water spinach.
2. Once slightly cooked, add mirin, soy sauce, and Aji-Ginisa Shrimp in that order, and simmer for about two minutes.
3. Add chili peppers to taste. (optional)
Note:
Kinpira is an indispensable cooking technique in Japanese cuisine. Adding leafy vegetables such as sweet potato tops will make the dish more nutritious. If you don't have mirin, you can use a mixture of sake (same amount) and sugar (1/3 amount) instead.
***
Tomatoey Beef Stroganoff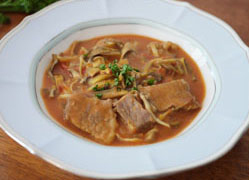 IMAGE from Philippine Primer
Ingredients (for 4 people):
400 g beef tenderloin or sirloin, thinly sliced
1 small onion, chopped
60 g banana blossoms, boiled
260 g canned tomato sauce
1/2 tbsp flour
30 g sour cream
20 g butter
8 g Ajinomoto Secret Sangkap
2 g parsley, chopped
Salt and pepper to taste
Cooking ingredients:
1. Season the beef with salt and pepper, then bake until it becomes tender.
2. Saute the ​​onions with butter in a pan, then add flour. Stir well.
3. Add the tomato sauce, sour cream, banana blossoms, and Ajinomoto Secret Sangakap in that order and simmer.
4. Toss the beef in the sauce. Add chopped parsley before serving.
Note:
This is a Russian dish and believed to have been invented by a member of the Stroganovs. I suggest you use thin US beef slices for this. It seems like sour cream is easier to get in supermarkets in the Philippines than in Japan.
---
Do you have any banana blossom recipes in mind? Share it with us in the comment section below!