The Velvet Bunny: A Dessert Delivery Service in the Metro
Looking for a place to get desserts without leaving the comforts of your home? We got you covered! The Velvet Bunny is a home-based dessert delivery business based in Parañaque City, aiming to provide quality desserts right at your doorstep!
Opened just this June, The Velvet Bunny is the brainchild of Paige Ebora, who initially made the business for her college project.
Paige shares that she fell in love with baking at 15-years-old and has always wanted to make a business that she could call her own, thus, The Velvet Bunny came to life.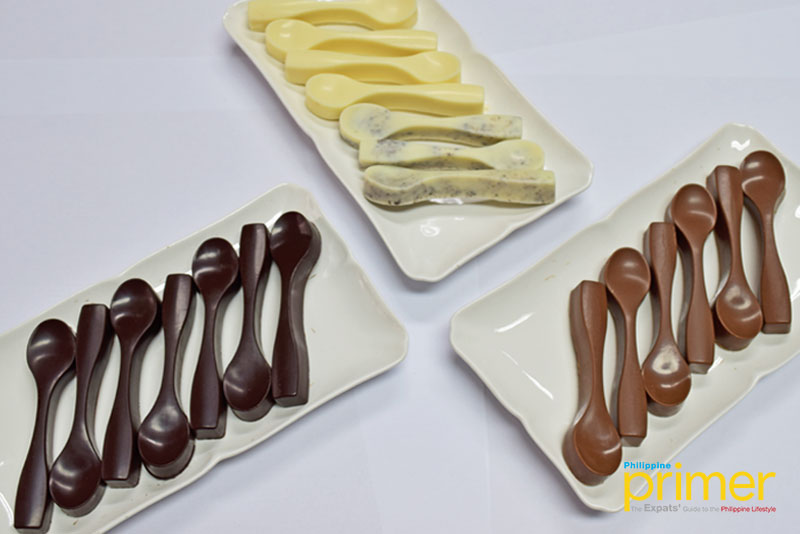 The Velvet Bunny's signature chocolate spoons
Its name was inspired by the story of The Velveteen Bunny. They wanted a kid-friendly name that's also easy to remember, so they took elements from the story.
The Velvet Bunny carries mouthwatering desserts such as cupcakes, cakes, and chocolates. 
Perhaps the most distinct product is the Chocolate Spoon (Php 625/25pcs), which was developed for a subject that Paige had in school. A lot of people enjoyed it because it is not only a treat, but also doubles as a stirrer that you can enjoy with a cup of Joe.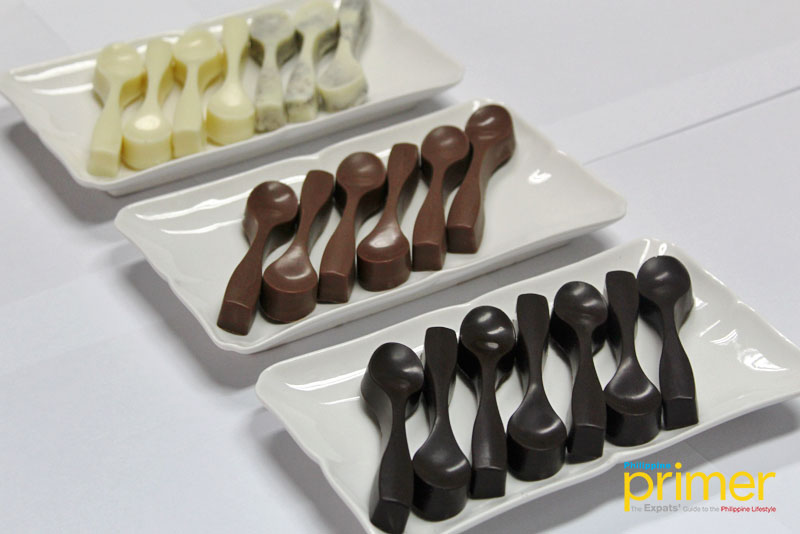 Their Chocolate Spoons (Php 625/25pcs) come in Dark Chocolate, Milk Chocolate, White Chocolate, and Cookies & Cream! 
Made with a mixture of the best local and imported chocolates, the Chocolate Spoon is meticulously melted and cooled to a specific temperature for a specific amount of time. It can be eaten as it is, but it's quite a treat when used as a coffee stirrer.
The Chocolate Spoon is available in four flavors: Dark Chocolate, Milk Chocolate, White Chocolate, and Cookies & Cream. You can also customize the flavors to be included in your delivery but note that there is a minimum of 25 pieces when ordering on their website. For assorted flavors, the Chocolate Spoon starts at Php 25/pc.
Apart from their Chocolate Spoons, consider trying their cupcakes! You can choose between their regular-sized cupcakes (Php 600/12pcs) or their mini-cupcakes (Php 300/12pcs), available in Red Velvet and Dark Chocolate flavors.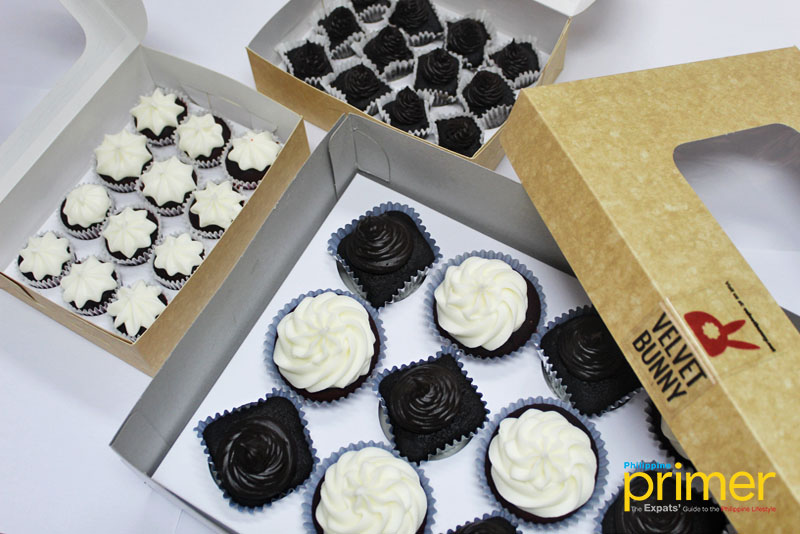 The Velvet Bunny's Cupcakes in Dark Chocolate and Red Velvet Flavors (regular-sized cupcakes Php 600/12pcs; mini-cupcakes Php 300/12pcs)
Much like the Chocolate Spoons, you can customize your own box to create an assortment between two cupcake flavors. The rates start at Php 50 for the regular cupcakes and Php 25 for the mini-cupcakes. Note that they also have a minimum of 12 pieces per order for both sizes.
Lastly, their Chocolate Cake (Php 650) is a slice of heaven, with just the right amount of familiar sweetness that anyone would enjoy. According to Paige, the recipe was inspired by her grandmother, who also used to make her own homemade chocolate cake.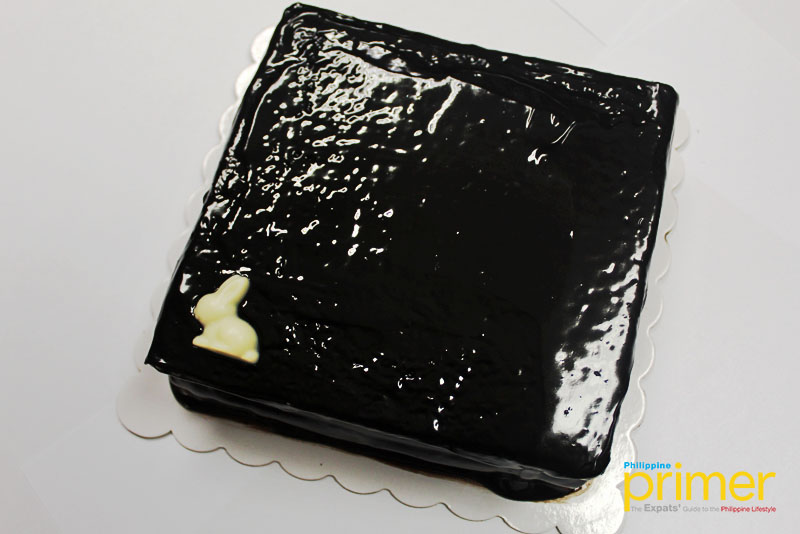 Chocolate Cake (Php 650)
The Velvet Bunny caters to patrons within Metro Manila. Their deliveries are mainly geared towards cities in the South including Parañaque, Muntinlupa, and Las Piñas, with a minimum delivery charge of Php 50.
However, they also have pick-up points in One World School in Makati, Dance Theater Manille in Muntinlupa, and even their home in BF Homes, Parañaque.
It's advised that customers order at least one day before their desired date of delivery or pick-up. For bigger orders, it's recommended that you coordinate or meet-up with The Velvet Bunny to discuss logistics.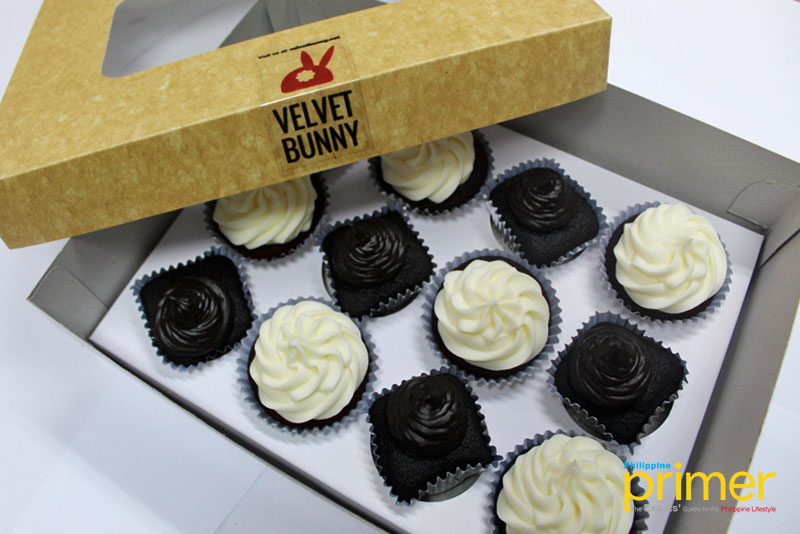 Their delicious desserts will leave you wanting more! 
Orders can be made through their website or through call, text, and Viber. Take note that they only accept payments via bank deposit and cash-on-delivery. For deposit payments, it's advised that you deposit ahead of your chosen delivery date.
What are you waiting for? Get delectable desserts delivered right at your doorstep with The Velvet Bunny!
For more information, you may visit their Official Website or their Official Facebook page. You may also get in touch with them through call, text, or Viber at 0920-959-1267. The Velvet Bunny is open from 10 a.m. to 10 p.m. daily.
---
Written by Feliz Grace Bueno

General Information
21 Andaya St., Mayuga, BF Homes, Parañaque City
0920-959-1267
10 a.m. to 10 p.m. (Daily)
Bank Deposit; Cash-on-Delivery
velvet.bunny.pastries@gmail.com